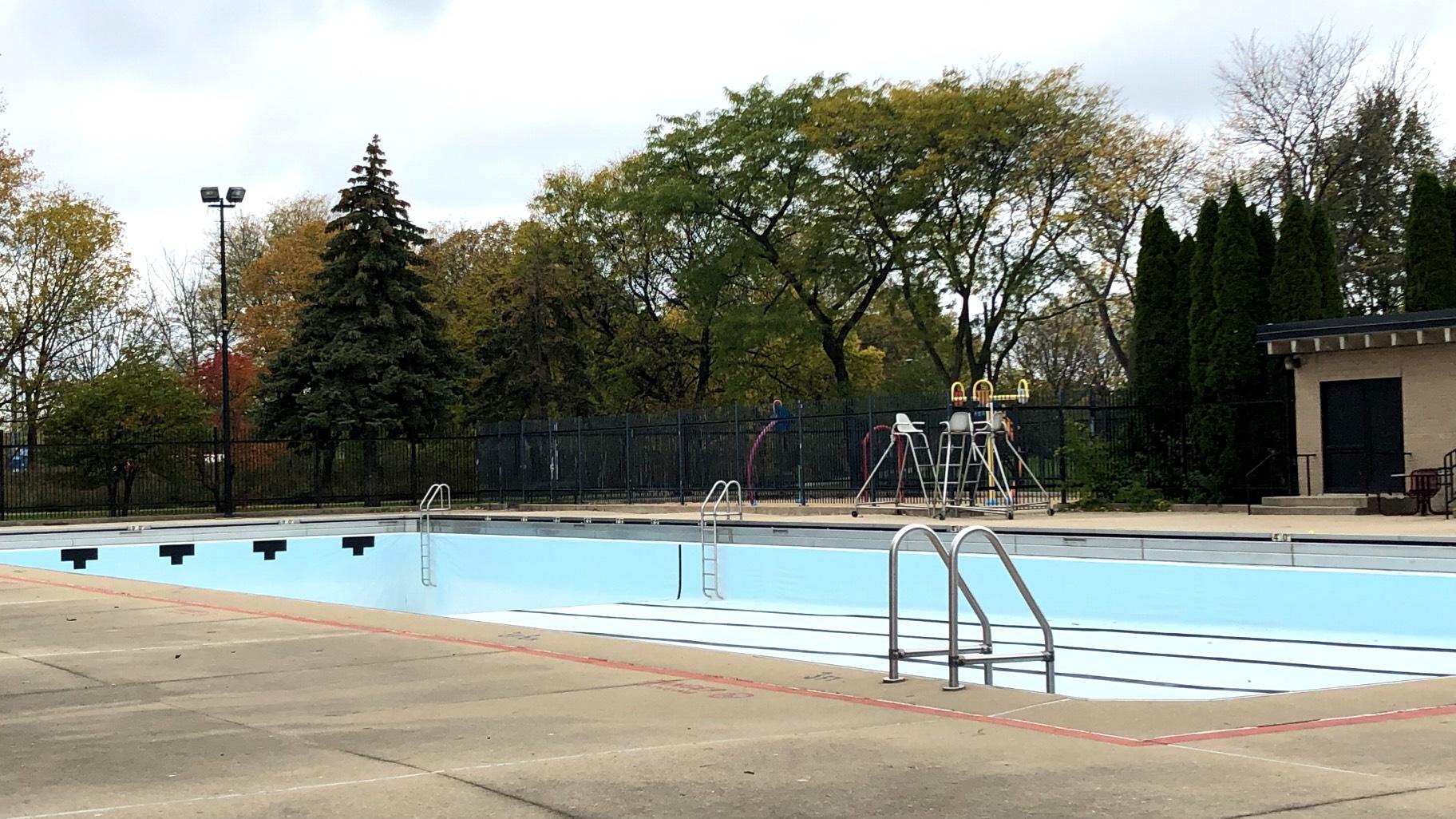 The pool at River Park in Lincoln Square is one of 37 that will open July 5. (Patty Wetli / WTTW News)
With only 55% of lifeguard positions filled, the Chicago Park District is balancing staffing needs on lakefront beaches with neighborhood pools and has announced it will limit access to certain "underutilized" beach areas in order to redeploy lifeguards to pools. The district will open 37 neighborhood pools July 5.
"Neighborhood pools are incredibly valuable resources for our residents and families, providing recreation and relief from the summer heat," said General Superintendent Rosa Escareño in a statement. "This plan allows us to maximize our limited workforce to open as many pools as possible so that families across the city have access to and can enjoy neighborhood pools this summer as well as the beaches."
Of the pools slated to open, 15 are indoor and 22 are outdoor. Among the factors the district used in selecting pools: geographical location, staffing requirements and availability, the condition of the pool, historical usage, pool capacity, access to public transportation and safety considerations.
Additionally, more than 200 spray features have been activated across the city.
To staff the pools, more than 20 lifeguards are being diverted from assignments on the lakefront. Swimming will be prohibited at 12th Street Beach, and access will be limited at the northern section of North Avenue Beach (just south of Fullerton Avenue) as well as at Calumet Park (just north of the Coast Guard station).
The remainder of beaches are open daily 11 a.m. to 7 p.m. through Labor Day.
The announcement comes a day after a Florida man drowned while rescuing a teenager from the waters off an unguarded stretch of Lake Michigan at Indiana Dunes National Park.
The Park District has installed life rings alongs the lakefront, following pressure from community activists in the wake of several drownings.
The district said it is continuing to recruit lifeguards and is still offering a $600 retention bonus to new hires. Its efforts have been hampered by an overall shortage of workers, as well as ongoing fallout from a scandal in the aquatics division involving harassment and assault of lifeguards.
Here's the list of pools opening July 5. In general, most will operate five days a week, 11 a.m. to 7 p.m., but the district is advising patrons to call in advance and confirm hours before heading to a pool.
Austin Town Hall Park, 5610 W. Lake St.
Avalon Park, 1215 E. 83rd St. 
Avondale Park, 3516 W. School St.
Blackhawk Park, 2318 N. Lavergne Ave. 
California Park, 3843 N. California Ave. 
Carver Park, 939 E. 132nd St.
Chase Park, 4701 n. Ashland Ave. 
Davis Square, 4430 S. Marshfield Ave. 
Douglass Park, 1401 S. Sacramento Ave. 
Eckhart Park, 1330 W. Chicago Ave. 
Ellis Park, 3520 S. Cottage Grove Ave.
Fernwood Park, 10436 S. Wallace Ave. 
Fosco Park, 1312 S. Racine Ave. 
Foster Park, 1440 W. 84th St. 
Gompers Park, 4222 W. Foster Ave.
Hale Park, 6258 W. 62nd St. 
Hamilton Park, 513 W. 72nd St. 
Hayes Park, 2936 W. 85th St. 
Holstein Park, 2200 N. Oakley Ave. 
Homan Square Park, 3559 W. Arthington St.
Humboldt Park, 1400 N. Humboldt Boulevard
Kennedy Park, 11320 S. Western Ave.
Lafollette Park, 1333 N. Laramie Ave. 
Lindblom Park, 6054 S. Damen Ave. 
Mann Park, 3035 E. 130th St.
McGuane Park, 2901 S. Poplar Ave. 
McKinley Park, 2210 W. Pershing Road
Nash Community Center Park, 1833 E. 71st St. 
Norwood Park, 5801 N. Natoma Ave. 
Ogden Park, 6500 S. Racine Ave. 
Piotrowski Park, 4247 W. 31st St. 
Portage Park, 4100 N. Long Ave. 
Pulaski Park, 1419 W. Blackhawk St. 
River Park, 5100 N. Francisco Ave. 
Shabbona Park, 6935 W. Addison St.
Taylor Park, 39 W. 47th St.
Trumbull Park, 2400 E. 105th St.
Contact Patty Wetli: @pattywetli | (773) 509-5623 |  [email protected]
---