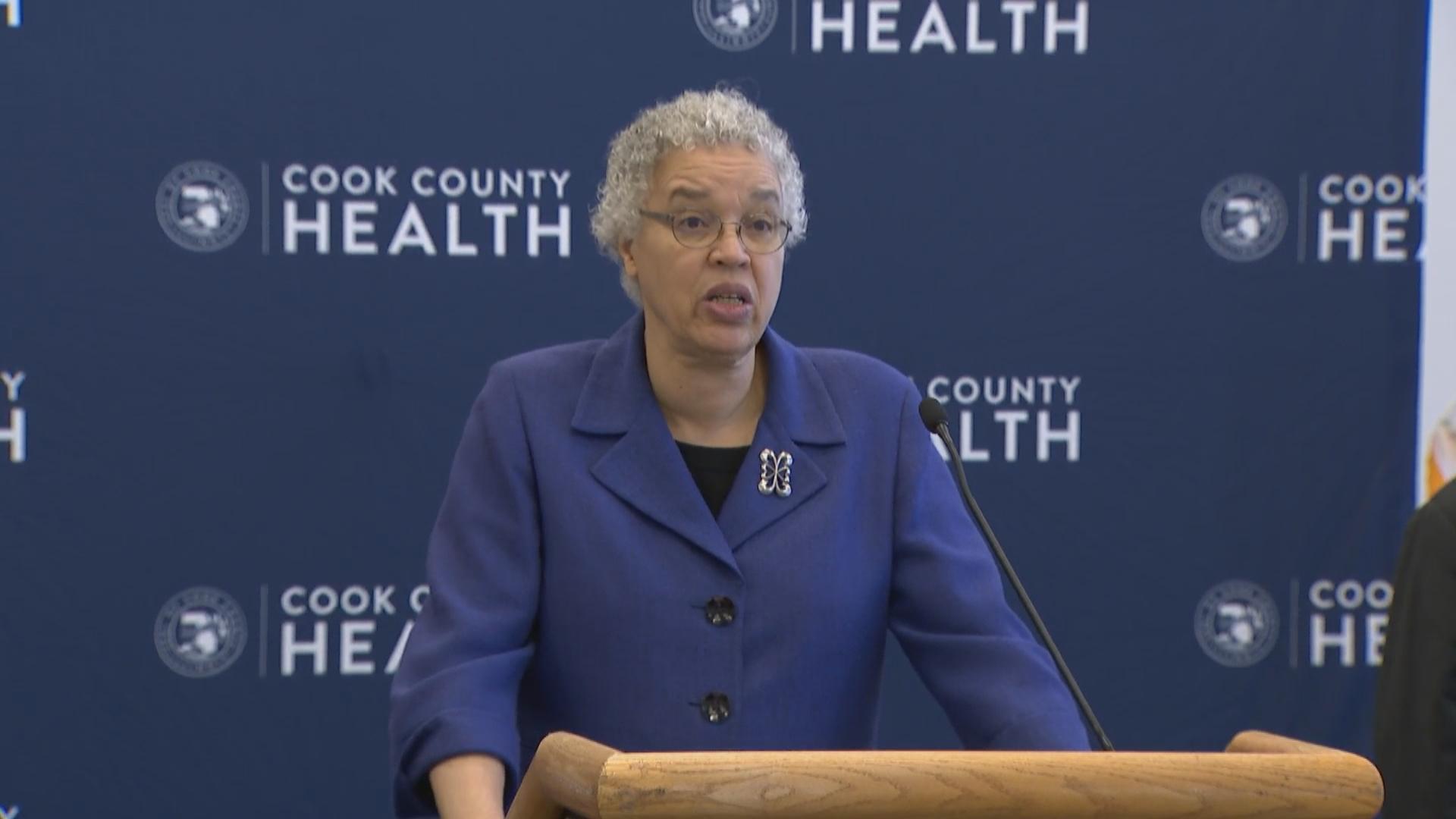 Cook County President Toni Preckwinkle announces the launch of the Building Healthy Communities initiative Tuesday, April 12, 2022. (WTTW News)
Two years after Cook County officials were forced to grapple with the largest budget deficit in a decade, they now find themselves on much firmer financial ground, according to a budget forecast released Thursday.
In the early months of the COVID-19 pandemic, county officials closed a $410 million deficit in their 2021 budget — the largest shortfall in a decade — by laying off hundreds of employees and dipping into a rainy day fund. But in 2023, county budget officials will only have to close an $18.2 million hole, the smallest gap in a decade.
The rosy budget outlook is good news for Cook County Board President Toni Preckwinkle, who is running for a fourth term as the president of the Cook County Board against Oak Park lawyer Richard Boykin, who has been critical of her handling of the county's economy. The primary is Tuesday.
"I am proud our responsible fiscal practices have put us in a position to endure these financial hardships while providing vital services to millions of residents through balanced and equitable budgeting," Preckwinkle said in a statement.
The county's budget has been boosted by sales taxes, corporate income taxes and revenue generated by the construction boom, and the red-hot real estate market, officials said.
A final spending plan is set to be released in October, but Preckwinkle is unlikely to propose tax hikes, layoffs or service cuts to close such a small gap in the county's projected $8.1 billion 2023 spending plan. The budget must be approved by Dec. 1.
Cook County is projected to end the 2022 fiscal year with a $233.4 million surplus, according to the forecast. That surplus is fueled by inflation boosting tax receipts and the fact that the tight labor market has delayed hiring efforts.
"Our work is far from done and we may have to deal with the very real possibility of a recession, but the encouraging state of our finances is because of our willingness to make hard decisions and confront our problems head on," Preckwinkle said.
In addition, the county's hospital system — which bore the brunt of the pandemic's impact, providing half of all the charity care in the county at just two hospitals — will finish the 2022 fiscal year with a surplus of $29.3 million, buoyed by an increasing number of members in CountyCare, the county's Medicaid health insurance plan, payroll savings due to the tight labor market and federal COVID-19 cost reimbursements, officials said.
The hospitals are facing a budget gap of $13.9 million in 2023 "by expected labor cost increases, the anticipated discontinuance of federal pandemic reimbursements, and reductions in revenue due to CountyCare membership shifting more towards pre-pandemic levels," officials said.
Cook County officials are scheduled to host a virtual public hearing at 6 p.m. July 11.
Contact Heather Cherone: @HeatherCherone | (773) 569-1863 | [email protected]
---