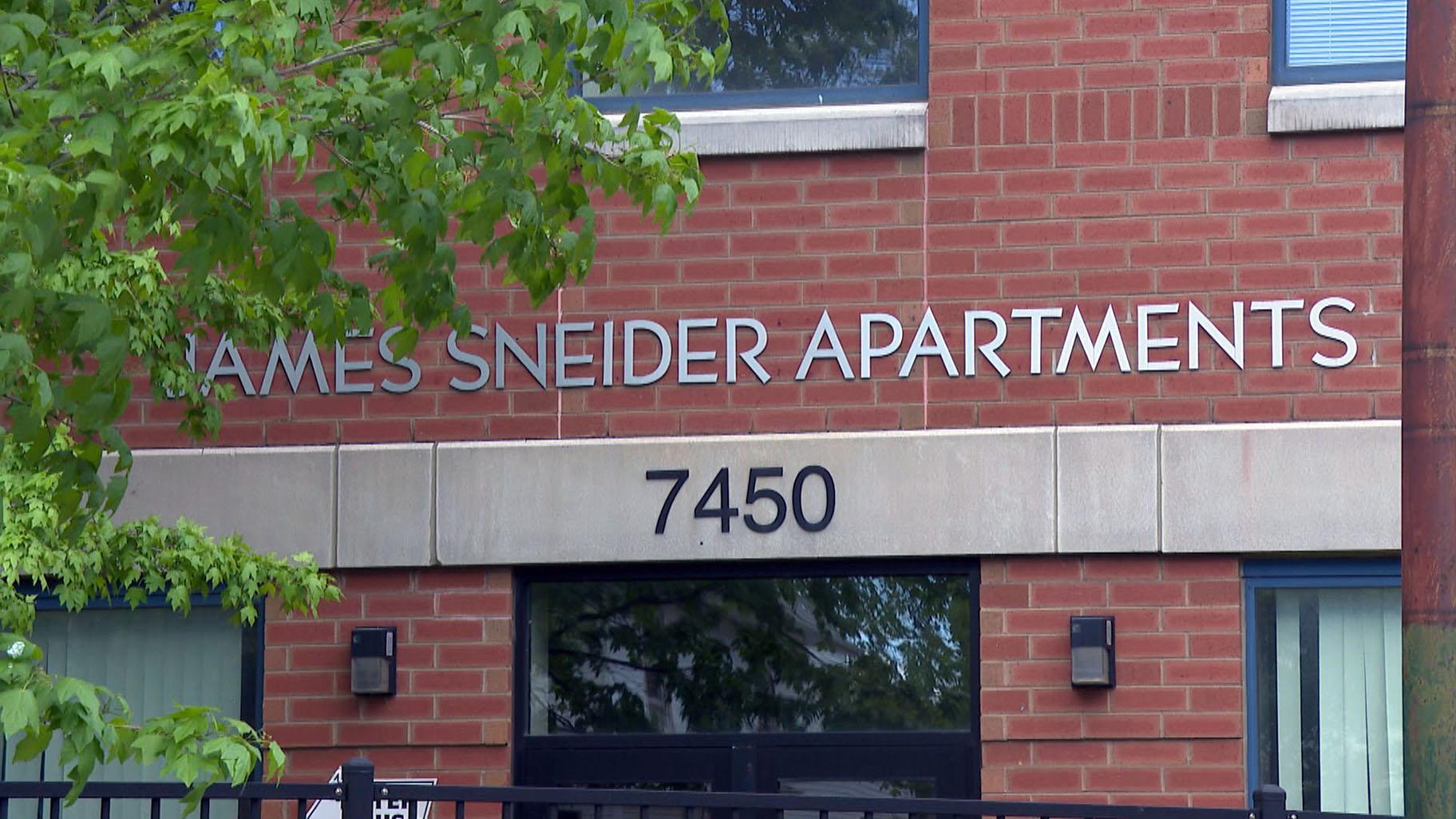 (WTTW News)
A measure that would require landlords to offer residents a chance to escape the heat in an air-conditioned space cleared a key city panel Tuesday, as members vowed to act quickly after the deaths of three Rogers Park women during a mid-May heat wave.
The City Council's Zoning Committee unanimously approved a scaled-back proposal crafted by Ald. Maria Hadden, whose 49th Ward includes the James Sneider Apartments, where Delores McNeely, 76, Janice Reed, 68, and Gwendolyn Osborne, 72, died on May 14.
The revised measure, which is set for a final vote at the full City Council meeting scheduled for Wednesday, would require all apartment complexes with more than 100 units and those designated for residents older than 55 that do not have air conditioning to cool and dehumidify all indoor common areas to give residents a respite from their sweltering apartments.
That provision could take effect on July 1 with the approval of the City Council.
Hadden said the measure was designed to help property managers and landlords make better decisions regarding the temperature of their properties at a time when Chicago is experiencing hotter and more prolonged heat due to climate change.
"Time and time again we have seen them make the wrong choices, and in rare cases, those wrong choices have cost people their lives," Hadden said.
The common areas could be cooled with a temporary system — including window air conditioning units — until May 1, 2024, according to the measure that advanced Tuesday. 
Cooling rooms in senior complexes must be open on days when the heat index reaches 80 degrees or greater, according to the measure.
The measure also requires senior buildings to meet the same rules on maximum temperatures set for nursing homes, and requires all new buildings to have a permanent air conditioning system.
However, Hadden agreed to remove a provision from the version that advanced to the full City Council that was designed to protect residents living in buildings where the heating and cooling systems rely on the same pipes, requiring the heat to be turned off before the air conditioning can be turned on.
The city's heat ordinance requires landlords to keep temperatures to at least 68 degrees during the day and 66 degrees at night between Sept. 15 and June 1.
Hadden told WTTW News that the landlord of the building where the women died did not turn off the heat and turn on the air conditioning — despite the outside temperature — for fear of violating that ordinance.
Hadden's proposal would set a minimum temperature of 64 degrees between Sept. 15 and Oct. 15, before the first recorded temperature at or below 45 degrees, and between May 1 and June 1, after the first recorded temperature of 75 degrees or more. That would ensure that landlords would not face sanctions if the temperature unexpectedly changes direction as the seasons change.
That provision was designed to give landlords and property managers clear rules to follow, rather than allowing them to use their judgment — which has led to "tragedy," Hadden said.
However, that drew objections from downtown Alds. Brian Hopkins (2nd Ward) and Brendan Reilly (42nd Ward) along with Ald. Raymond Lopez (15th Ward) who said landlords needed more "flexibility" to adjust their heating and cooling systems.
Hadden said she would work with her colleagues to redraft that measure to address those concerns.
Contact Heather Cherone: @HeatherCherone | (773) 569-1863 | [email protected]
---