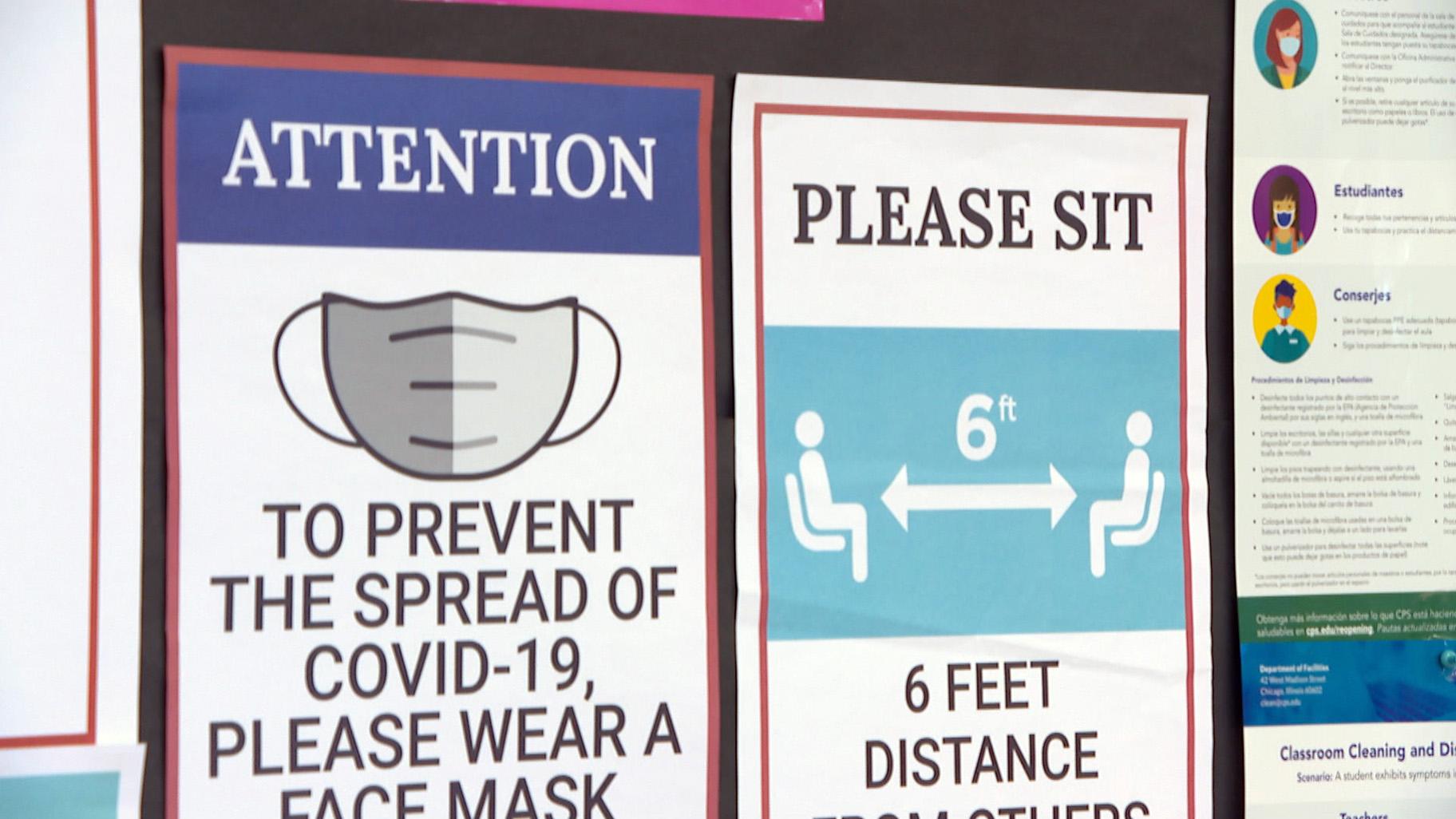 (WTTW News)
The 2021-22 school year is drawing to a close with Chicago Public Schools students in the same place they were at the start of the year — in the classroom — something Mayor Lori Lightfoot said she plans to "fight like hell" to continue in the fall.
As of Tuesday, which marks the final day of classes for CPS, more than 22,000 students and 9,400 adults have tested positive for COVID-19 at some point during the current school year, according to district data.
But even as case numbers increased in recent weeks after an early spring lull, Lightfoot said she has no intention of returning to remote learning when classes resume in August.
"I'm going to continue, frankly, to fight like hell to make sure that our kids are back in school," she said during a press event Tuesday morning at Peace and Education Coalition Alternative High School. "We will continue to make the necessary investments classroom-by-classroom, to give parents the confidence that they can send their children back to school."
Over the course of the last school year, CPS implemented a vaccine mandate for employees, reduced the quarantine period for those who test positive from 10 days down to five and implemented a test-to-stay program — which allows students to avoid a mandatory quarantine following a close contact if they agree to multiple COVID-19 tests — at a handful of schools throughout the district.
CPS officials also reached a COVID-19 safety agreement with the Chicago Teachers Union following a five-day labor action in January, though teachers later claimed the district broke part of that agreement by removing a mask mandate as the number of cases dwindled in March.
Since then, cases of COVID-19 have again rebounded, and Chicago currently remains in a "high" risk transmission category.
"Safe in-person learning is, and has always been, the goal, but COVID-19 spikes this spring have shown us that pandemic mitigation must continue," the union said in a statement Tuesday.
The union said CPS must bargain for a COVID-19 safety agreement for the fall, while maintaining the safety mitigations already in place under the current agreement.
"The district has said that they have no plans to change safety layers, and Mayor Lightfoot's CPS team should commit to that in writing to reassure students, families and educators," the union said. "COVID-19 is still disrupting lives, and there is still a need for caring and nurturing special education teachers, social workers, counselors, teacher assistants and other staff in every building — not budget cuts and more than 450 layoffs while the mayor balances the city budget on the backs of our school children. 
As of Monday, 250 adults and 2,786 students across the district remain in quarantine, though CPS CEO Pedro Martinez noted those totals are well below the winter peak when more than 23,000 people were quarantined.
Martinez said almost 40 schools currently offer test-to-stay, but he expects a majority of schools to offer that program by August.
"We're putting the systems in place now," he said Tuesday. "You'll see it in even more schools."
Martinez acknowledged it has been a "challenging" year, but added he believes it's ending on a positive note because students were able to maintain in-person learning from start to finish. He also noted that while some teachers will lose their current jobs, this occurs every year due to shifts in needs at individual schools, and all those employees are guaranteed a spot somewhere within CPS.
Lightfoot wouldn't say if she plans to negotiate a new safety deal, but added attorneys for CPS and the CTU are in constant contact, even if "we don't agree on every issue."
Contact Matt Masterson: @ByMattMasterson | [email protected] | (773) 509-5431
---