Federal prosecutors can use thousands of hours of recorded conversations in the corruption case facing Ald. Ed Burke, a federal judge ruled Monday, dismissing the powerful Southwest Side alderperson's effort to hobble the government's long-delayed case.
U.S. District Court Judge Robert Dow rejected all of Burke's attempts to cut the heart out of the 14 federal criminal charges facing the politician who once ruled City Hall with an iron fist as chair of the all-powerful City Council Finance Committee. 
Dow's 194-page ruling paves the way for Burke and his co-defendants, longtime aide Peter Andrews and Portage Park businessman Charles Cui, to stand trial together in 2023, more than three years after they were indicted and pleaded not guilty.
Dow found that nearly all of the issues raised by Burke were matters of fact that he could not, and would not, resolve.
"To put it plainly, Ald. Burke should tell it to a jury," Dow wrote.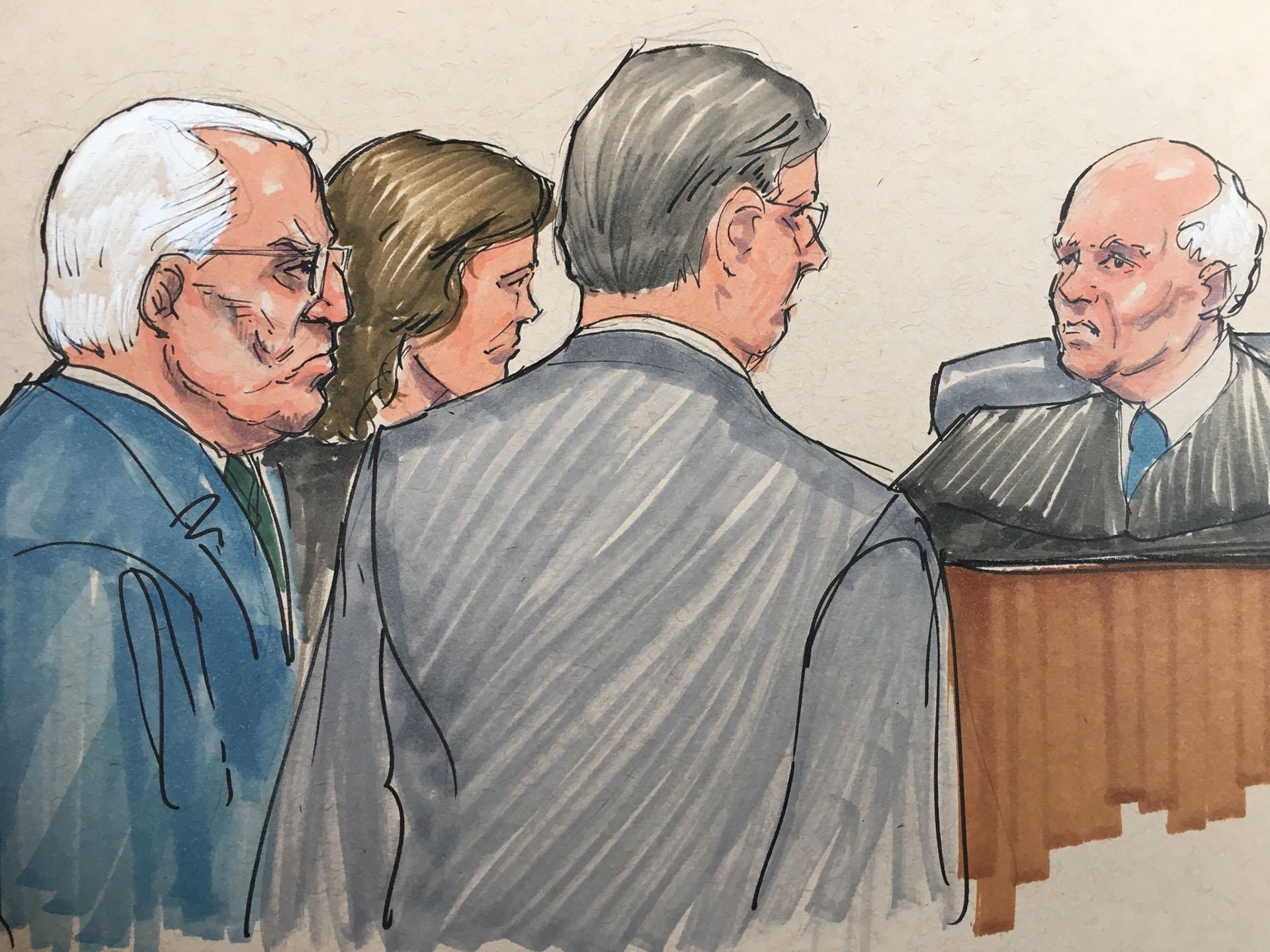 In this courtroom sketch, Ald. Ed Burke, left, appears before U.S. Federal Magistrate Judge Jeffrey Cole with his attorneys on Tuesday, June 4, 2019. (Credit: Tom Gianni)
Many of the arguments advanced by Burke relied on the 2016 U.S. Supreme Court decision to vacate the conviction of former Virginia governor Robert F. McDonnell on corruption charges. 
McDonnell was convicted of taking official action in return for loans, vacations and gifts. The Supreme Court ruled that a corrupt act "must involve a formal exercise of governmental power, and must also be something specific."
Dow found the indictment of Burke contained ample probable cause to believe the government could prove their case, even in light of the McDonnell Supreme Court decision that narrowed the definition of a corrupt act.
"McDonnell does not ask courts to throw out the baby with the bath water, and ambiguities can be fleshed out by the deft touch of jury instructions rather than the heavy hand of invalidating statutes," Dow wrote, rejecting Burke's request to dismiss most if not all of the charges against him.
Dow said during a brief hearing on May 31 that he was unlikely to be able to schedule a trial in Burke's case until early 2023 because of his packed trial calendar, restrictions that are still in place to stop the spread of COVID-19 and the need to try defendants who are being held in pre-trial detention as quickly as possible.
Burke, 78, was re-elected to a 13th term on the Chicago City Council in February 2019, less than two months after he was charged with attempted extortion. The next aldermanic election is scheduled for February 2023.
If Burke decides to run for re-election, he could do so before being brought to trial on charges he has faced for more than an entire term on the City Council. Burke has essentially stopped raising cash for campaign expenses, but is using his formidable war chest to fund his legal defense. 
Burke has spent more than $3 million in campaign contributions on fees to cover his legal defense, and has an additional $8 million in his campaign accounts, according to records filed with the Illinois State Board of Elections.
Burke faces charges of racketeering, bribery and extortion. Racketeering charges — usually brought against members of the mob or street gangs — allege a pattern of corruption unknown to its victims. Dow upheld the racketeering charges as well.
Dow also rejected Burke's argument that the charges violated his freedom of speech, as guaranteed by the First Amendment.
"Above all else, bribery itself clearly is not protected speech and prohibiting it serves a critical purpose here in Illinois in particular," Dow wrote. "There is no question that exposing corruption is a significant state interest, and that this interest is acute in Illinois given the litany of public-corruption convictions in this courthouse alone."
Burke was the subject of "the longest wiretap in the United States that concluded in 2018," according to prosecutors. In all, investigators intercepted 9,101 calls made by Burke or answered by him during the investigation, according to court records.
Those calls contain "powerful evidence" that Burke is guilty of corruption, prosecutors said, including a 2017 question he posed to disgraced former Ald. Danny Solis: "So, did we, uh, land the tuna?"
Burke was recorded making many statements — including "the cash register has not rung yet" — that could be evidence of a quid pro quo, Dow wrote.
Some of the charges facing Burke revolve around a plot involving Solis to force the firm renovating the Old Post Office in Solis' 25th Ward to hire Burke's private law firm in return for city approvals. Burke pledged to kick back a portion of the spoils to Solis in return for his approval of an $18 million subsidy and a tax break worth $100 million, prosecutors alleged.
Solis entered into deferred prosecution agreement with federal prosecutors that will likely mean he will avoid prison and keep his city pension.
Solis agreed to help federal agents investigate Burke after Solis was secretly recorded by a developer as part of another investigation and confronted by federal officials with evidence that he traded sex acts, Viagra, free weekend use of an Indiana farm once owned by Oprah Winfrey and a steady stream of campaign contributions for City Council actions.
Dow rejected Burke's attorneys' arguments that those wiretaps were obtained without probable cause and should be excluded from evidence. Burke's attorneys argued that federal investigators ordered Solis to have "scripted interactions" with Burke. Solis, facing his own mounting legal woes, had an incentive to deliver evidence against Burke to federal prosecutors, according to Burke's attorneys.
However, Dow found that "[former] Chief Judge [Ruben] Castillo had a substantial basis for finding probable cause to believe that the wire interceptions of Ald. Burke's phones would uncover evidence of a crime."
Referring to Burke as one of Chicago's "most prominent and powerful government officials," Dow said "Ald. Burke would have this court believe that the government thought it could get away with pulling the wool over Chief Judge Castillo's eyes."
When he authorized the wiretap, Castillo knew "Solis was the subject of an ongoing investigation, that Ald. Solis was cooperating with law enforcement, and that Ald. Solis was working at the behest of the FBI," Dow wrote.
Prosecutors will also be allowed to use recordings of Burke voicing his frustration that his firm had not yet been hired by the developer of the Old Post Office.
"[W]ell, you know as well as I do, Jews are Jews and they'll deal with Jews to the exclusion of everybody else unless … unless there's a reason for them to use a Christian," Burke said, according to prosecutors.
Prosecutors said the comment was "distasteful" and is evidence that Burke "believed he would only be hired to perform tax work by if he was able to take favorable action for in his capacity as an alderman."
Burke had asked Dow to exclude that recording, saying it could prejudice a jury against him.
Dow acknowledged that the comment could inflame the jury, but said it could be used against him because it is "highly probative of Ald. Burke's intent to enter a quid pro quo (which Ald. Burke views as an essential element of the predicate racketeering activity and surely will request in a future jury instruction), which outweighs Ald. Burke's risk of embarrassment."
Andrews, a longtime aide to Burke and the current chair of his campaign finance committee, is charged with helping Burke attempt to extort two businessmen who operated a Burger King restaurant in the 14th Ward. 
Cui is accused of hiring Burke's law firm in exchange for the alderperson's help obtaining a sign permit and city subsidy for the redevelopment of a Portage Park bank into shops.
The next hearing in the case is scheduled for July 12. Dow could set a trial date at that time.
Contact Heather Cherone: @HeatherCherone | (773) 569-1863 | [email protected]