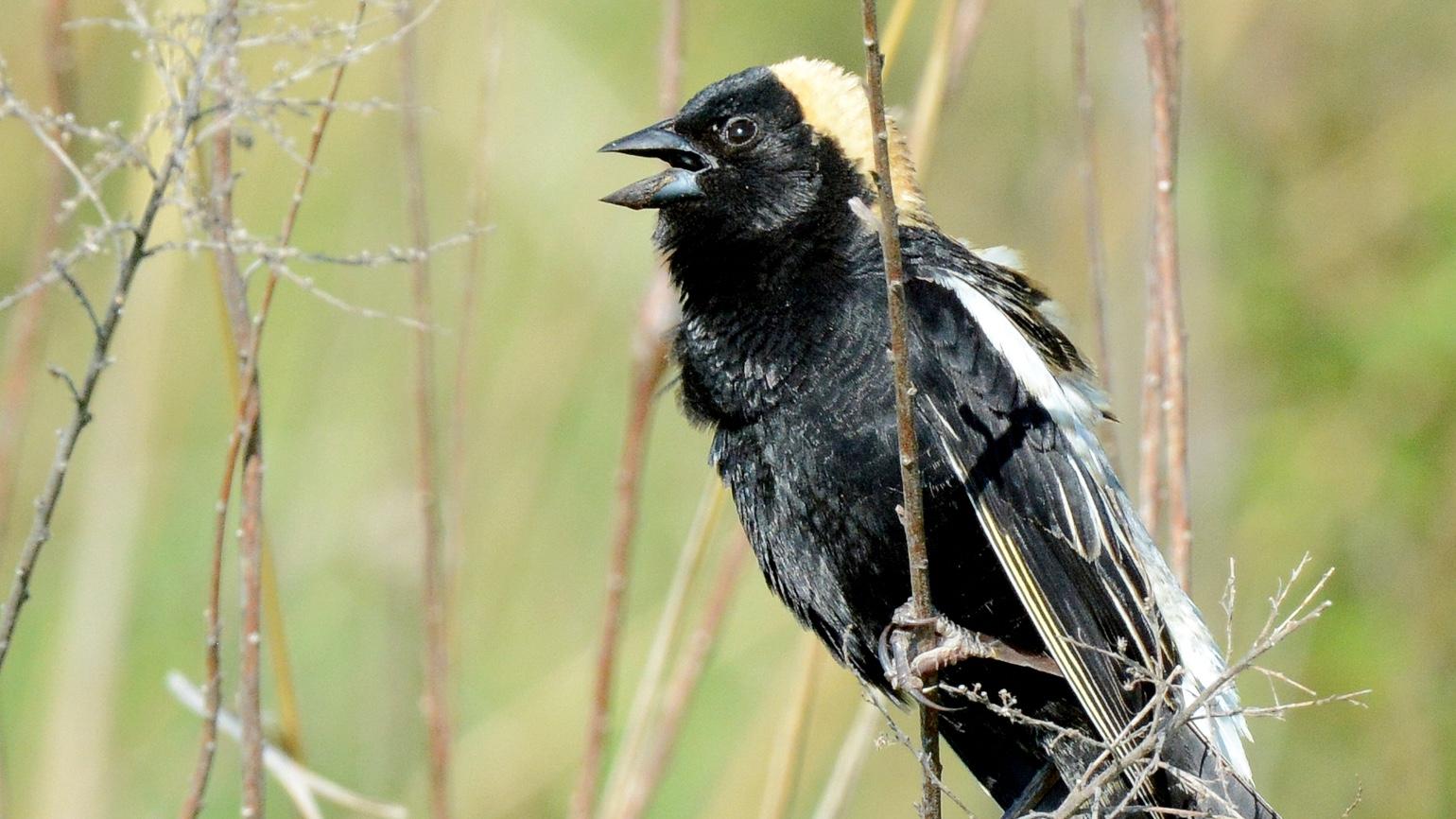 Bobolink, seen mid-song. (U.S. Fish and Wildlife Service Midwest Region)
"Birdsongs: Sounds of the Mississippi Flyway" is a newly released compilation of original instrumental songs inspired by, as the title suggests, the sounds of birds commonly found in northern Illinois.
Each song begins with an audio snippet of a bird's actual call — obtained from the Cornell Lab of Ornithology — followed by an interpretation from Rockford-based musician Micky Torpedo, who was commissioned by the Sinnissippi Audubon chapter to create the album. Violin, piano and banjo dominate, to give the collection an "earthy" quality.
"They're kind of love songs to the species," Torpedo said.
Some of the songs came together quickly, he said. "Baltimore oriole was written in 10 minutes. I immediately heard the tonal center, the pitch, the melody the rhythm of what the (oriole) was giving out."
But the bobolink nearly broke him.
As songbirds go, the bobolink's vocals are an acquired taste, a flurry of sharp, metallic squeaks more reminiscent of R2-D2 than the melodic trills of the operatic-by-comparison wood thrush.
When he first heard the Cornell recording, Torpedo thought, "Oh man, that's going to get cut," he recalled. "My goal was to stay as close to the species as possible, but to make it palatable and interesting. With the bobolink, if I was accurate with the pitch, I don't know if people would listen."
Once he locked in on a triplet movement in the bobolink's chirps, though, Torpedo was able to tease out a tune. The result is a spare yet lilting piano piece that captures the essence of the bobolink's birdsong without sacrificing peoples' ears. 
This May, award-winning producer Randall Poster — best known for collaborating on Wes Anderson's films — dropped "For the Birds," the first of an anticipated five-volume set of music and poems inspired by birdsong. The set features contributors like Elvis Costello, Wilco and Arcade Fire, who supplied songs, and Hollywood A-listers including Robert Pattinson, Natasha Lyonne, Regina King and Matthew McConaughey, who provided narration. Sales will benefit National Audubon.
Jennifer Kuroda, head of the Sinnissippi Audubon chapter, was unaware of Poster's project when she approached Torpedo with her idea for "Mississippi Flyway."
"Great minds think alike," Kuroda joked. 
Though Sinnissippi's grassroots effort may lack Poster's star power — Torpedo doesn't have a manager, much less a publicist — both recordings tap into a renewed interest in birds, an interest born in large part out of the COVID-19 pandemic's various lockdowns and restrictions. People spent more time in nature, slowed down, watched and listened. A lot of what they saw and heard were birds.
"It's a healthy way of finding peace in our lives, just pausing 10 to 15 minutes to listen to birds," said Torpedo, who counts himself among the newly converted.
Suddenly birding, a pastime formerly considered just plain nerdy became so-nerdy-it's-cool.
"Our last bird walk, 80% to 90% of the people were first-time birders," Kuroda said.
But for beginners, birding can be intimidating, she acknowledged. It's up to experienced hobbyists such as herself, she said, to make newcomers feel welcome, whether by sharing binoculars or creating accessible points of entry like Sinnissippi's peregrine falcon nest camera or this album of birdsong.
"I want to encourage more people to get out," said Kuroda.
Yet just as people are discovering the charm and beauty of birds, the creatures themselves are suffering steep declines in population and species diversity. 
There is, for example, a long-running bird banding station in Durand, Ill., Kuroda said, where the downward trend in the number of birds banded is glaring. "I think about how amazing it would have been to see those huge flocks" that no longer exist, she said.
To raise awareness of the need for conservation, the birds chosen by Kuroda for "Mississippi Flywary" are all threatened or endangered.
"I really wanted to make that connection," she said. "These birds in our state, like the bobolink, have taken a hit because of climate change and habitat destruction."
It's an issue that has struck close to home for Kuroda. 
Sinnissippi Audubon was one of the organizations involved in the early fight to save ancient Bell Bowl Prairie from demolition, to make way for a planned expansion at Rockford Airport. Birders were the first to raise the alarm that bulldozers were at the prairie's edge.
Bell Bowl had always been part of Sinnissippi's annual spring bird count, Kuroda said, and was known as a great place to spot a kestrel or northern shrike. Her last visit to the prairie took place in fall 2021, after attending a contentious meeting of the airport's board. She walked to Bell Bowl with a group that included Jack White, the former director of the Illinois Natural Areas Inventory.
"We were out there for an hour. That's probably why they put security up," Kuroda said. "I wish everyone had had the same opportunity to be out there with Jack. He kneeled down with this glass eyepiece and pointed to this square and said, 'There's 40 species of plants.' It's more diverse than a rain forest. I was almost crying, it was very emotional. You realize what's going to be lost."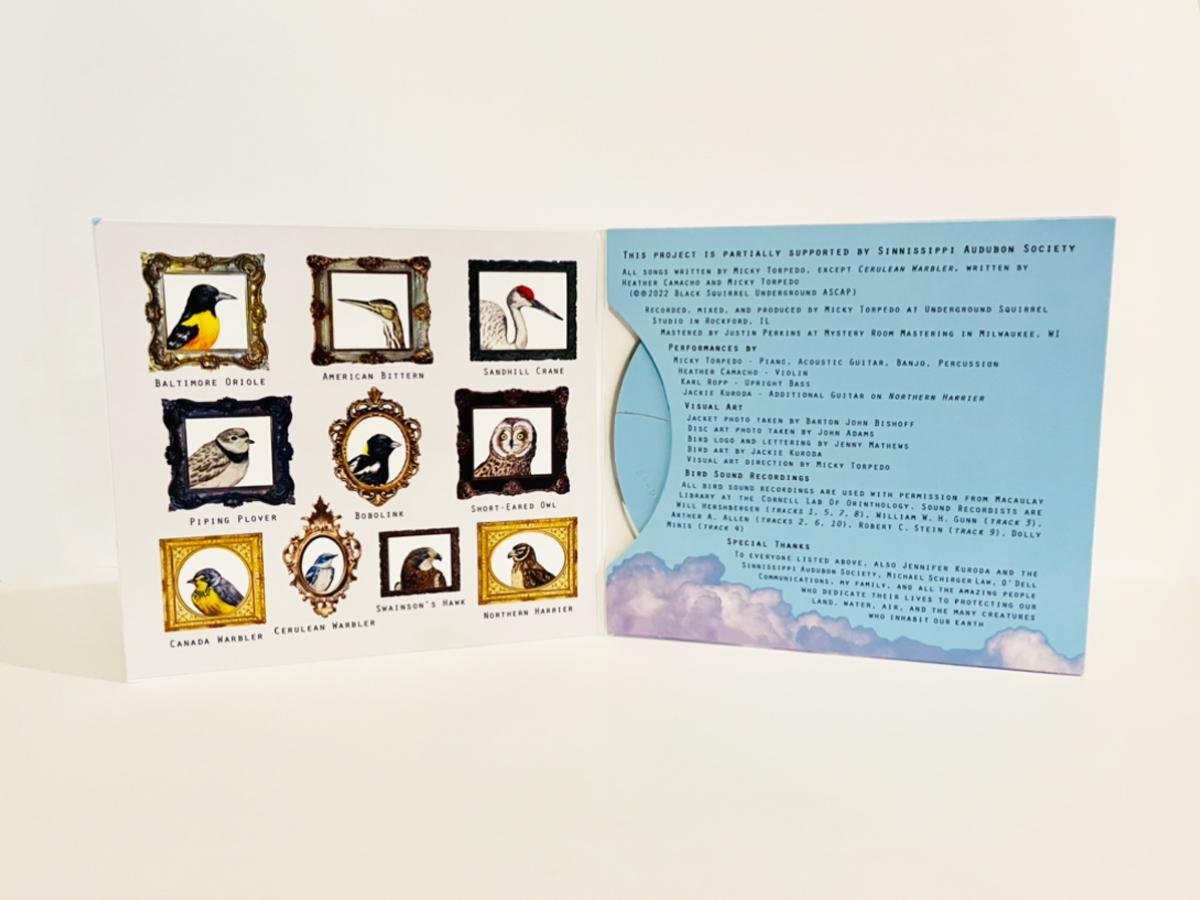 "Birdsongs: Sounds of the Mississippi Flyway" is available for digital download, but there's also a physical CD. (Courtesy of Micky Torpedo)
While it would be amazing to replicate the success of the Australian birdsong project, Torpedo's goals are far more modest. He'd like to cover his costs and be in a position to hand over a portion of whatever proceeds there are to Sinnissippi Audubon in order to fund ongoing outreach and education. 
Though tunes can be downloaded digitally, Torpedo is particularly fond of the old-school CD he created for purchase (with artwork designed by Kuroda's daughter, Jackie), which comes with a bonus deck of trading cards, one for each bird included on the album. 
Well, technically not trading cards, considering everyone's getting the exact same deck, Torpedo said. For that, he'll need to record additional volumes of birdsongs.
"I've got a bunch of ideas," he said.
Contact Patty Wetli: @pattywetli | (773) 509-5623 |  [email protected]
---