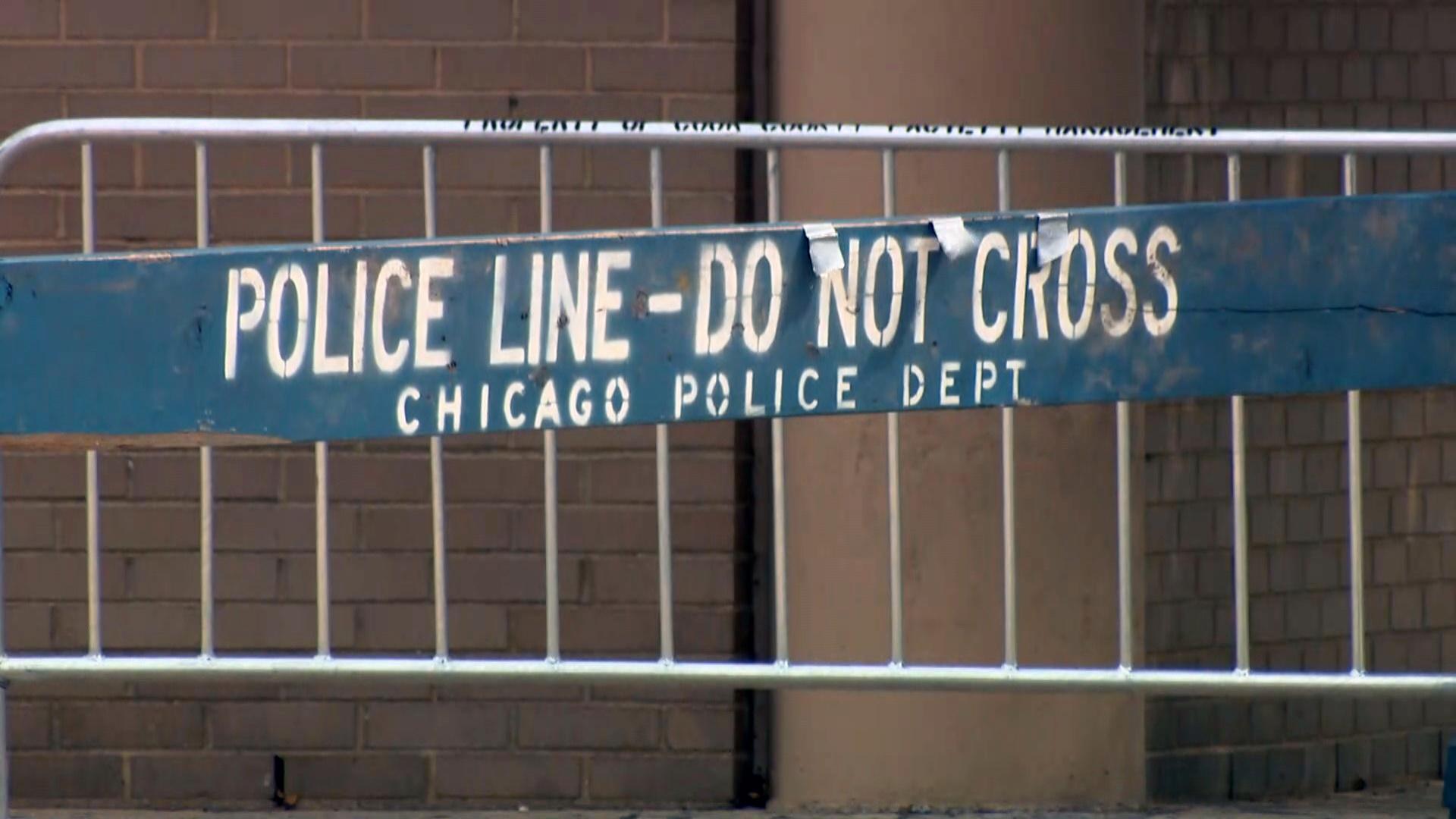 A file photo shows a crime scene blocked off by the Chicago Police Department. (WTTW News)
Two people were killed and seven people were wounded in a mass shooting late Thursday blocks from Michigan Avenue amid a continuing surge in violence downtown.
One person was in custody in connection with the incident, which started as an altercation among a group of teens near the Chicago Avenue station on the CTA Red Line outside a McDonald's restaurant, officials said. A gun was recovered, according to a statement from the Chicago Police Department.
Police Superintendent David Brown described the shooting as a "personal conflict" that occurred after two groups got into an argument near the McDonald's at around 10:45 p.m. As a roving team of police officers made its way toward these groups to separate them, one person opened fire on one of those groups.
That person immediately fled down to the CTA subway station, where he was arrested by pursuing officers. Police recovered a firearm there, and Brown said a second individual was also taken into custody for allegedly obstructing an arrest.
Neither person who was killed has been identified by officials as of Friday morning. The CPD initially indicated 10 people had been shot, but Brown on Friday clarified that the correct total was nine. He said police have recovered video showing the shooting, and charges are pending against the suspected gunman.
"At this point," Brown said during a press conference Friday, "we are further along in our investigation and working with the (Cook County) State's Attorney pending charges. We're confident our officers captured the shooter and recovered the weapon used."
One of those killed was a 31-year-old man, police said. He was struck in the back. The second person killed was a man who was shot in the chest. His age was not immediately known.
The surviving victims included:
– A 19-year-old man who was shot in the chest. He's in critical condition at Northwestern Hospital.
– A 17-year-old boy who was shot multiple times. He is listed as "stable" at Stroger Hospital.
– A 46-year-old woman who was shot in the left leg. She's also "stable" at Advocate Illinois Masonic Medical Center.
– A ​​31-year-old man who was shot in the hand. He's listed in good condition.
– A 21-year-old man who was shot in the lower leg. He's listed in good condition.
– A 30-year-old man who suffered graze wounds to his shoulder and stomach. He's listed in good condition.
– A 29-year-old man who suffered a graze wound. He's listed in good condition.
Police are still searching for another man who allegedly handed the suspect a firearm just before the shooting, Brown said.
A woman was also injured after she fell on to the tracks of the Red Line amid the chaos as the melee spilled into the State Street subway, according to a statement from the Chicago Fire Department. Brown said the woman remains in critical condition.
Blood still stained the sidewalk outside the CTA station Friday morning, as commuters rushed to work. Brown descibed the area as an "ongoing crime scene" Friday that was still being processed for evidence, though the fire department has reportedly cleaned the sidewalk since. 
Mayor Lori Lightfoot called the incident "an outrageous act of violence."
"Area residents, commuters, and others simply must have the peace of mind that this highly trafficked area is safe, and it is time for more specific, concrete steps to be taken to address this area once and for all," Lightfoot said.
Lightfoot said she would order Brown to "install a fixed post of uniformed officers at the intersection of State and Chicago and a separate fixed post in the Red Line station in the same area."
However, Ald. Brendan Reilly (42nd Ward) said on Twitter that there were "already supposed to have fixed posts in place at Chicago & State."
"The daily excuses coming out of the superintendent's office insult intelligence & are infuriating," Reilly said. "City Council needs to step-in & demand accountability. Their strategy is failing us miserably."
The violence erupted on the first night that everyone younger than 18 was banned from Millennium Park by Lightfoot, and less than a week after a 16-year-old boy was murdered near The Bean sculpture.
Contact Heather Cherone: @HeatherCherone | (773) 569-1863 | [email protected]
---