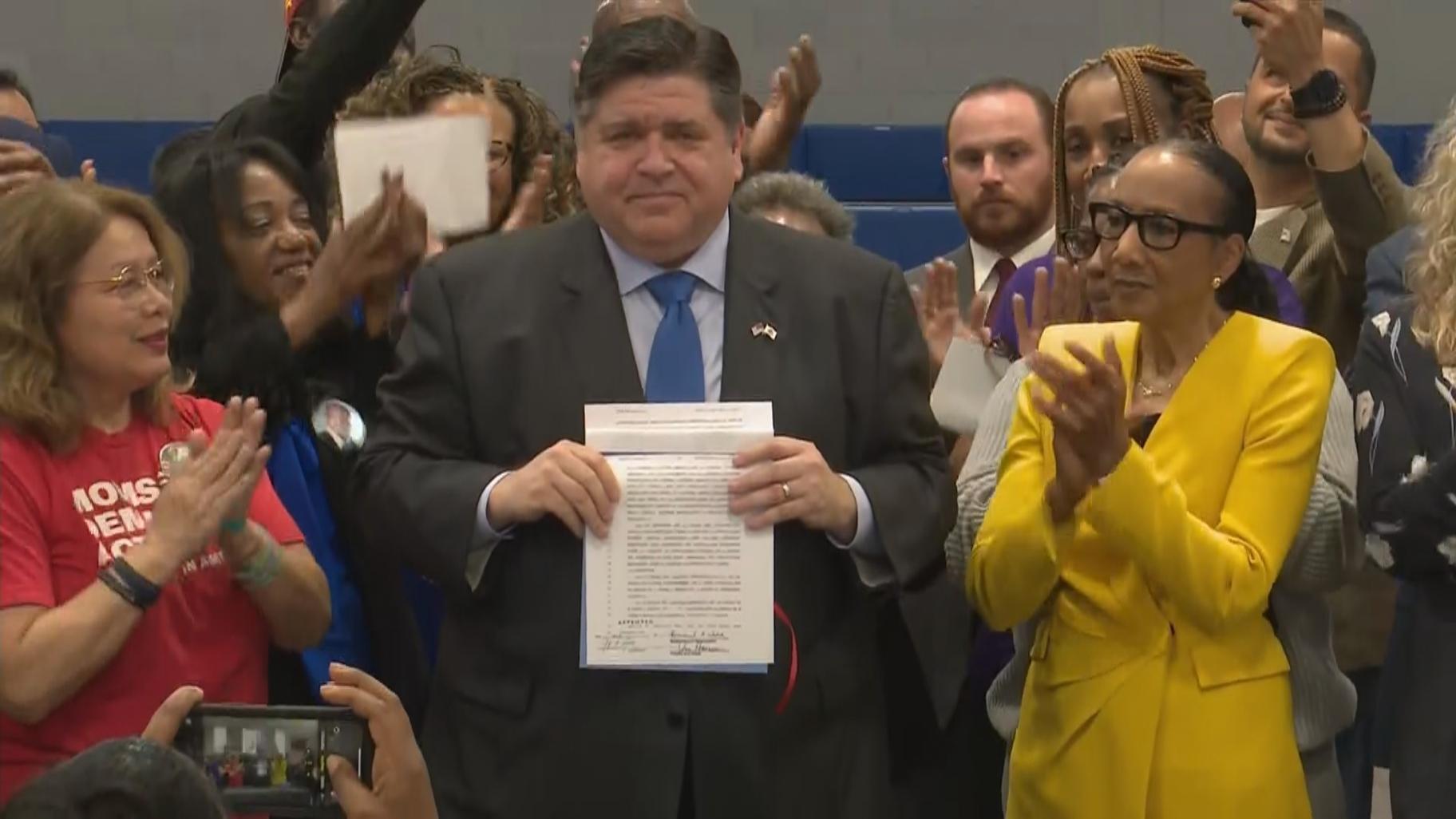 Gov. J.B. Pritzker holds a signing event for ghost gun legislation at the Ark of St. Sabina on May 18, 2022. (WTTW News)
Illinois residents will no longer be able to legally sell or possess unregistered, privately-made firearms known as "ghost guns" under new legislation Gov. J.B. Pritzker signed into law.
The governor on Wednesday joined local and legislative officials at the Ark of St. Sabina in Chicago to sign HB 4383 into law, effectively banning Illinoisians from building their own unserialized firearms from kits at home.
"Ghost guns are deadly weapons with horrifying implications," Pritzker said. "In short, in an America where gun violence has become a scourge on so many neighborhoods, Illinois is taking a common sense approach to advancing public safety and justice from all directions."
Ghost guns — pieces of which can be purchased through online build-at-home kits or even manufactured using 3D printers — are virtually untraceable and have become increasingly prominent in crimes across Illinois and the U.S.
The firearms can be highly customizable, Chicago police Superintendent David Brown said, but they can also be made to look exactly the same as a traditional gun. That's why he said it's important ghost guns are registered just as any other firearm would be.
"This bill will save lives," Brown said.
Because they're cheaper and easier to obtain than a typical firearm, officials said more and more ghost guns are finding their way into the hands of teens.
Pritzker pointed to a case from earlier this month in which an Oak Park and River Forest High School student allegedly brought a ghost gun onto school grounds. Chicago police also said they recovered a ghost gun from a 16-year-old boy in Millennium Park last weekend.
According to Pritzker's office, unserialized firearms were involved in more than 20,000 suspected crimes nationwide in 2021. And Justice Department statistics show that nearly 24,000 ghost guns were recovered by law enforcement at crime scenes and reported to the government from 2016 to 2020.
The Chicago Police Department said its officers this year have recovered 254 ghost guns through May 12. The CPD on Wednesday could not provide comparison data for the same time period last year, but said officers recovered a total of 458 ghost guns throughout all of 2021.
Already this year, President Joe Biden's administration has taken action to crack down on ghost guns at a national level.
A new federal rule issued in April changed the current definition of a firearm under federal law to include unfinished parts, like the frame of a handgun or the receiver of a long gun. It says those parts must be licensed and include serial numbers. Manufacturers must also run background checks before a sale, as they do with other commercially made firearms.
But bill sponsors in Illinois said those changes did not go far enough.
Instead of focusing on manufacturers, state Sen. Jacqueline Collins, D-Chicago, said this legislation also requires individual owners to have their ghost guns serialized within 180 days.
"Without this provision," she said, "ghost guns will continue to find their way into the hands of those who seek to harm others."
The Associated Press contributed to this report.
Contact Matt Masterson: @ByMattMasterson | [email protected] | (773) 509-5431
---