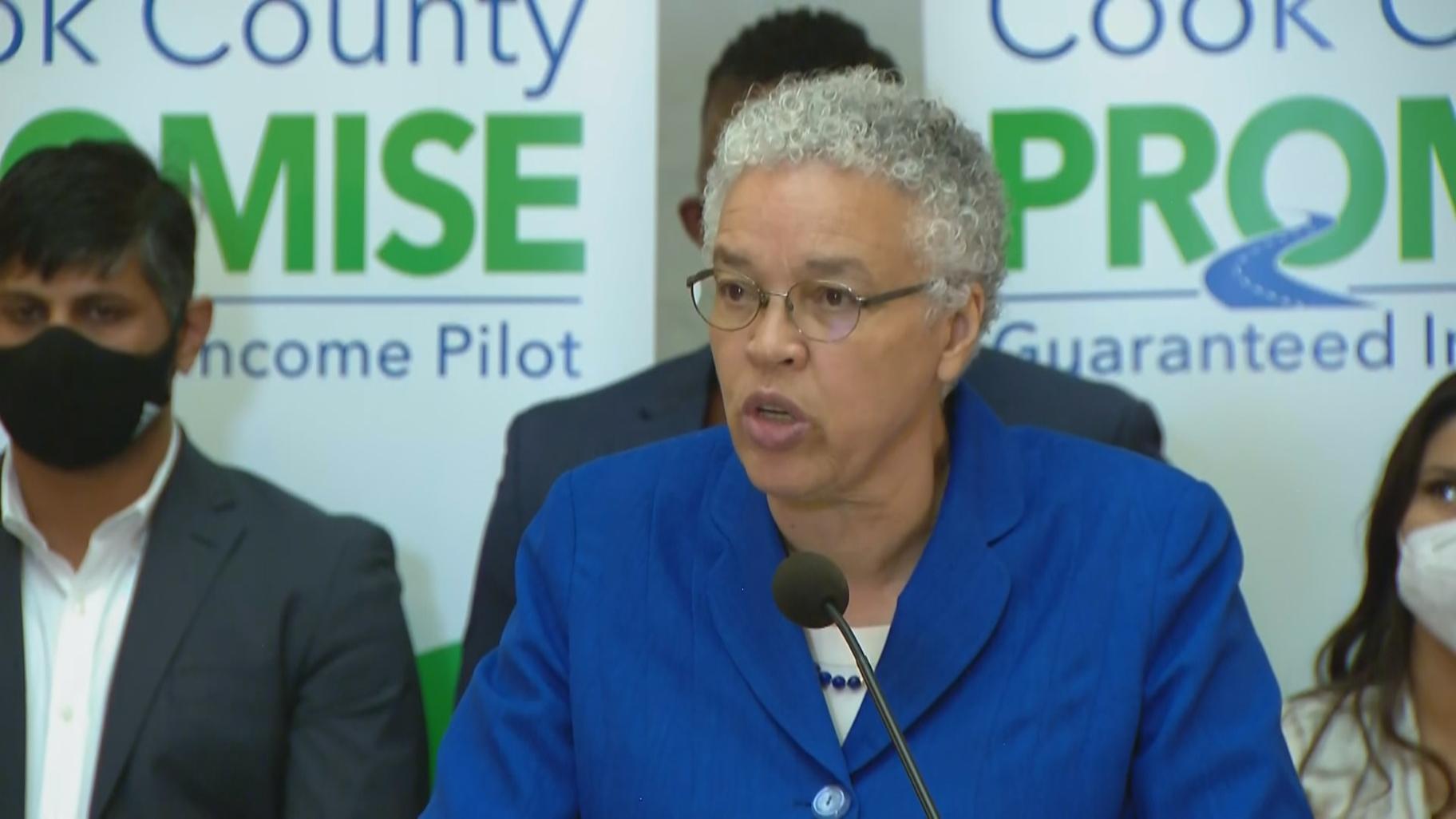 Cook County Board President Toni Preckwinkle speaks about the county's cash assistance program on May 18, 2022. (WTTW News)
Confident that making cash assistance payments directly to people struggling to make ends meet can help reduce poverty, Cook County Board President Toni Preckwinkle said Wednesday she will make a guaranteed income program permanent in Cook County.
The county will launch a test of the program this fall with $41.5 million from the federal COVID-19 relief package signed into law by President Joe Biden in March 2021, Preckwinkle said. It is the largest program in the nation.
The 3,250 residents who are selected for the program, which will prioritize residents of suburban Cook County, will get monthly payments of $500 for two years. The first checks are expected to be cut by the end of the year, officials said.
A separate program for Chicago residents drew more than 100,000 applications before it closed on May 13. The city's $31.5 million program will send 5,000 Chicago families $500 per month for 12 months, officials said.
In 2021, Cook County officials used $8 million in federal COVID-19 relief funds to send $600 cash assistance payments to 14,000 residents hit hard by the economic catastrophe triggered by the pandemic.
"The vast majority of the money was used to cover housing, transportation and medical bills, all contrary to the 'welfare queen' tropes that's long plagued our nation's safety net narrative," Preckwinkle said.
Preckwinkle the results of that pilot that convinced her the cash assistance program should be extended and made permanent.
"We're interested in long-term solutions," Preckwinkle said.
A lottery will determine which applicants will participate in the program, officials said.
To be eligible for the cash assistance program, participants must live in Cook County, be older than 18, and live in a household that earns no more than 250% of the federal poverty level, or $69,375 for a family of four, officials announced.
Participants cannot be selected for both the Chicago program and the Cook County program, officials said.
The University of Chicago Crown Family School of Social Work, Policy, and Practice and Inclusive Economy Lab will complete a study on the impacts of the pilot and residents' experiences to help officials understand how the cash assistance program worked and how to determine how to make the program permanent.
Contact Heather Cherone: @HeatherCherone | (773) 569-1863 | [email protected]
---