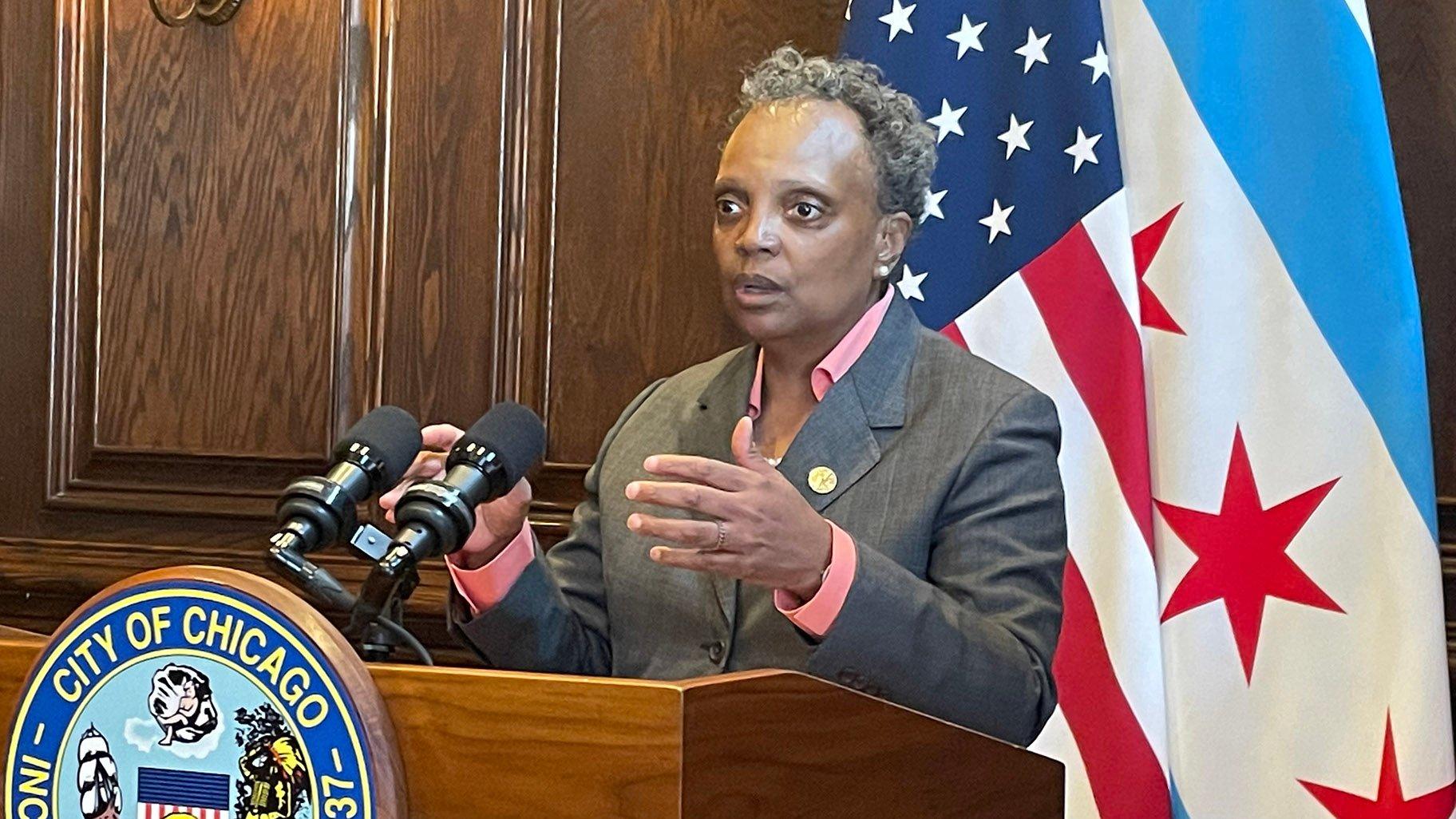 Mayor Lori Lightfoot addresses the news media Tuesday April 19, 2022. (Heather Cherone/WTTW News)
Mayor Lori Lightfoot said Monday the city will use $500,000 to help ensure Chicago remains a haven for those in need of an abortion and other forms of reproductive health care threatened by an expected Supreme Court decision.
Lightfoot said she was spurred to act by the disclosure of a draft Supreme Court decision by Politico that showed five of justices have voted to overturn Roe v. Wade, the landmark 1973 decision that created a constitutional right to abortion. A final decision is expected to be announced by the end of June.
"All people, regardless of race, sex, age, income, or immigration status deserve to have access to health care, and that includes reproductive rights and the choice to decide over their own bodies," Lightfoot said.
The funds — which were already approved by the City Council as part of the Chicago Department of Public Health's budget — will be used to help organizations like Chicago Abortion Fund and the Midwest Access Coalition provide transportation, housing, care "and, if necessary, safe and legal access to an abortion procedure," Lightfoot said.
Dr. Allison Arwady, the commissioner of the Chicago Department of Public Health, said the city had an obligation to protect the health of women.
"Prior to the legalization of abortion, tens of thousands of women wound up in emergency rooms every year from botched, illegal abortions," Arwady said. "Not all of them survived. We must never go back to that time."
If Roe v. Wade, the 1973 Supreme Court decision that legalized abortion, is overturned, Lightfoot said decisions allowing same-sex marriage, interracial marriage and the use of contraceptives would be next on the chopping block.
At the conclusion of Monday's news conference — the third time in six days that Lightfoot has publicly vowed to protect the right to an abortion — Lightfoot signed what she called a "Justice for All Pledge," putting that promise in writing.
Hours after the draft opinion became public, igniting a firestorm, Lightfoot's campaign sent out an email vowing that she would "fight like hell to ensure that anyone who needs access to legal and safe abortion care, can find it here in Chicago" and asked for contributions to "help her continue our fight for reproductive rights."
Although Lightfoot has yet to formally launch her re-election campaign, she is widely expected to seek a second term.
Contact Heather Cherone: @HeatherCherone | (773) 569-1863 | [email protected]
---