The Cottage Grove station of the Green Line lies in the heart of Woodlawn, on Chicago's South Side. It was Chicago's first elevated line, built to serve attendees of the 1893 Columbian Exposition.
Interactive map: More from our community reporting series
Daley's restaurant, just across the street from the station, dates back even longer, to 1892, making the diner the city's oldest restaurant.
Dominiece Payton grew up in Woodlawn and considers it a staple from her childhood.
"I used to come to Daley's like every Sunday after church since I was like 12," Payton said. "I would get the same thing and I wouldn't even have to ask for what I wanted cause they already knew … one of the best French toast I've ever had."
The restaurant moved in 2019 just across the street from its old location as part of an effort to make the station and surrounding area a bright spot in the community.
Even more change is underway in Woodlawn. Chief among them: the Obama Presidential Center.
Some residents are thrilled; others are wary of what it will mean for their community, concerned that it will lead to soaring rent and property taxes that current residents can't afford.
Lanessa "Ling" Young, youth organizer for Southside Together Organizing for Power (STOP), said her family has for 100 years lived in the home she now owns, and she doesn't want to have to give up that history.
"Of course, I don't want things stagnant," Young said. "We need things for the community. We are starved of resources, but at the same time all resources aren't good resources. We want our young people to continue to stay in our community, to own their homes and even for renters to stay in the community and to have that choice. No one hates development ... but at the same time you have to make sure that the people who were already here before can stay here."
As a youth organizer with STOP, Ling is fighting for trauma centers to reopen, for mental health emergency response rather than police, and to all together remove Chicago police officers from schools.
She is also advocating for housing guarantees related to the Obama Presidential Center. She said a housing preservation ordinance is a start, but STOP has more demands like 30% affordable housing, mixed income housing and 63rd and Blackstone to be included in the city's plans.
Ald. Jeanette Taylor of the 20th Ward said there are many more protections needed to help fight displacement in her community, one of those being rent control.
"The ordinance was just a step in the right direction because the city was not doing anything to address gentrification," Taylor said. "I have people calling my office everyday saying their landlord is raising rent because they can since we don't have rent control. They're forced to move yet they love the community.  Woodlawn used to be one of the communities you could afford to live in ... I feel their pain, I'm no different than the people I'm paid to represent."
Video: Watch our full interview with Ald. Jeanette Taylor 
---
A longtime Woodlawn church also has big plans for the community.
The Apostolic Church of God, which started in 1932, has grown to the point it now has two sanctuaries: one seating 3,000 people, the other 1,500.
Pastor Byron Brazier and his son have plans for the church to grow: converting eight acres of parking lots that it owns into a mixed used development, with housing as well as a hotel, theater, a farming area and large commercial space.
"We really are looking at and attempting to understand how a faith-based movement will address or be able to ignite and stimulate a value-based community. And I believe that is where we are. It is the church that uses its capacity to really add value to a community," Brazier said. ""We believe that out of this faith-based movement that God is in the center of what we are trying to do. And the people are the ones that benefit. So the church operates on its own calling but it's always on behalf of people. And how do you bring all those elements together at the same time? And that's what Woodlawn Central is all about."
Brazier said announcements will be made in June or July about the project's major funder, hotel brand and other partners. He said the development's fast-tracking a Woodlawn 2060 community plan, and Metra's all aboard too, for a refurbished stop.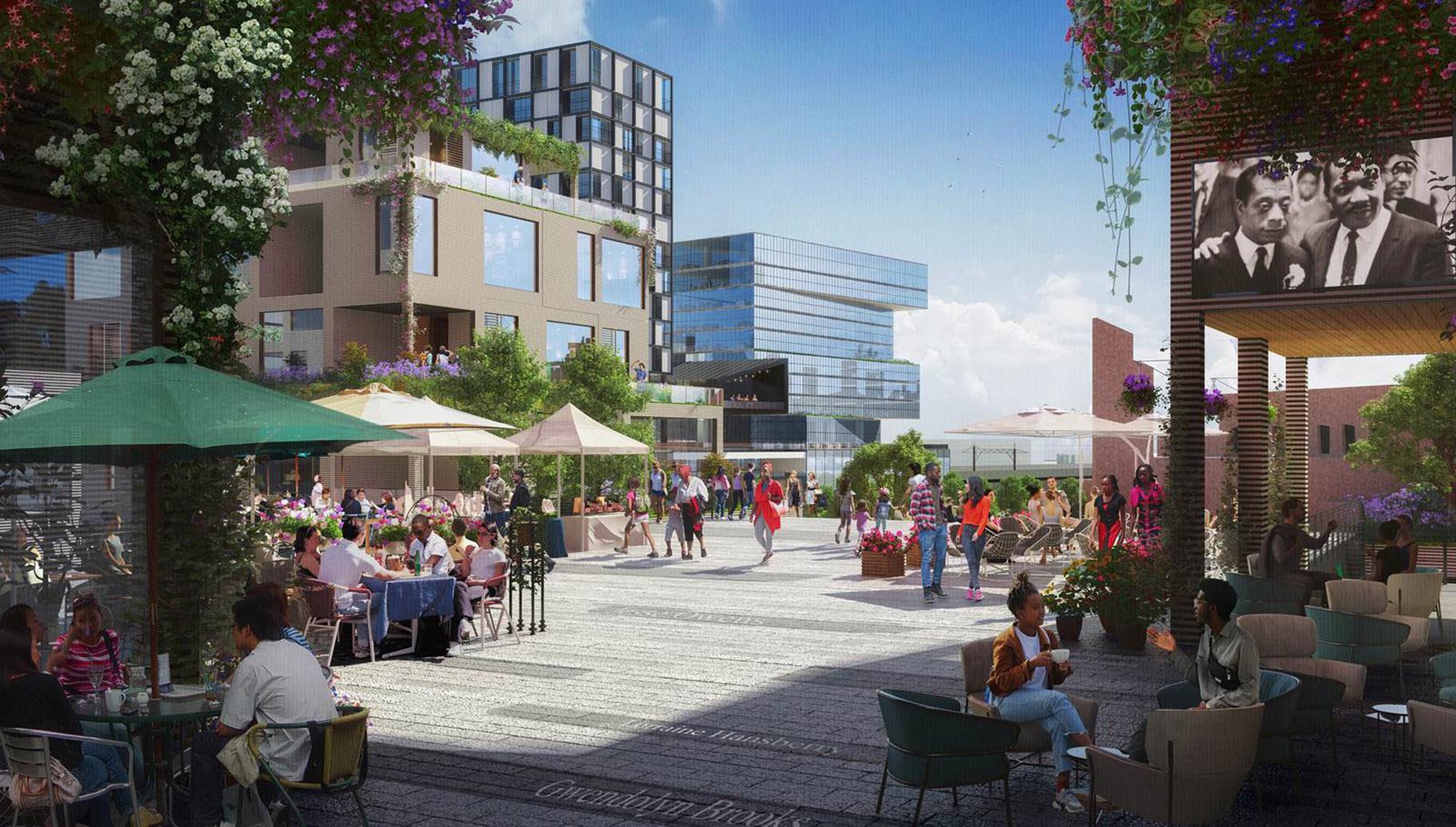 A rendering of Woodlawn Central. (Courtesy: Sherwood Design Engineers) Pastor Brazier said the church will lease its property to Woodlawn Central, which will be its own LLC.
"So this is not like a typical development where the developers take the money and then they just don't worry about the community. The church has always been in the position, all through the years, of always giving back to the four elements of every community: Which is education, safety, economic development and health and human services," Brazier said. "Those are the four instruments by which a community develops."
Meanwhile, a stone's throw away from the church lies Metro Squash which used to be stationed at the University of Chicago when it got its start in 2005.
It has since moved down the street and has grown into a hub for local youth to develop their athletic skills while playing squash, and much more. It's in part a sport that program director Gabby Coombs said is high intensity, and high energy, but is also accessible to just about anyone no matter their height, weight or body type.
 "We also offer academic support and academic enrichment," Coombs said. "Our enrichment program allows us to offer additional things for students, like financial literacy, critical thinking, problem solving skills, social and emotional learning … It is a full prong program that looks at the student as a whole person."
While MetroSquash begins at the 5th grade level and goes through 12th grade, they also support students through their post-secondary careers.
Marcus Gill, program director with Woodlawn Restorative Justice Hub, has focused on guiding youth, 14-24, in the community through a holistic violence prevention program, while also connecting them to jobs in the community,
"My day-to-day is advocating for the Woodlawn community and making sure people within the neighborhood have opportunities for jobs, for small businesses to have the opportunities for contracts," Gill said. "We want to make sure that the people who actually live here, as new development comes into the community and begins to thrive,  that we grow right alongside it."
Video: Watch our full interview with Marcus Gill
---
Community Reporting Series
"Chicago Tonight" is expanding its community reporting. We're hitting the streets to speak with your neighbors, local businesses, agencies and leaders about COVID-19, the economy, racial justice, education and more. See where we've been and what we've learned by using the map below. Or select a community using the drop-down menu. Points in red represent our series COVID-19 Across Chicago; blue marks our series "Chicago Tonight" in Your Neighborhood.
---