(Courtesy of The Other Art Fair)
1. Discover
More than 110 emerging artists showcase their wares at The Other Art Fair, including Chicago-based artists Pugs Atomz, Abena Motaboli and Zor Zor Zor. A pop-up portrait studio experience by artist Anna Marie Tendler and live mural painting by Chicago artist Edo are also on tap.
Details: 6-10 p.m. Thursday; 3-10 p.m. Friday; 11 a.m.-7 p.m. Saturday; 11 a.m.-5 p.m. Sunday at Fulton Market, 1215 W. Fulton Market. $18-$40; free for kids under 12 / MAP
---
2. Lend a hand
Join volunteers at the Earth Day & Community Celebration to clean up the Chicago Lawn neighborhood. Materials will be provided. Afterward, create a recycled bottle cap while enjoying live performances.
Looking for more ways to celebrate Earth Day? Here are 10 more.
Details: 9:30 a.m.-3 p.m. Saturday at Mena Arte Studio, 2419 W. 63rd St. Free / MAP
---
3. Behold
At Art Battle, artists have 20 minutes to turn their blank canvases into works of art. Watch the paint fly and help vote to determine the winner. Event is for adults 21 and up.
Details: 7 p.m. Friday at SPIN Chicago, 344 N. State St. $22-$25 / MAP
---
4. Indulge
Fried, sugary sweets are on the menu at Chicago Donut Fest, where you can nosh on the fest's namesake treat while drinking your favorite brew or mimosa.
Details: Noon-4 p.m. Saturday at Moe's Cantina River North, 155 W. Kinzie St. $30 / MAP
---
5. Be amazed
Acrobatics, juggling, sketch comedy, sword fighting and burlesque shows are among the acts on tap for the Chicago Circus & Performing Arts Festival.
Details: Performances Thursday-Sunday at the Den Theatre, 1331 N. Milwaukee Ave. $10-$35 / MAP
Surface Tension by Company to x for, performers David Chervony and Liam Bradley. (Credit: Ashley Smith of Wide Eyed Studios)
6. Examine
Experimental dance company Zephyr's latest performance, "Not Dead Yet," aims to rethink the connection between movement and architecture as well as deepen the relationship between the audience and the venue.
Details: 7:30 p.m. Thursday-Saturday at SITE/less, 1250 W. Augusta Blvd. $22 / MAP
---
7. Dabble
The outdoor Waldos Forever Fest features cannabis-forward vendors, immersive activations, live music, drag performances and local eats.
Details: 10 a.m.-9 p.m. Saturday at Clark and Argyle streets. Free / MAP
---
8. Support
Connecting to nature, connecting communities is the theme of the Black Plant-It Art Show that spotlights the work of local artists.
Details: 6-8 p.m. Friday at Bee Love Café, 1111 S. Homan Ave. Free, registration required / MAP
---
9. Watch
The Chicago Latino Film Festival features over 80 films from dozens of countries. Films this weekend include "Aurora," a Costa Rican film about a teacher taking a pregnant 17-year-old student whose pregnancy is so far advanced that she can no longer have an abortion under her wing. In addition to in-person and drive-in screenings, films will be available virtually.
Details: Thursday through May 1. Screening times, locations and tickets vary.
---
10. Travel
"Quamino's Map" follows Juba Freeman's journey in London after winning his freedom from slavery by fighting for the British in the Revolutionary War as he connects with other ex-slaves who are struggling to build new lives for themselves as free people. Inspired by historical events, the 90-minute opera sheds a light on an overlooked part of history and challenges assumptions about what life was like in 18th-century London for a person of color. 
Details: 7:30 p.m. Saturday with additional performances April 29 and May 1 at Studebaker Theater, 401 S. Michigan Ave. $20-$150 / MAP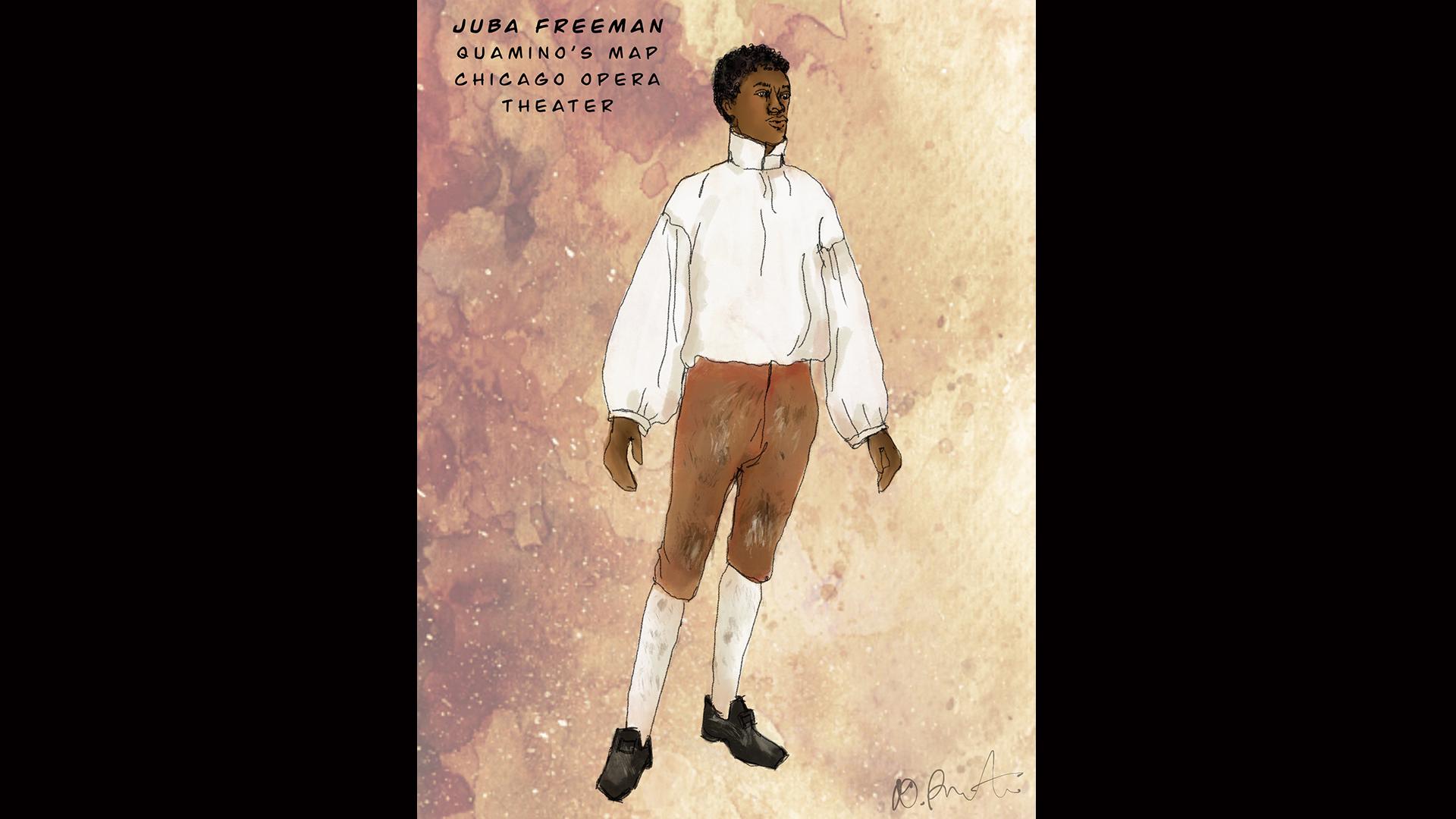 (Costume Design by Danielle Preston Design)
Events listed are subject to change. We recommend double-checking times and locations before you head out the door. Want to share your upcoming events with us for consideration in a future roundup? Send us an email.
---