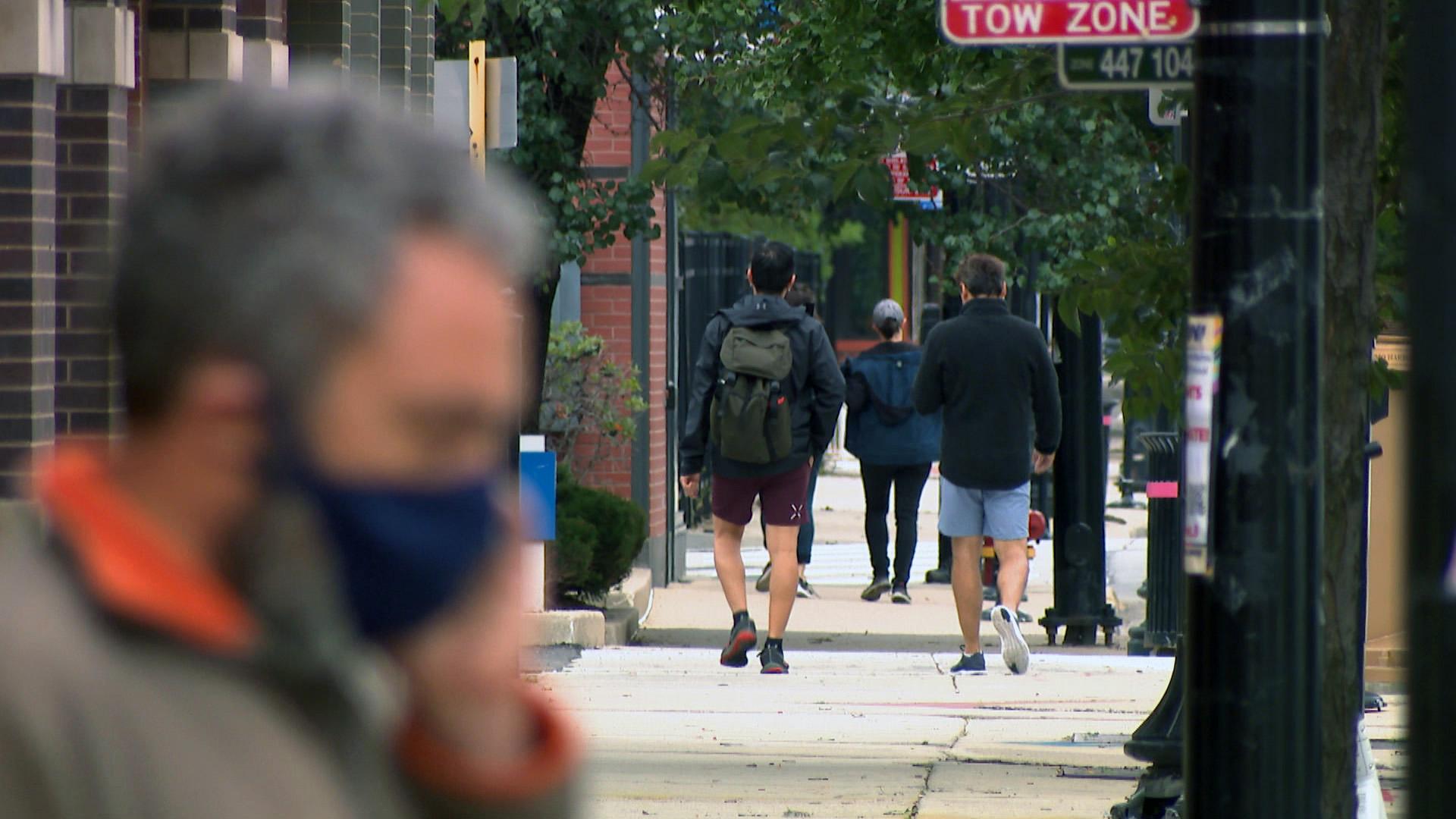 People walk in Chicago's Northalsted neighborhood in September 2020. (WTTW News)
Weeks or even months after recovering from COVID-19, some patients continue to experience symptoms such as ongoing fatigue, shortness of breath, sleep disorders and brain fog.
They are often referred to as long haulers, and their symptoms can range from mild to completely debilitating. Recent estimates suggest up to 50% of patients may experience long COVID, according to Dr. Jerry Krishnan, University of Illinois Chicago associate vice chancellor for population health sciences and professor of medicine and public health.
To better understand why some people experience long-term effects after having COVID-19, researchers at UIC are investigating long COVID as part of a national study.
UIC researchers are studying what makes someone vulnerable to long COVID-19 and are exploring factors that might be protective and what interventions are needed to help patients return to normal as quickly as possible.
"We want to better understand whether a patient's recovery differs according to the strain of SARS-CoV-2 that caused COVID-19; health history and lifestyle, including vaccination status before infection; and the role of social and environmental factors," said Krishnan, who's the contact principal investigator for the study, in a statement. "Answers to these questions will help us to support the people and communities most impacted by COVID-19." 
UIC will receive approximately $22 million from the National Institutes of Health over four years to research long COVID as part of NIH's Researching COVID to Enhance Recovery (RECOVER) Initiative.
As part of the initiative, UIC will lead an Illinois-based research consortium, called ILLInet RECOVER, that will focus on understanding long COVID in adults and its impact on vulnerable communities in urban and rural areas.
Researchers hope to enroll, conduct baseline health assessments and follow about 1,000 Illinois residents 18 and up from Chicago and Peoria and surrounding communities.
"(The study) allows our community of patients, especially those historically underrepresented in research but immensely impacted by COVID, to contribute to the collective understanding of long COVID," said Dr. Sarah Stewart de Ramirez, study co-principal investigator and medical director of population health at OSF HealthCare, in a statement.
As part of recruitment efforts, researchers are partnering with local health departments and community organizations such as Illinois UNIDOS, Team Englewood and the Tri-county Peoria Urban League to connect area residents with opportunities to participate in the study.
Participants will fill out a health survey, get a brief physical exam and have periodic lab tests every three to 12 months for up to four years. Test results will be shared with participants as well as their health care providers if requested. A COVID-19 diagnosis is not required to participate in the study.
Enrollment is now open in Chicago for the study. Researchers anticipate enrollment opening in Peoria and the central Illinois area later this spring.
UI Health is the main clinical site for the study in Chicago, while OSF St. Francis Medical Center in Peoria will serve one of the main clinical sites for the study when it launches in central Illinois.
Anyone interested in participating can send an email or visit the ILLInet Recover website.
Contact Kristen Thometz: @kristenthometz | (773) 509-5452 |  [email protected]
---