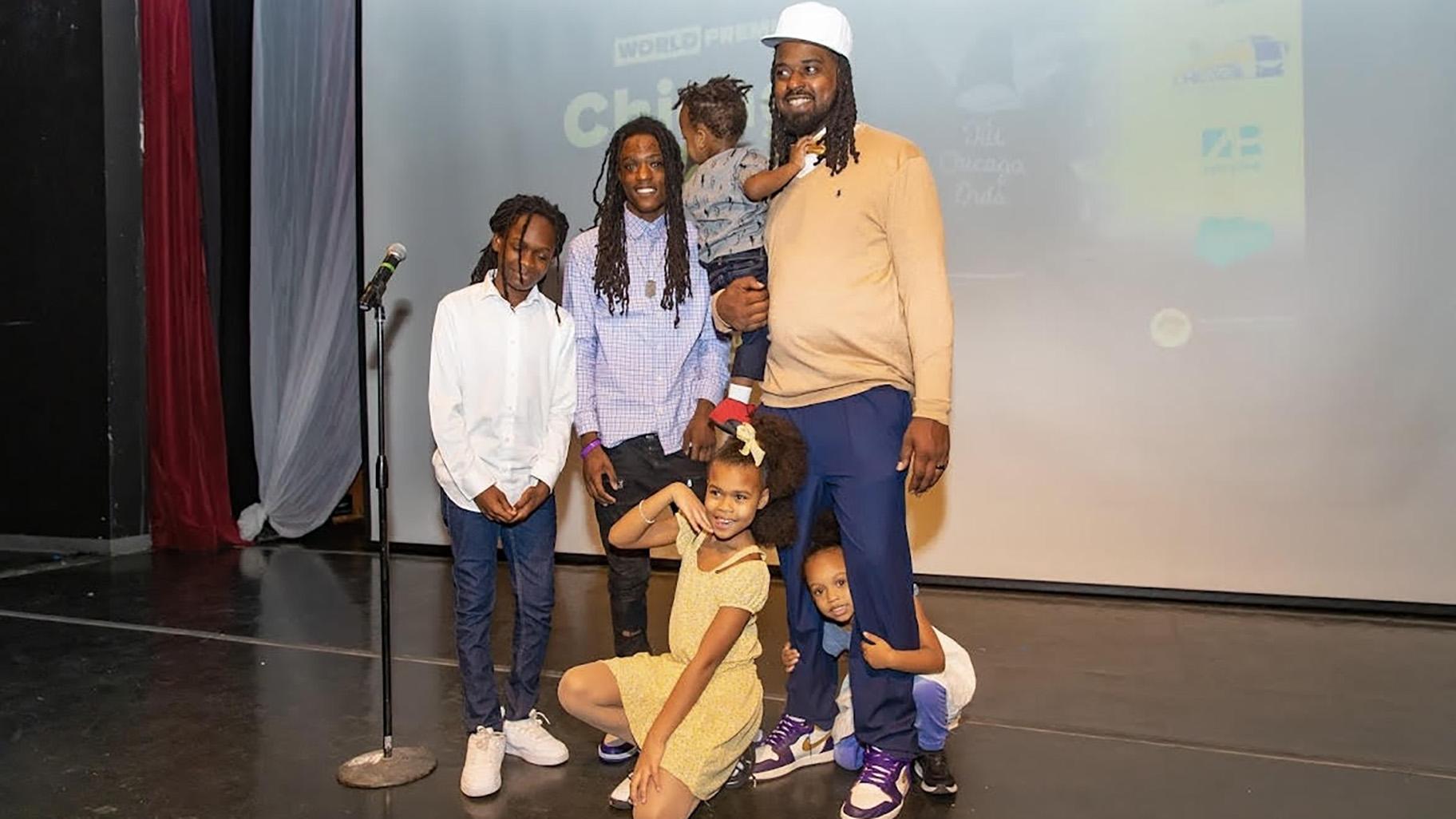 Shermann "Dilla" Thomas and his family at a March 31, 2022, fundraiser for his Chicago Mahogany Tours. (Credit: Vashon Jordan Jr.)
Last week, Chicagoans gathered at the DuSable Museum of African American History for the premier of the documentary film "Chicago Legend."
The event was part of Shermann "Dilla" Thomas' "Let's Get Dilla A Bus" fundraiser to raise $200,000 for the his Chicago Mahogany Tours. It's an opportunity that came to Thomas after be gained recognition on social media for his informative TikTok's that educate the public on Chicago's history.
Dilla hopes to offer his history tours at a lower rate through a partnership with the Greater Auburn Gresham Community Development Corporation. He's spent the past few months partnering with bus companies and paying transportation fees out of pocket. But if he could secure his own bus, he says that he would be able to not only lower tour ticket prices, but offer free tours all together.
While only a few months into the tours, Dilla says he understand the responsibility he's taken on.
"I add a different perspective than the average historian," Dilla says. "I think all of our perspectives matter. I just really love this place. When you operate out of love, it comes out better. We haven't in the last couple of years done a good job of telling our own Chicago story. We've allowed the national media to paint a picture that's not really true about who we are, so I think the TikTok's I do and ultimately these tours will help kind of change the narrative around here."
Hosted by Jonathan Weaver, Dilla's personal narrative was front and center in the "Chicago Legend" film, a collaboration between ComEd and Zpryme. The story highlighted Dilla's work as a ComEd employee, TikToker, father and husband as they followed him throughout the city for nearly a week.  
"I for sure cried [when watching the doc]," Dilla said. "Especially when they showed pictures of my parents. Whether we all want to admit it or not, we secretly are just trying to make Mama proud. That's my mission right there. My parents no longer with us, but I hope that wherever they are, they're proud of me. So to see them on the screen, to see my kids was touching."
While he grows in popularity educating the world on the wonders of Chicago, it's being a father that Dilla says is the role he'll always be the most proud of.
"We're a close bunch," Dilla says. "I'm just happy they're seeing how hard work can bring some fun to you. I spend a lot of time studying history and creating videos, but we also get to have nights like this where we can celebrate and go to Bears or Bulls games. They see that and all of their grades have stepped up a ton. It's a competition. Nobody I the house wants to be the guy that doesn't have A's."
By the end of the evening, Dilla secured first place in his family's competition, exceeding donations, courtesy of a whopping $100,000 from the Chicago Community Trust and $25,000 from the Chicago Bears. It's with these funds that he hopes to tell a Chicago story reflective of the city he grew up in with Chicago Mahogany Tours.
"Maybe 70% of all our tour passengers are from the North Side or suburbs, and typically White." Dilla says. "I think that shows, despite what people say, people not from the South and West sides care about the South and West side and they want to see it do better, but they also want to be better informed, right? They may not necessarily believe the negative stuff that gets put out."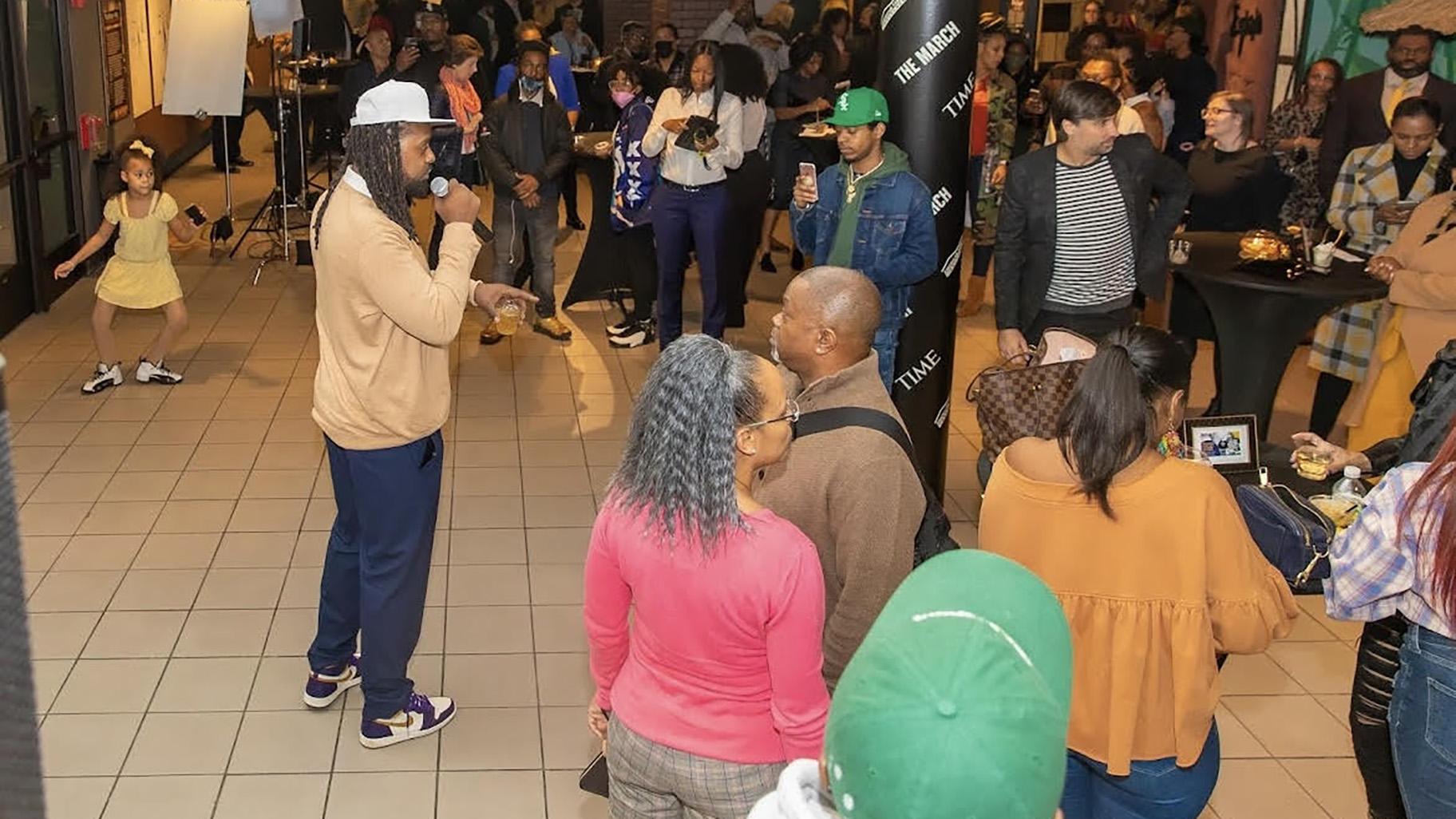 Shermann "Dilla" Thomas speaks to the crowd at a March 31, 2022, fundraiser for his Chicago Mahogany Tours. (Credit: Vashon Jordan Jr.)
While Dilla's brand grows and he takes on new opportunities, he says he has no plans to leave the city, or the work, that's made him.
"It all kind of goes hand in hand," Dilla said. "I work as an area operator [for ComEd], so I get to energize new buildings. I think telling neighborhood stories and kind of energizing us with the love of our city. It's all in the same, so I'm going to keep doing both. I'll be doing this forever. If Netflix gives me a gazillion dollars, I'll just have a body guard with me on the tour. I'm doing what I want to do now. I want to spread Chicago history, educate all of us about our history. I just want to do more of what I've already been doing."
What he hopes to be remembered for however, is a different story.
"What I want to be most known for is happening, right? That I'm a father and a husband and that I care deeply about my family. That's why I'm doing that," he said. "My dad instilled the love of history of Chicago into me. I hope I'm passing that on. If all I'm ever really remembered for is being a cool dad, that will work."
Follow Angel Idowu on Twitter: @angelidowu3
---
Angel Idowu is the JCS Fund of the DuPage Foundation Arts Correspondent.
---