An abandoned rail spur on 59th Street is inching toward becoming the elevated Englewood Nature Trail. (Patty Wetli / WTTW News)
A long-awaited rails-to-trails project in Englewood picked up steam with Mayor Lori Lightfoot's announcement Thursday of funding to begin phase 1 design work on what's been dubbed the Englewood Nature Trail.
The city's commitment of $6 million to the nature trail is part of a total of $15 million announced by the mayor to jump-start a number of "green infrastructure" projects throughout Chicago.
"Our residents enjoy world-class parks, an unparalleled Lakefront Trail, and many open space assets along the river and our historic boulevards," Lightfoot said in a statement. "An expansion of trails and open spaces is sorely needed across our neighborhoods to benefit existing residents and for the city to achieve health, economic, climate and transportation goals."
It's been nearly 20 years since an abandoned Norfolk Southern rail spur on 59th Street was identified as a prime opportunity for a trail in Englewood. Acquiring the land, which the city gained in a swap, became entangled in Norfolk Southern's controversial expansion of a nearby rail yard, and the need for environmental remediation has also slowed progress on the trail.
The Chicago Department of Transportation said it plans to submit a grant application for additional federal dollars to build the trail.
Community leaders including Anton Seals, lead steward of Grow Greater Englewood, have stated the trail won't be a replica of the popular 606/Bloomingdale Trail, with the Englewood Nature Trail intended more as an elevated green space and less as a bike route. The vision for the trail also includes a string of urban farms running alongside the former rail line.
Another way in which Englewood would like to separate its trail from the example set by the 606: staving off gentrification.
Maurice Cox, commissioner of the Department of Planning and Development, said his staff would work with the Department of Housing to "incorporate anti-displacement strategies" along projects like the Englewood Nature Trail.
"We will ensure that community needs are front and center of these investments and that we put guardrails in place to curb gentrification forces," Cox said in a statement.
Other projects the city tapped for investment: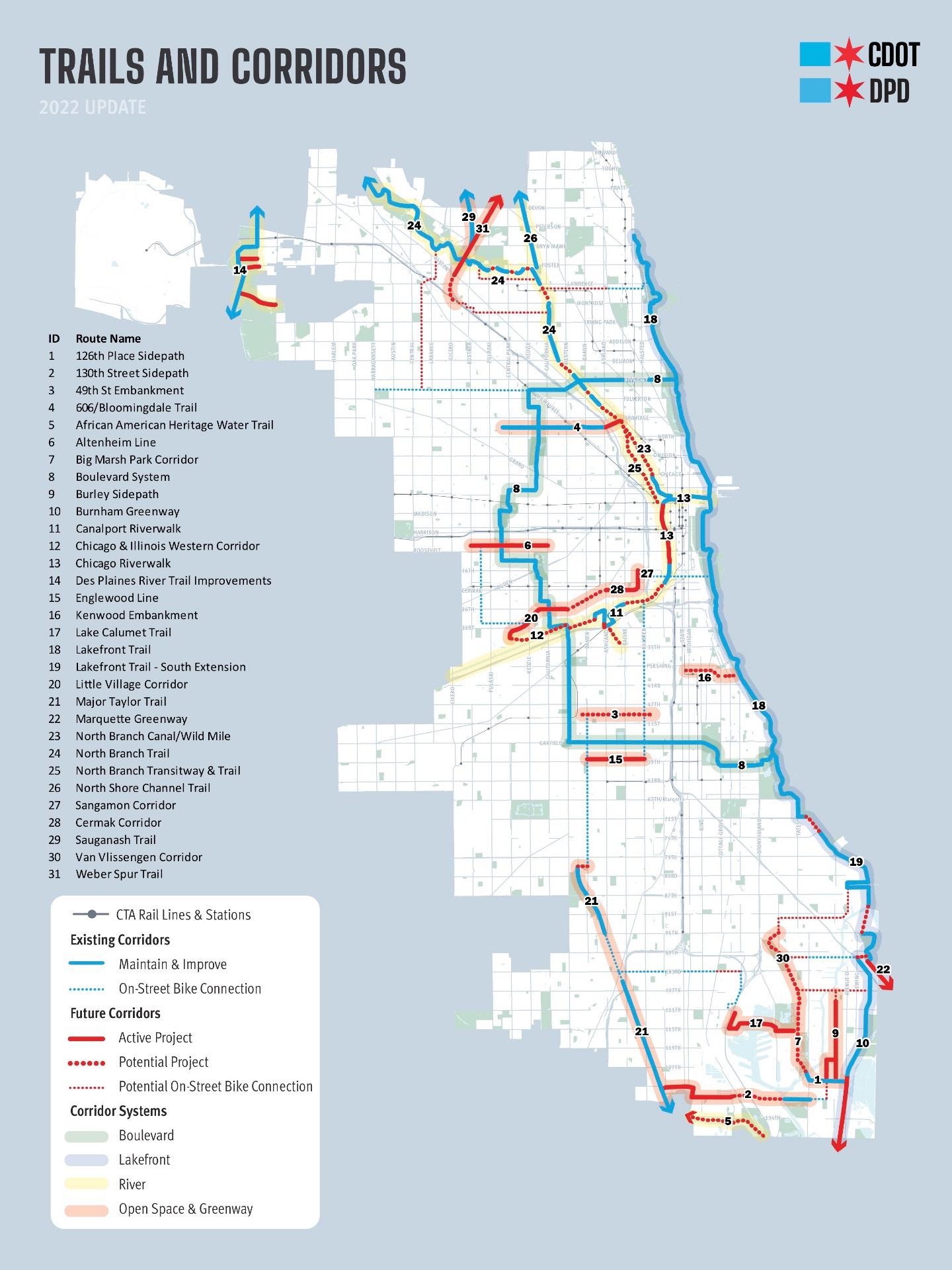 Existing, planned and potential trails and connectors. (City of Chicago)
— African American Heritage Trail: The city and its partners will leverage $1.5 million in Climate Recovery bond funding for trail development needs along this 2-mile corridor.
— Weber Spur: The Chicago Department of Transportation is exploring alignment alternatives as part of the phase 1 design process for this 1.5-mile corridor, which would connect an existing trail in Lincolnwood to the Sauganash Trail and North Branch Trail at LaBagh Woods.
— Chicago Riverwalk extension to Ping Tom Park: Phase 1 design to begin in the second half of 2022 for this 2-mile corridor.
— The Wild Mile: Plans are to expand a 2.5-mile floating boardwalk within the North Branch Canal through $1.7 million in Open Space Impact Fees.
— Big Marsh: The Park District will prioritize the construction of a 3-mile trail within the marsh, with the first phase to open this summer.
— North Branch parks: The Park District will continue to allocate up to $7 million in approved financing for waterfront and trail improvements near the confluence of the North Branch and North Branch Channel, specifically at Ronan Park, Kiwanis Park, Legion Park and River Park.
Contact Patty Wetli: @pattywetli | (773) 509-5623 |  [email protected]
---