Video: Family members of Chicago homicide victims gathered at the FBI Chicago field office for a rally organized by the Little Village Community Council on March 22, 2022. (Joanna Hernandez / WTTW News)
---
It's been almost two years since Catalina Andrade lost her son to gun violence in Chicago's Little Village neighborhood.
Her son, Miguel Angel Rios, was 18 years old when police say he was shot and killed while in his vehicle. Andrade says her son was driving to visit his girlfriend when he was robbed and killed on July 18, 2020. Since his death, Andrade has not stopped trying to find the person responsible.
"It's been a year and seven months, and I still haven't got justice for my son," Andrade said. "It just hurts that I'm here, and it hurts to see other families go through the same thing I'm going through."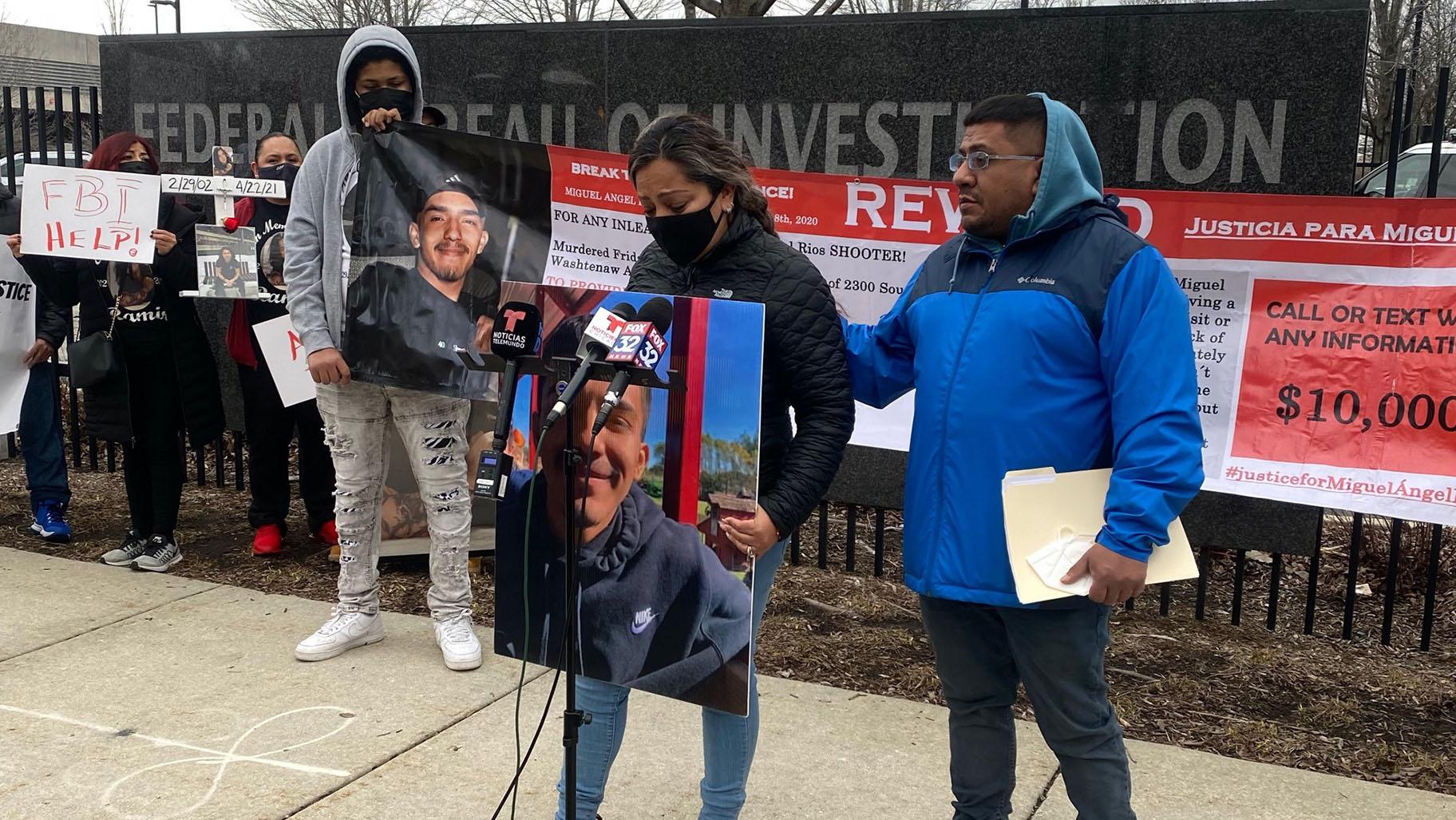 Catalina Andrade calls on the FBI to help with the investigation into the homicide of her son, Miguel Angel Rios, on March 22, 2022. (Joanna Hernandez / WTTW News)
On Tuesday afternoon, Andrade stood outside the FBI Chicago field office alongside other mothers and family members who are seeking justice in the killings of their loved ones. The rally was organized by the Little Village Community Council as a way to bring attention to unsolved homicides in the city and to ask the FBI for assistance.
Andrade, who was joined by her husband and five other children, has gone as far as asking Mayor Lori Lightfoot for help. No arrests have been made in his death.  
"My son was only 18 years old. He was ready to go to college," Andrade said. "He wanted to become a mechanical engineer. I'm here asking the FBI to assist with our cases." 
Baltazar Enriquez, president of the Little Village Community Council, organized the rally and talked about his efforts to set up a meeting with the FBI.
"There's a 4-year-old child that got murdered. The FBI should automatically get involved because it's a child," Enriquez said. "So, we are asking for the FBI to come talk to us. We have contacted them, but today they say they can't receive us because we didn't get an invitation from the FBI. I never knew you needed to get an invitation to go to a federal building. It's just ridiculous. They should have open doors to the community."
---
In front of the FBI field office on Roosevelt Road, more than 20 people held signs and chanted, " If we don't get no justice, they don't get no peace." They came out with the hope that the federal agency would hear their cries for help.
"I'm here for my cousin Ramiro Morales. He was killed last year, and we are seeking for justice. He was a hard worker and had just got back from visiting his mother in Mexico when he was killed," said Victor Chihuake, Morales' cousin. "It has been really tough on the entire family. No one has ever died in such a horrific way."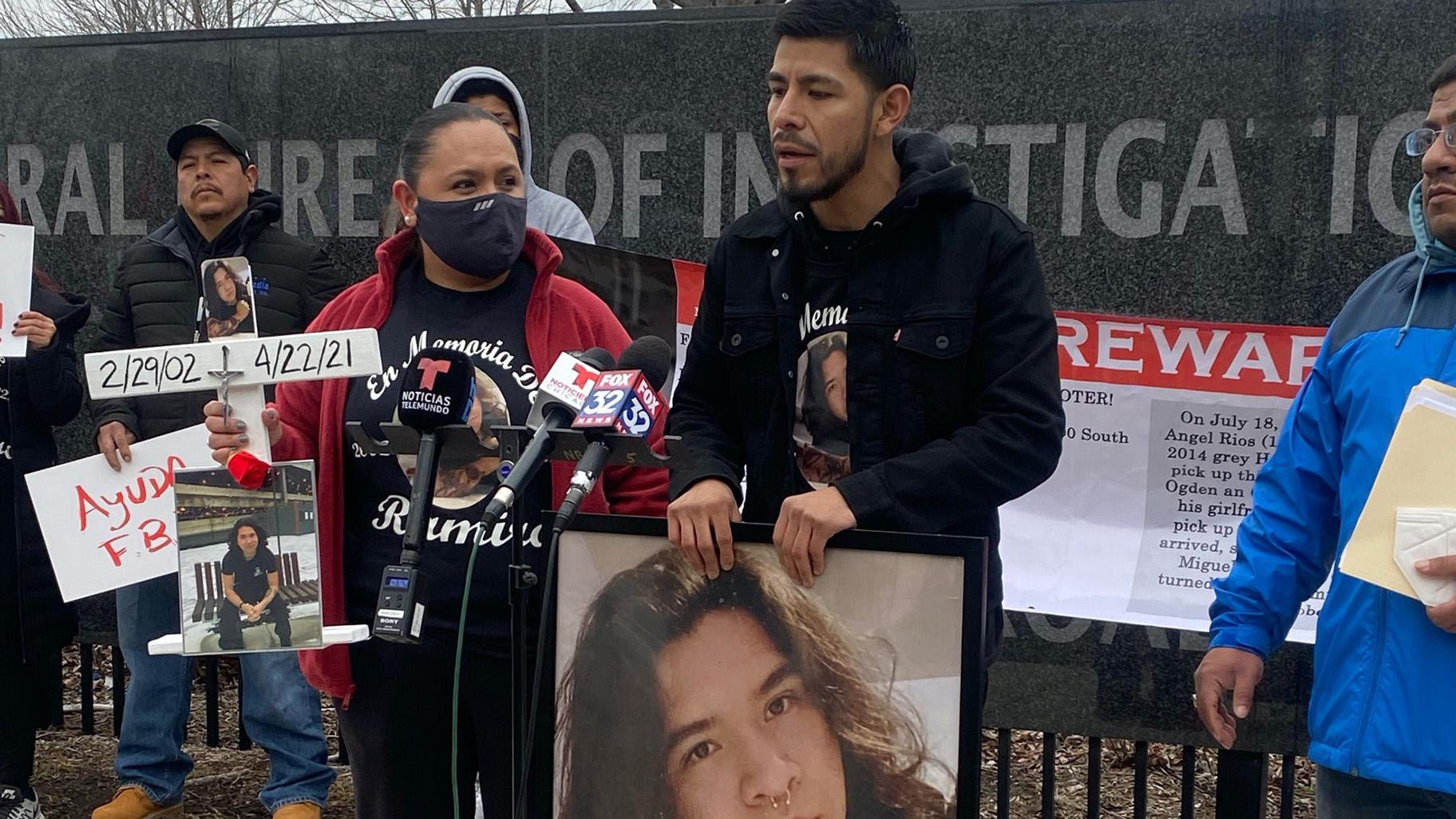 Victor Chihuake asks for the FBI to investigate the unsolved homicide of his cousin Ramiro Morales Jr. during a rally outside the Chicago FBI field office on March 22, 2022. (Joanna Hernandez / WTTW News)
Ramiro Morales Jr. was killed in a drive by shooting on April 22, 2021, outside a Walmart. His family says he had left work and was going to the supermarket to pick up something to eat. He never made it home. 
"He was a good kid and wasn't affiliated with gangs. He was born here, but was raised in Mexico and sadly it seems he was at the wrong place at the wrong time," his father, Ramiro Morales, said. "We worked on fixing trailers together. I miss seeing him in the house. Even though he didn't live with me for a long time, it feels like a dream that he is dead."
His father and stepmother said the last time they heard from a detective on the case, they were told he was sending information to the FBI to access some cellphone towers. They say it's been months and there's no concrete leads in the case.
"We understand [there are] tons of homicides, but we can't stop fighting," Morales said. "It just feels that the Justice Department is not listening to us because we're Latino. I can't help but think if the victim was White, would it be different?"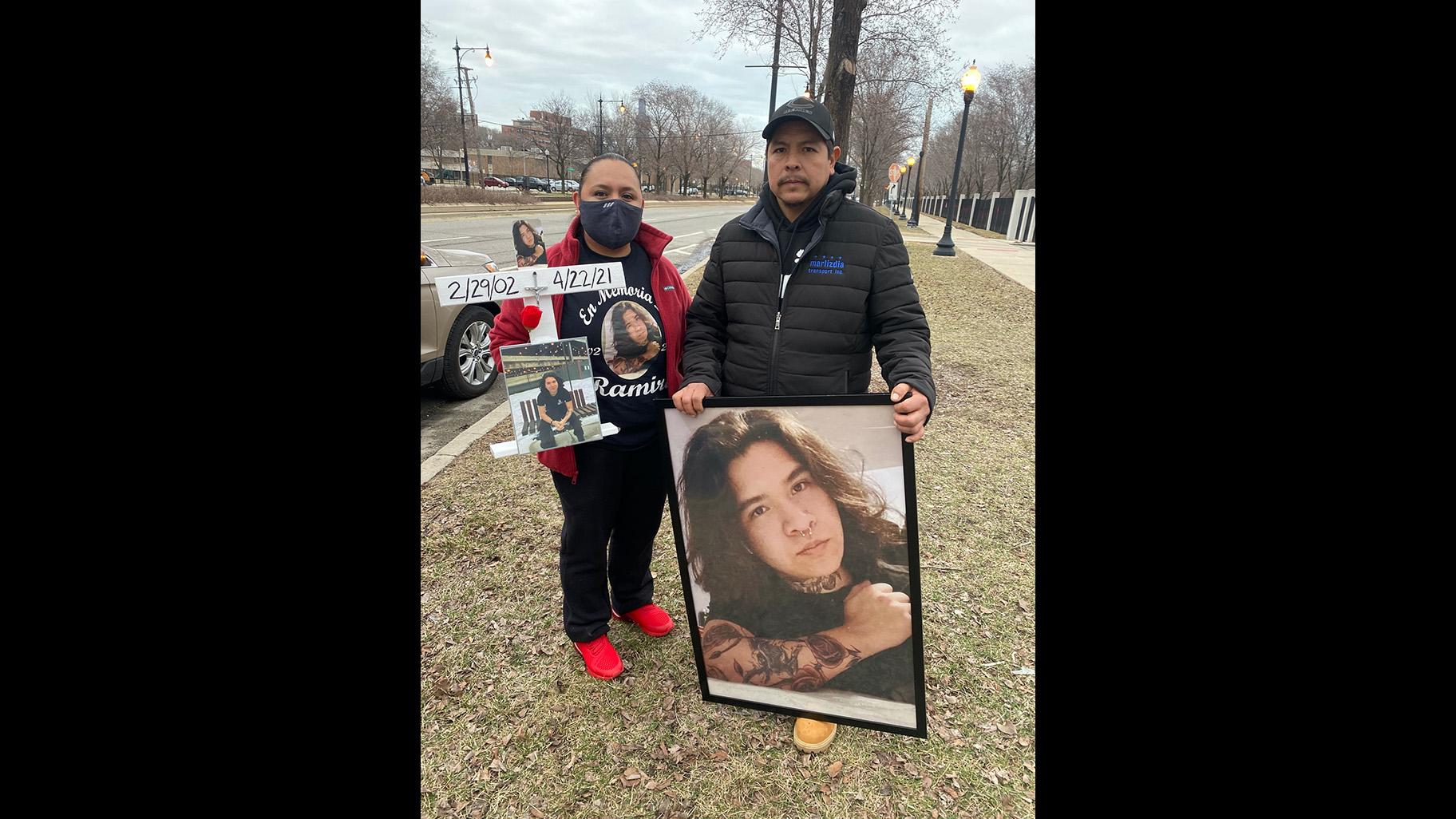 Ramiro Morales holds a portrait of his son, Ramiro Morales Jr., who was shot and killed in April 2021. The case remains unsolved. (Joanna Hernandez / WTTW News)
In statement, FBI spokesman Special Agent Siobhan Johnson stated, "The FBI works in constant coordination with state and local police departments when federal involvement in an investigation is warranted."
For those families still feeling the rippling trauma from the loss of their children, they say words are just not enough. They want the FBI to create a special task force that would allow families to sit down with the agency and support them in putting their children's killers behind bars.
"They have the resources and tools to solve these cases," Enriquez said. "These mothers and families deserve answers and justice. The CPD has once again failed them in every way, and these mothers have not received the justice and peace they are seeking."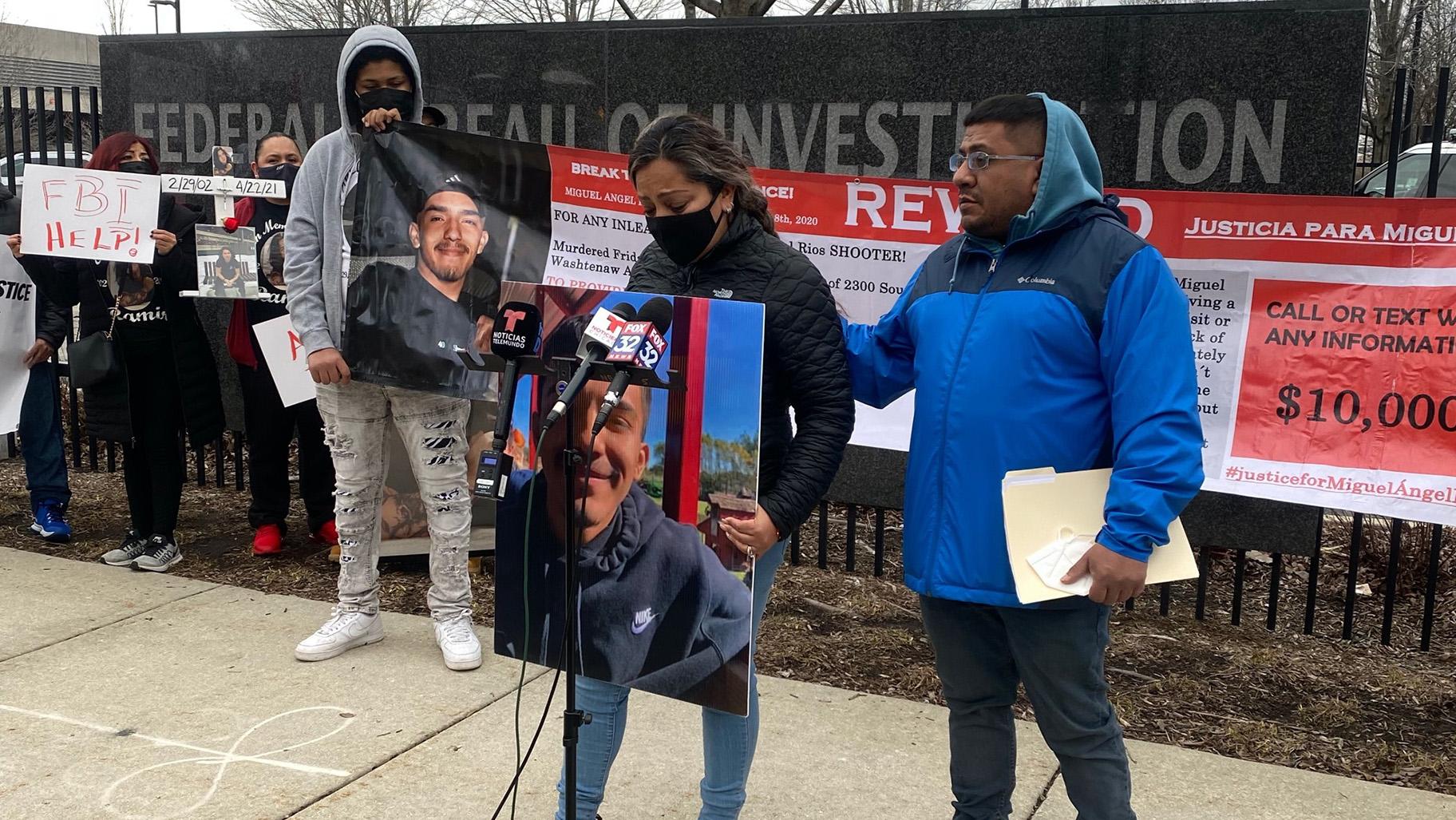 Catalina Andrad calls on the FBI to help with the investigation into the homicide of her son, Miguel Angel Rios, on March 22, 2022. (Joanna Hernandez / WTTW News)
A Chicago police spokesperson said the Ramiro Morales Jr. and Miguel Angel Rios cases remain open and there is currently no one in custody for either homicide.
For Rios' siblings, their brother's death continues to leave open wounds.
"I miss his jokes. I just miss him a lot. We liked to talk about school and college," his sister Anadlaie Rios said.
Anadlaie Rios, 15, said the family was in Mexico when they found out Miguel was killed. Now, she has big goals of becoming a lawyer to help others find justice.
"What if in a couple years they still don't find who did this? I want to become a lawyer to help solve the case," she said. "He was an innocent kid and he deserved to live."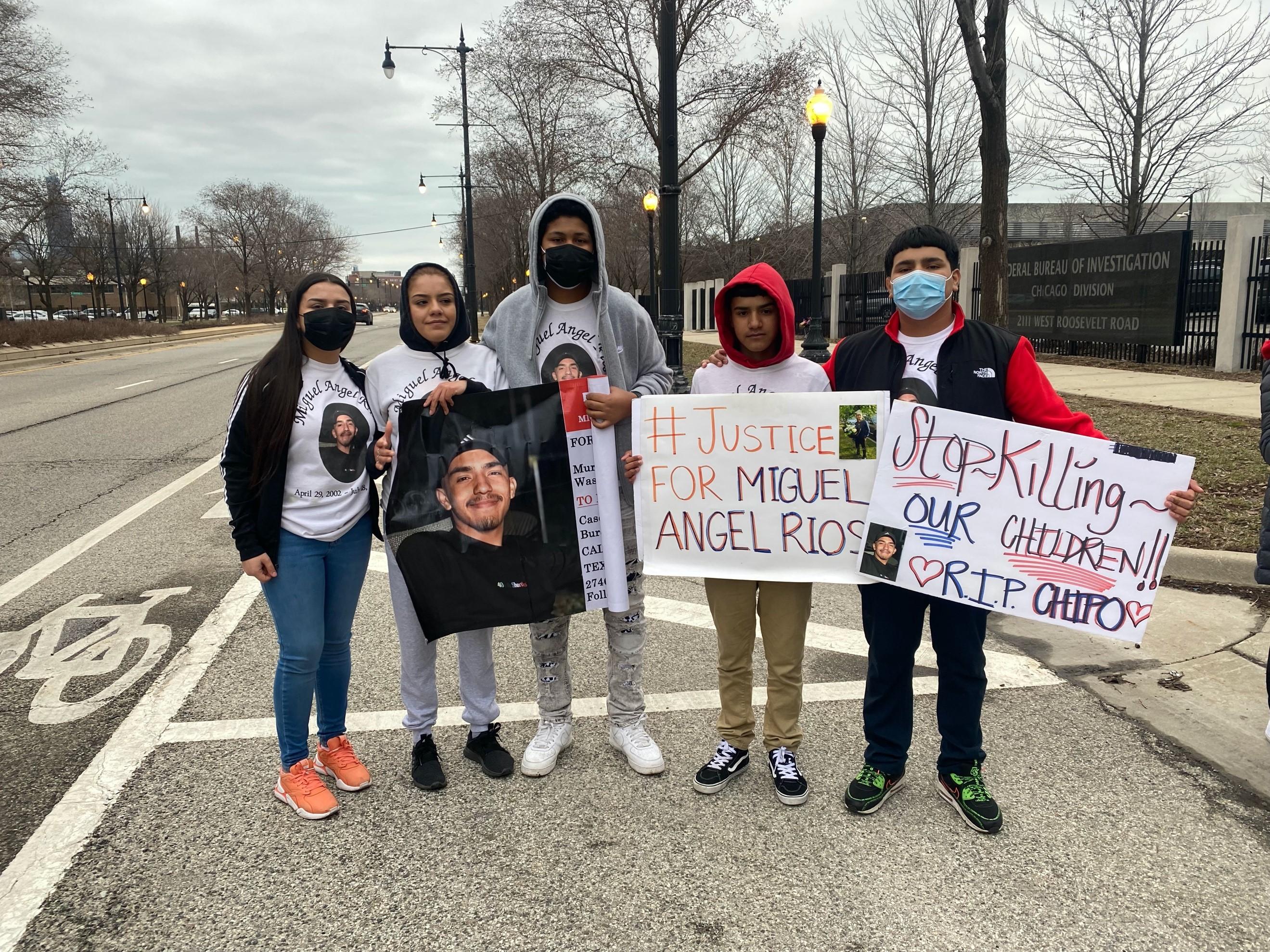 The siblings of Miguel Angel Rios, whose killing remains unsolved, gathered at the FBI Chicago field office on March 22, 2022. (Joanna Hernandez / WTTW News)
The Little Village Community Council has extended an invitation to the FBI for April 13, welcoming special agents to come to the community and hear from families searching for closure.
---