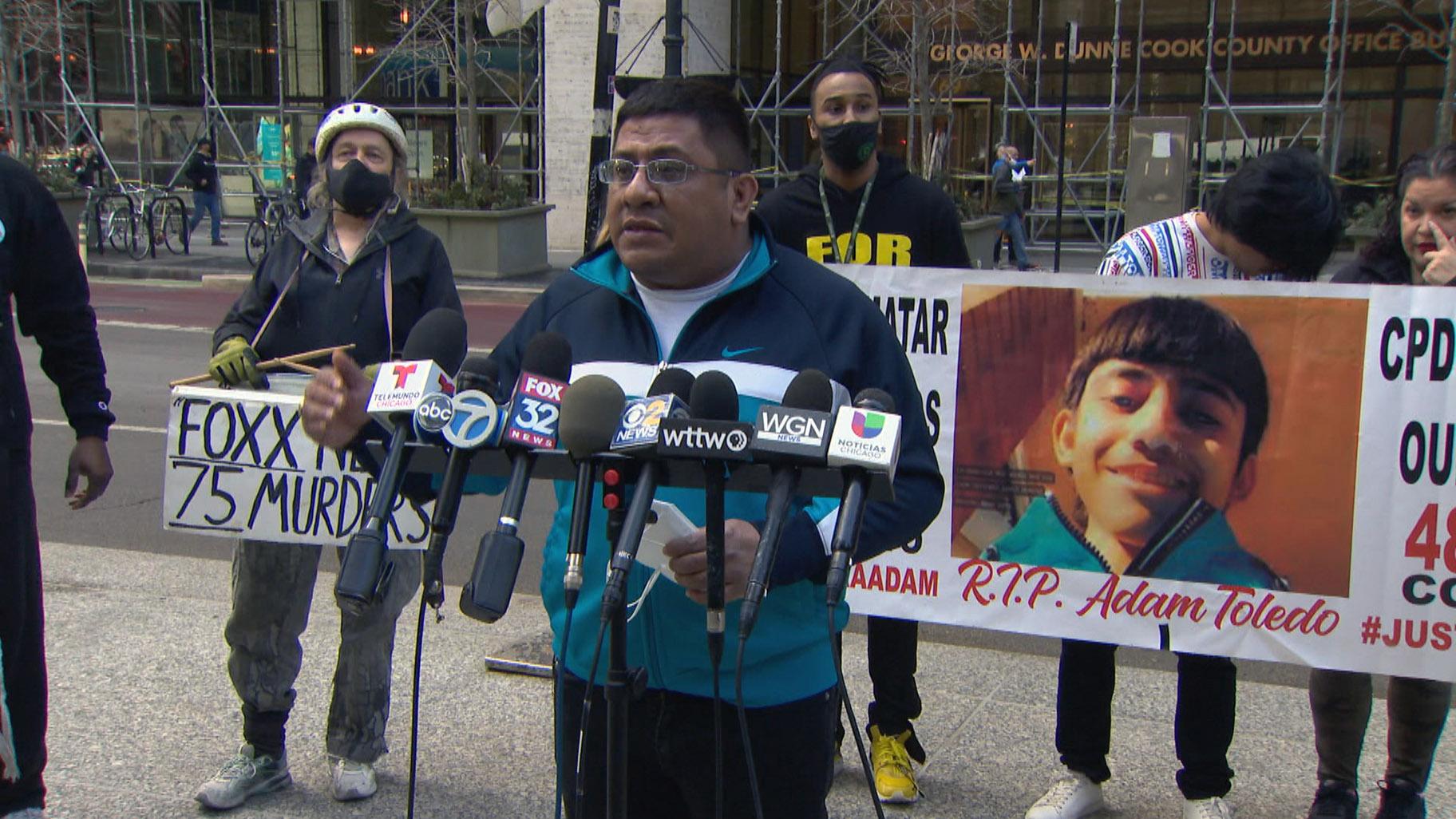 (WTTW News)
Graciela "Chela" Garcia said that she expected Cook County State's Attorney Kim Foxx to hold accountable Chicago Police Department officers Eric Stillman and Evan Solano for their respective roles in the fatal shootings last year of 13-year-old Adam Toledo in Little Village and 22-year-old Adam Alvarez in Portage Park.
Foxx announced Tuesday that while Stillman and Solano erred and "escalated" the situations in their pursuits of Toledo, there's insufficient evidence and facts to justify criminal charges.
Garcia and other activists protested Foxx at a pair of rallies at Federal Plaza downtown, across the street from Foxx's office.
Garcia, a leader with the Little Village Community Council, said shortly after the shootings Foxx met with organizers and promised accountability and transparency. 
"A year later, there was no transparency, there was no justice, there was no accountability. The only ones that continue to pay are the citizens of Chicago," Garcia said.
The shootings occurred within days of one another.
In the wee morning hours of March 29, Stillman ordered Toledo to drop a gun and put his hands up; video appears to show Toledo doing so, but as he turned, Stillman fired the fatal shot – Foxx said it all played out in less than one second.
Days later, March 31 of 2021, Alvarez was attempting to flee as police chased him. His back was turned as Solano filed multiple shots.
Activist Eric Russell, of the Tree of Life Justice League, said Foxx insulted the Black and brown communities by lumping the two cases together.
He says each case had its own merits, and that Toledo and Alvarez were individuals.
"If I had not closed my eyes (when hearing Foxx's announcement, she would not press charges) I would have suspected that it was a racist white woman that was talking. She absolutely insulted our community," Russell said. "How is it that the State's Attorney just got it tied up in a neat bundle and arbitrarily say 'oh I'm not going to prosecute the officers that shot the Mexican kid.' It was damn near racist."
Black Lives Matter organizer Troy Gaston said it feels like the movement is fighting a losing battle.
"Foxx has betrayed the Black and brown communities. She's betrayed us," Gaston said – yelled – as he spoke at the afternoon rally. "She's lied. She lied to every Black and brown mother in the city. She lied. She cannot be trusted."
Foxx was reelected to a second term in 2020 in the most contentious local race of the cycle.
Lifelong Pilsen resident William Guerrero, 20, was too young to vote in that election, but said he will not back Foxx in the future.
"I could see me in that situation. My brother and my sister and my friends. Like, we were running for our lives. We are running for our lives to this day. We don't feel safe. We really don't," Guerrero said. "People died. If you take off the badge, people died – a human being killed another human being. Where is the justice?"
Guerrero said that while he personally does not carry a gun, some Chicago residents do for protection, as is their Second Amendment right.  He said he does not trust the police to prevent gun violence; cops only react.
Activists are calling on Foxx to reconsider, and reverse course.
In a statement Wednesday, her office intimated that Foxx's determination is final.
"The Cook County State's Attorney's Office (CCSAO) made a decision on the shootings of both Adam Toledo and Anthony Alvarez based on the facts, the evidence and the Law. The Illinois State's Attorneys Appellate Prosecutor (ILSAAP) agreed with that decision," the statement read.
There is no appeals process.
Foxx's office points out that criminal courts must meet a higher threshold than the civil legal process.
Toledo's family has filed a civil case.
The Civilian Office of Police Accountability can also take professional action against officers.
Garcia said that advocates will continue to put pressure on Foxx until there's accountability for Toledo and Alvarez's deaths.
About two dozen gathered against Foxx at Wednesday's afternoon rally.
Follow Amanda Vinicky on Twitter: @AmandaVinicky
---