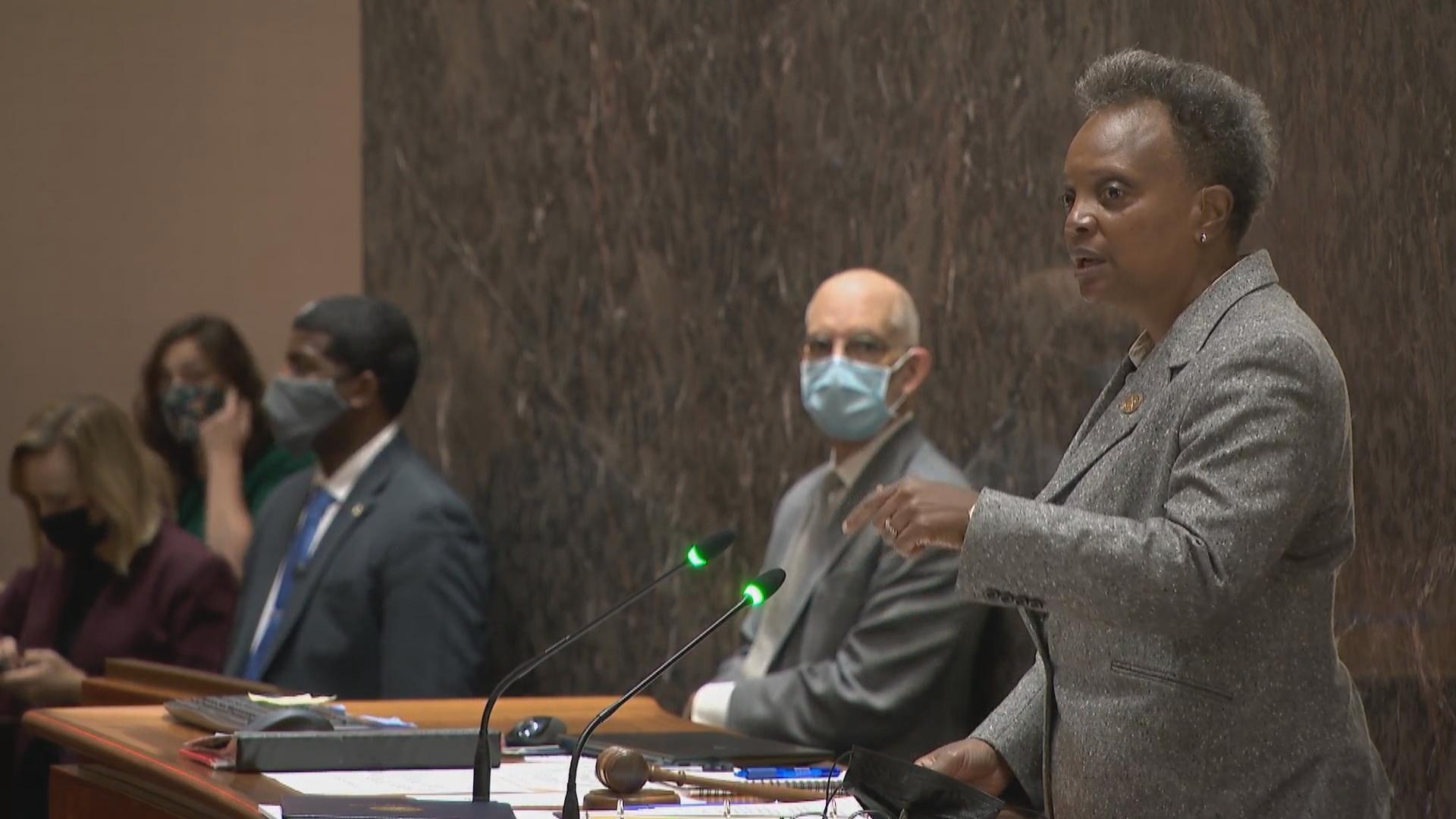 When the deadline for Chicago Police Department members to get at least the first dose of the COVID-19 vaccine passed on Sunday, approximately 24% of officers had yet to be vaccinated, according to data released Friday by Mayor Lori Lightfoot's office.
Employees who are not vaccinated will not be paid and may face additional "disciplinary action, up to and including termination," Mayor Lori Lightfoot's office said in a statement Friday evening. 
"These decisions will be addressed at an individual and department level, and are being undertaken in a manner that will not impact public safety or the continuity of everyday government operations," according to the mayor's office. 
Most city employees can appeal if they are terminated, either to the city's Human Resources Board or an arbitrator.
Chicago Police officers can only be terminated on the recommendation of Chicago Police Supt. David Brown and a vote of the Chicago Police Board. 
The Fraternal Order of Police Lodge 7, led by President John Catanzara, unsuccessfully challenged the decision by arbitrator George Roumell requiring officers to be fully vaccinated by April 13 in Cook County court.
Catanzara acknowledged Thursday that it was unlikely that a judge would overturn the arbitrator's ruling, but said the police union would appeal.
"We are not going to stop punching," Catanzara said.
Catanzara said Thursday that enforcing the vaccine mandate would "sabotage" public safety in Chicago.
According to the most recent data released by the city, 2,777 members of the Chicago Police Department are not vaccinated. Another 222 members of the department never reported whether they had been vaccinated against COVID-19.
Six Chicago police officers have died of COVID-19 and more than 6,000 have contracted the virus, according to Roumell's ruling.
All are at risk of being terminated for failing to comply with Lightfoot's vaccine mandate, which she first issued in August. Originally set to take effect Oct. 15, and then delayed until Dec. 31, the fight dragged on into 2022 amid implacable opposition from the police union.
Chicago employees represented by Chicago Firefighters Union Local 2, the American Federation of State, County and Municipal Employees, the International Brotherhood of Electrical Workers, Local 21, the Service Employees International Union, Local 73, Teamsters Local 700, and all COUPE trade unions were required to be fully vaccinated against COVID-19 by Jan. 31 as part of a separate decision after arbitration.
Data released by the mayor's office shows that 331 of the Chicago Fire Department's 4,781 members are either not vaccinated or have refused to disclose their vaccination status as of Friday. That means about 7% of the department is at risk of termination.
By comparison, 12% of the department was at risk of termination for failing to be vaccinated on Jan. 31, according to city data.
A spokesperson for Mayor Lori Lightfoot declined to answer detailed questions from WTTW News about how many of employees outside the police department have been terminated for failing to get the COVID-19 vaccine.
In all, approximately 13% of the city's 30,202-employee workforce has yet to be vaccinated against COVID-19 or disclose their vaccination status to city officials. More than 76% of city employees who are unvaccinated or who have refused to say whether they have been vaccinated are members of the Chicago Police Department, according to city data. Combined, the police and fire departments account for 93% of the city employees who have yet to be vaccinated against COVID-19 or disclose their vaccination status to city officials.
Lightfoot's office also declined to say how many city employees had requested and been granted medical or religious exemptions from the vaccine requirement.
According to Catanzara, 526 members of the police department applied for and were granted an exemption from the vaccine mandate. No more than 10 exemptions were granted based on medical reasons, with the rest granted based on religious concerns, Catanzara said during a video posted on You Tube Friday evening. Another 963 exemption requests are pending, he said.
An effort in October to roll back the vaccine mandate for city employees by several members of the Chicago City Council failed at a special meeting in October, winning just 13 votes.
Twelve of those alderpeople renewed their demand on Friday, asking Lightfoot to lift the mandate because the potential termination of police officers presented a "clear and present danger to the safety, security and services" demanded by Chicago residents.
Contact Heather Cherone: @HeatherCherone | (773) 569-1863 | [email protected]
---