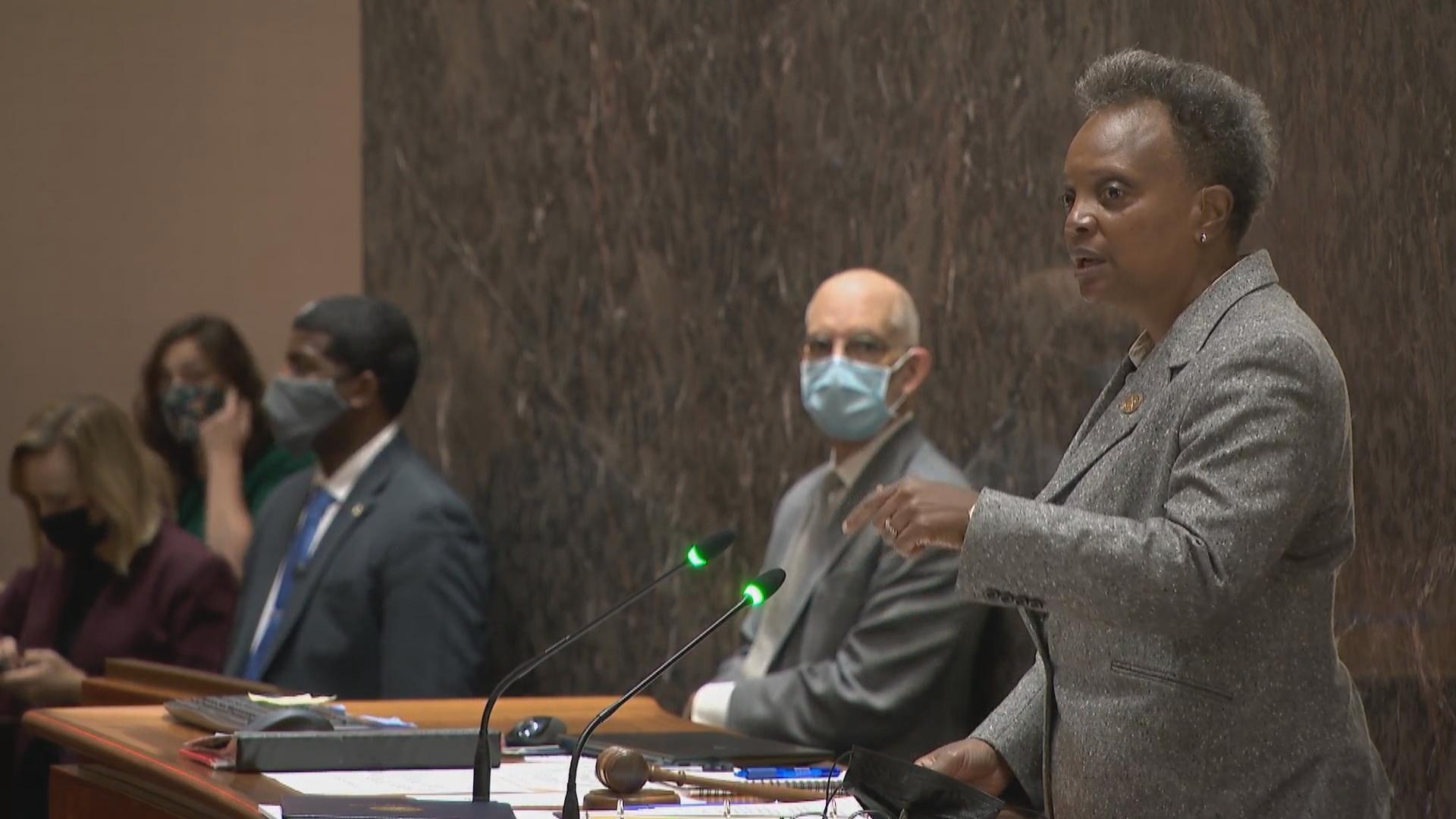 Chicago Police officers must be vaccinated against COVID-19, an arbitrator ruled Wednesday, handing Mayor Lori Lightfoot a significant victory.
The decision means that all Chicago employees must be vaccinated against COVID-19.
The ruling should serve as a "signal for those members who are not yet vaccinated to get vaccinated," Lightfoot said after Wednesday's City Council meeting.
The Fraternal Order of Police Lodge 7, led by President John Catanzara, undertook an intense and public fight against Lightfoot's order, which she first issued in August. Originally set to take effect Dec. 31, the fight dragged on into 2022 amid implacable opposition from the police union.
Members of the police union have until March 13 to receive the first dose of the Moderna or Pfizer COVID-19 vaccines and until April 13 for the final dose or the one-shot Johnson and Johnson vaccine, according to the ruling from arbitrator George Roumell.
"There is no language in any of the (agreements) that would prohibit the exercise of management rights by promulgating a Covid-19 vaccine mandate," Roumell wrote.
Catanzara did not respond to a request for comment from WTTW News Wednesday afternoon.
However, late Wednesday Catanzara posted a You Tube video and acknowledged officers would be "forced to get the vaccine" and called Lightfoot a "dictator." Catanzara has said he plans to run for mayor of Chicago in 2023. 
The vaccine mandate triggered dueling lawsuits between the city and its police union. The city won a judge's order that temporarily blocked Catanzara from telling union members to refuse to report their vaccine status to the city before the matter went to arbitration.
In October, Catanzara unsuccessfully pushed the Chicago City Council to overturn the vaccine mandate. Opponents of the mandate warned it could worsen crime in Chicago at time when murders, carjackings and other crimes are soaring.
More than 25% of the Chicago Police Department's 12,366 members have told city officials they are not vaccinated, or refused to disclose that information. That leaves 3,174 officers at risk of being disciplined or terminated, according to city data.
Six Chicago police officers have died of COVID-19 and more than 6,000 have contracted the virus, according to Roumell's ruling.
In December, Roumell ruled that all employees represented by the Chicago Firefighters Union Local 2, the American Federation of State, County and Municipal Employees, the International Brotherhood of Electrical Workers, Local 21, the Service Employees International Union, Local 73, Teamsters Local 700, and the COUPE trade unions.
That ruling required those employees to be fully vaccinated by Jan. 31 or face termination. City officials have declined to say how many employees gave been fired as a result of the vaccine mandate.
Contact Heather Cherone: @HeatherCherone | (773) 569-1863 | [email protected]
---