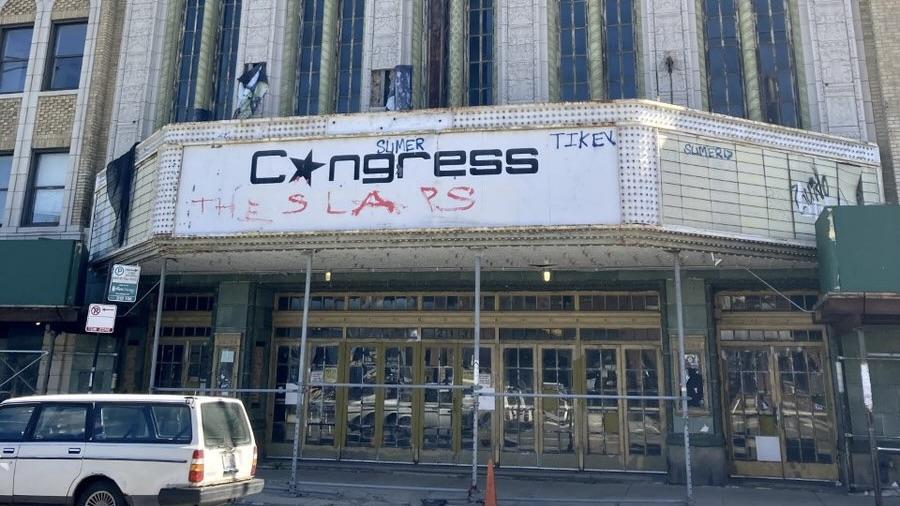 The marquee of the Congress Theater, which has been vacant since 2013. (Credit: Chicago Department of Planning and Development)
A new effort to restore the Congress Theater in Logan Square to a measure of its former grandeur using $20 million in taxpayer funds cleared a key city panel Tuesday.
The Community Development Commission endorsed the plan from developer Baum Revision to spend $70.4 million to renovate the 2,900-seat theater at 2135 N. Milwaukee Ave. The plan also calls for 20 apartments to be built next to the theater above stores and office space for community groups and operator AEG Presents.
Commission member Dwight Curtis cast the only dissenting vote, saying he wanted more information on the residential part of the development.
The proposed $20 million city subsidy would come from the area's tax increment financing district. TIF districts capture all growth in the property tax base in a designated area for 23 years in an effort to eradicate blight.
That subsidy must be approved by the Chicago City Council. The Finance Committee could consider the proposal on March 21.
The former movie palace has been vacant for nearly a decade. An effort by developer Michael Moyer to renovate and reopen the Congress Theater sputtered out in 2020, even after the City Council agreed to give the project a $9.7 million subsidy from the area's TIF district.
That development agreement is still in effect, which means the plan only lacks approval of the $20 million city subsidy, officials said.
Contact Heather Cherone: @HeatherCherone | (773) 569-1863 | [email protected]
---