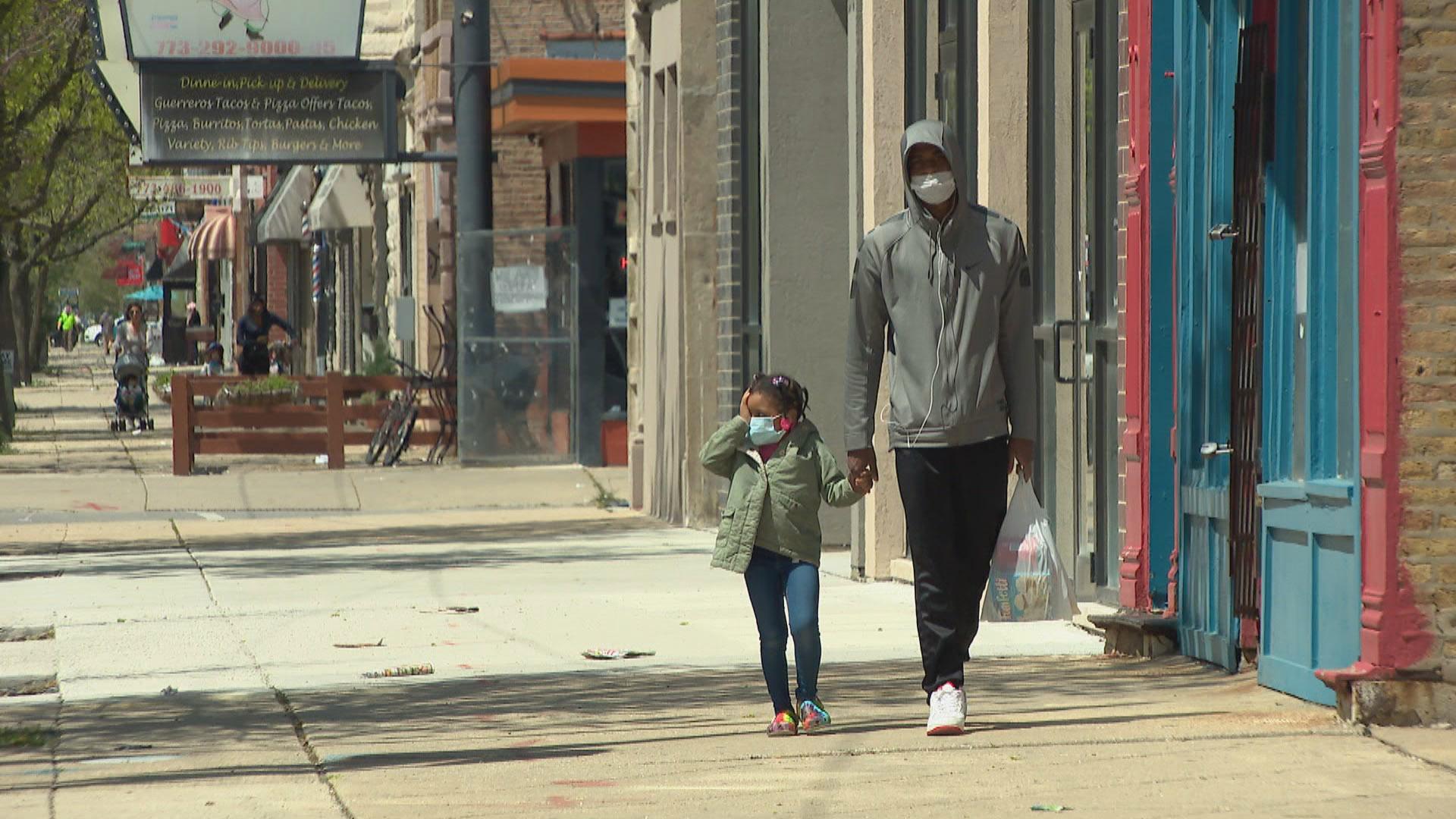 Family members wearing masks walk along the sidewalk in the Humboldt Park neighborhood on Thursday, May 7, 2020. (WTTW News)
Indoor mask mandates for the city of Chicago and state of Illinois are ending Monday. While you won't need a mask in most settings, you shouldn't leave home without one because masking will still be required in some places.
Confused? Here's what you need to know.
---
Masks will no longer be required in restaurants, bars and fitness centers among other places. But can businesses still require them?
Yes, they can, according to officials. "We do expect and we've already seen certain businesses in certain settings make that decision and we're fully in support of that," Chicago Department of Public Health Commissioner Dr. Allison Arwady said recently on "Chicago Tonight."
Do I need to wear a mask on public transportation?
Yes. Masks are still required on all transportation systems, including buses, trains and planes, as well as at airports due to federal requirements that remain in effect through at least March 18.
Are masks still required in hospitals, health care facilities and long-term care facilities?
Yes. Both city and state officials will require masks to be worn in high-risk settings, including hospitals, health care facilities, long-term care facilities and other congregate settings, such as prisons and shelters.
What about day care settings and schools?
Masks will no longer be required in day care settings, according to a Monday announcement by Gov. J.B. Pritzker. As for schools, it's complicated.
Recent court rulings have upended state officials' plans for mask mandates to remain in effect in schools after the statewide mandate lifts on Monday. Gov. J.B. Pritzker announced Friday students and staff will no longer be required to wear masks in Illinois schools as of Monday, after the Illinois Supreme Court declined to take up his request to overturn an appellate court decision.
Chicago Public Schools will require all students and staff to wear masks inside school buildings until August due to an agreement with the Chicago Teachers Union. The Archdiocese of Chicago says all schools will be mask optional starting Monday.
Can I still wear a mask if I want to?
Yes. "We know there are plenty of people who will continue to wear masks at the individual level, we encourage and support that," Arwady said. "We don't want to see folks calling out people for wearing a mask."
Even though the mask mandate has been lifted, when do officials recommend wearing one?
Anyone who is immunocompromised or has a family member who is immunocompromised should continue to mask up, according to officials. They also advise children under the age of 5 who aren't eligible for a COVID-19 vaccine to still wear a mask.
Officials also advise people wear a mask in crowded, indoor settings as well as following a COVID-19 infection. After five days of isolation or quarantine, city officials require individuals to wear a mask up to 10 days after infection in public spaces.
Contact Kristen Thometz: @kristenthometz | (773) 509-5452 |  [email protected]
---