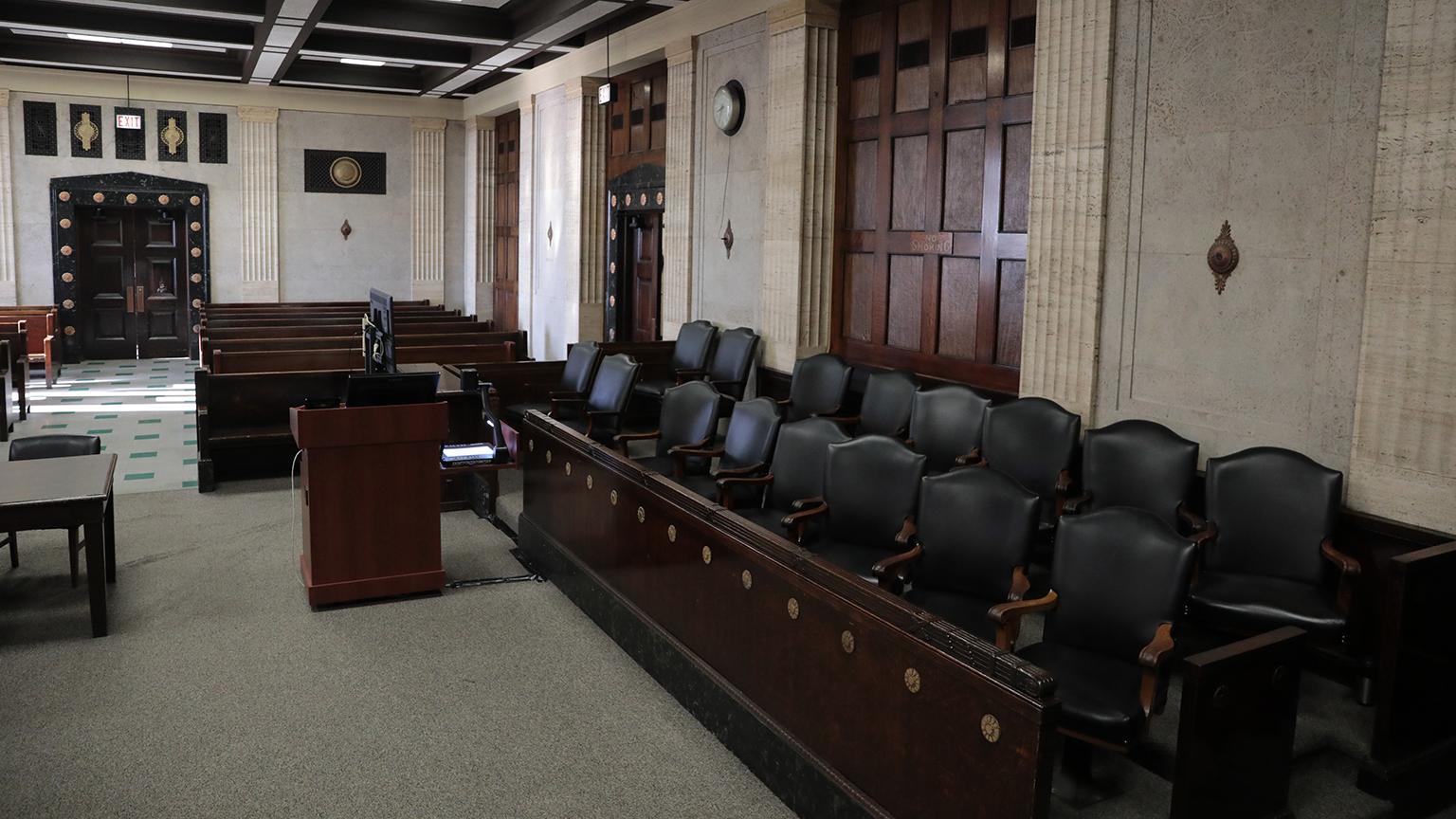 Empty jury box area readied for members of the jury in the courtroom of Judge Vincent Gaughan at the Leighton Criminal Court Building on Tuesday, Sept. 4, 2018. (Antonio Perez / Pool / Chicago Tribune)
Mayor Lori Lightfoot rejected on Friday Cook County Chief Judge Tim Evans' call to work together as part of a concerted effort to reduce violent crime in Chicago, saying the court system is making "Chicago neighborhoods less safe."
In a rare speech to the Union League Club of Chicago, Evans said Thursday that Chicago and Cook County would be better served if the finger pointing that has marked the debate over how to stop the crime surge than began nearly two years ago was replaced by a collaborative push.
In a statement released by her office to WTTW News on Friday, Lightfoot said that would not be possible until Evans acknowledges the courts "part in making Chicago neighborhoods less safe."
"The mayor believes that the Cook County criminal courts' current practices around electronic monitoring and violent, dangerous offenders make our residents less safe and totally erodes confidence in the criminal justice system," according to the statement. "There is no dispute that people charged with murder and other crimes of violence are out in communities with zero supervision, both adults and juveniles."
Evans' speech Thursday marked his first public appearance since he rejected Lightfoot's call to prevent judges from releasing defendants charged with murder or attempted murder to await their trial outside jail while being monitored with an electronic bracelet.
"We have not felt it necessary to scapegoat any of our fellow stakeholders in the criminal justice process," Evans said Thursday. "Oh, we might differ from time to time, but I think you could easily say that we share the same objective to have a safe and peaceful community."
An analysis by the Chicago Tribune found that Lightfoot's letter urged the change — which Evans said would violate the constitution — based on data that was misleading, flawed and, in some cases, false.
Evans said Thursday it was "unfortunate" that Lightfoot has shared "false" information about actions taken by the Cook County courts.
No one charged with murder or attempted murder has been released on electronic monitoring since October 2021, Evans said.
Even before the violent crime surge began — and before the court system shut down amid the first waves of the COVID-19 pandemic — Lightfoot has repeatedly blamed the court system for fueling the increase in crime by releasing violent criminals back onto Chicago's streets.
However, there is no evidence that defendants out on pretrial release are driving the high rates of violence. Those charged with a crime do not present a clear and present threat, they are entitled to be released while they wait to be tried, Evans said.
Despite Evans' push back, Lightfoot has repeatedly said she will not stop calling for changes to be made to how the courts operate.
"The mayor will work with anyone who uses real data and doesn't shirk from their responsibilities," according to the statement from the mayor's office. "She believes that there is a middle ground that can and must be reached, one that balances the importance of constitutional rights and equitable law enforcement with community safety and true accountability for violent criminals."
Contact Heather Cherone: @HeatherCherone | (773) 569-1863 | [email protected]
---