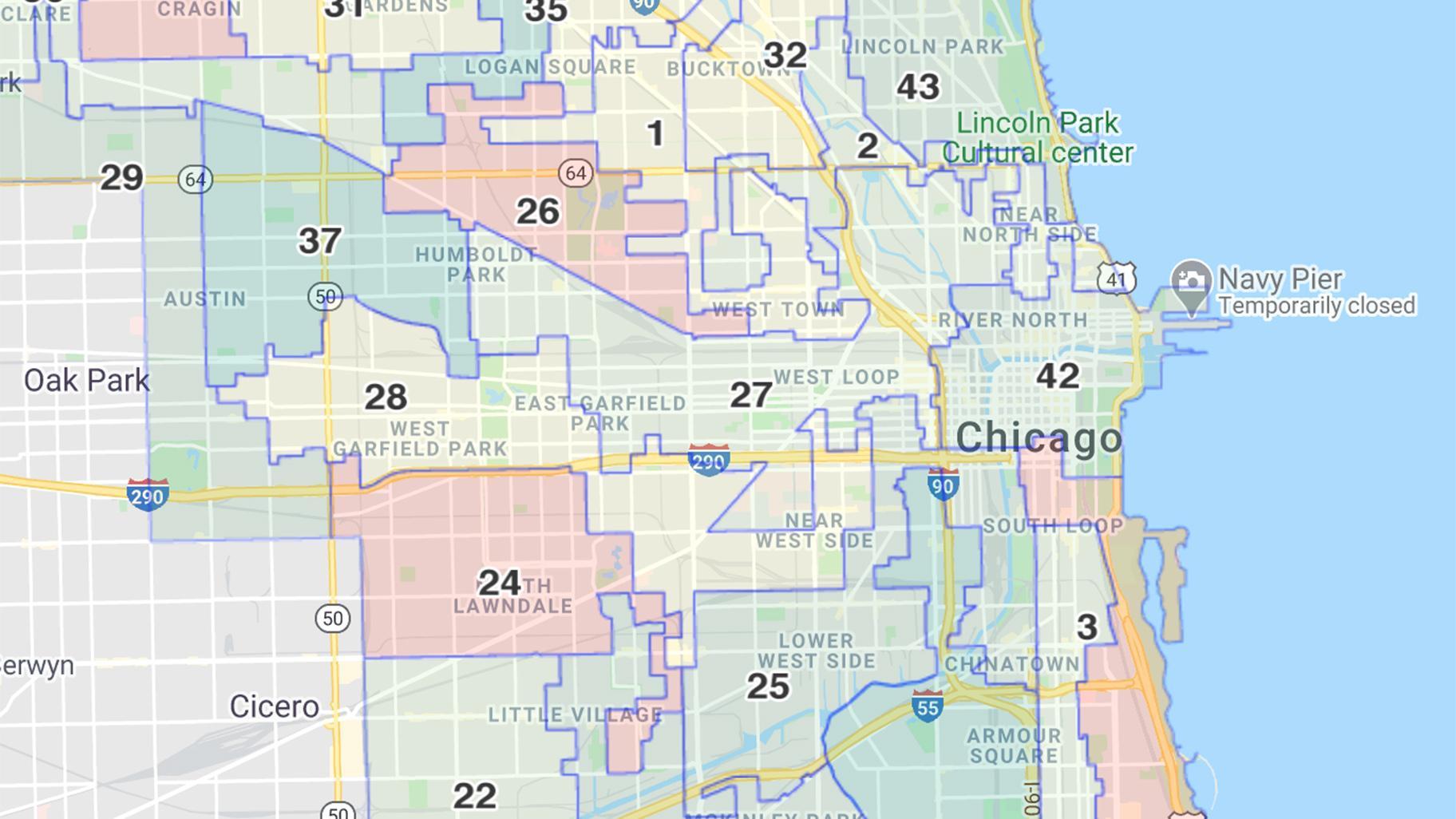 A new Chicago ward map is set to take effect in time for the 2023 municipal elections. (WTTW News via Google Maps)
There is no available evidence that asking Chicago voters to decide what the boundaries of the city's 50 wards should be for the next decade will cost taxpayers tens of millions of dollars, despite assertions by Rules Committee Chair Ald. Michelle Harris (8th Ward) backed up by the Chicago City Council's Black Caucus.
The likelihood that the June 28 primary election ballot will ask voters to decide what Chicago's ward map should look like for the first time in 30 years increased during the past week as the acrimony between the Black and Latino caucuses over the map escalated significantly. The final map will shape Chicago politics for the next decade and determine the balance of power between Black, Latino and Asian Chicagoans.
Harris, who is overseeing the city's official map-crafting process as chair of the Rules Committee and a member of the Black Caucus, has repeatedly said that the referendum would cost taxpayers approximately $40 million. However, Harris has provided no documentation supporting that assertion despite repeated requests from WTTW News.
In a letter to Ald. Silvana Tabares (23rd Ward), the vice chair of the City Council's Latino Caucus, Harris said an estimate she had received from the city's budget office showed a ward map referendum would "double … at least" the $20 million the 1992 ward map referendum cost taxpayers.
However, a spokesperson for the city's budget office did not respond to a request from WTTW News asking for a copy of that estimate. During a virtual news conference that took place on Tuesday, Harris told a WTTW News reporter that she had only asked the city's Budget Office to prepare such an analysis and agreed to make it publicly available when complete.
A spokesperson for Harris did not respond to a request for additional documentation supporting the cost estimates of a referendum shared by Harris made by WTTW News.
That lack of evidence did not stop Harris from telling reporters that the actions of the Latino Caucus would "put Chicago taxpayers on the hook" for tens of millions of dollars and to urge reporters to ask Latino Caucus members "to explain why they are going to make Chicagoans foot the bill."
Harris could not detail what specific costs related to a referendum would have to be borne by taxpayers if 41 alderpeople cannot agree on a map before May 19, forcing the referendum. Instead, Harris said the city may face legal costs to defend the map crafted by the Rules Committee in court.
The Rules Committee has not voted on any of the proposed maps, and it is not clear how the city would be forced to defend a map that had not been approved by a majority of the City Council.
A proposed Chicago Ward Map from the Chicago City Council's Latino Caucus. [Provided]
Max Bever, a spokesperson for the Chicago Board of Election Commissioners, which administers Chicago's elections, said the cost of adding another page to all 3.5 million ballots scheduled to be printed for the primary election to accommodate the ward map question would cost no more than $550,000.
The board's existing 2022 budget is sufficient to cover that cost, and the board will not have to ask the Chicago City Council for additional funds, Bever said.
Black Caucus Chair Ald. Jason Ervin (28th Ward) echoed Harris' criticism of the 15 alderpeople who have demanded that any map have 15 wards with a majority of Latino voters. The map backed by the Black Caucus crafts 14 wards with a majority of Latino voters and 16 wards with a majority of Black voters.
Latino Caucus leaders have repeatedly said that makes it impossible to craft a map that fairly represents the city's changing racial makeup. While Chicago's Black population dropped 10%, its Latino population jumped 5% and its Asian American population surged 30%, according to the 2020 census.
The map supported by the Black Caucus has 34 co-sponsors, seven short of what it needs to become law. The Latino Caucus needed 10 alderpeople to file its map with the clerk — and had five more than it needed on Dec. 2 when it moved to force the referendum.
The Latino Caucus has taken a "play out of the Republican playbook of obstructing, obstructing, obstructing," Ervin said. "They want to hold everyone hostage."
Harris has refused to consider maps that move ward boundaries without the consent of all of the alderpeople affected, with one major exception: the 11th Ward now represented by Ald. Patrick Daley Thompson. That ward would be redrawn to be centered around Chinatown with a majority of Asian American voters under both maps proposed by the Black and Latino caucuses.
Daley Thompson is scheduled to stand trial in February on charges that he submitted false tax returns and lied to FBI agents.
The Black Caucus' map would move the 34th Ward — now on the Far South Side, which saw a steep drop in population during the past decade — to the booming area south and west of the Loop.
Ald. Carrie Austin (34th Ward) plans to retire after her term ends in 2023.
Austin is awaiting trial on charges she took bribes and lied to FBI agents. Austin has pleaded not guilty.
State law requires Chicago wards to be "nearly equal as practicable" while being as "contiguous" and "compact" as possible while complying with the Voting Rights Act, which is designed to protect the voting rights of Black, Latino and Asian residents.
Since Chicago's population in 2020 was 2,746,388 residents, each ward should have 54,928 residents, according to data presented to the Chicago City Council.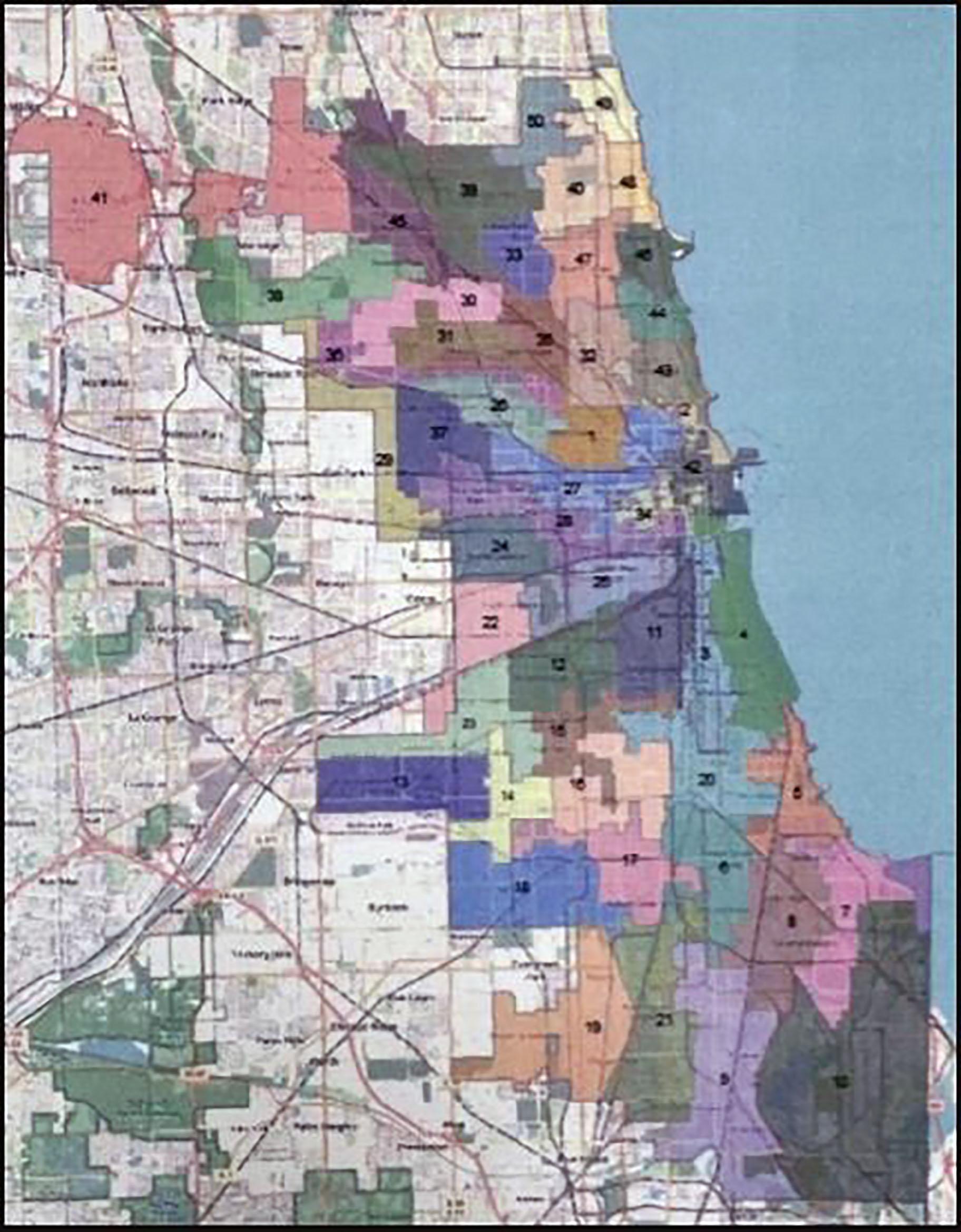 A proposed Chicago Ward Map from the Chicago City Council's Black Caucus. [Provided]
Contact Heather Cherone: @HeatherCherone | (773) 569-1863 | [email protected]
---