After 51 years as a radio news anchor, Pat Cassidy has signed off.
For most of the last 22 years, Cassidy hosted mornings on WBBM Newsradio. Before that, he spent 25 years at the former WMAQ-AM. And his roots in radio go all the way back to college. While Cassidy was chatting with his freshman year roommate, someone stuck his head into their dorm room and asked who'd been talking.
"He said, 'You have a beautiful voice, and I heard you all the way down the hall … how'd you like to be a DJ?'" Cassidy recalls. "I said, 'DJ? I don't know anything about that.' He said, 'Well, you play rock 'n' roll records all day and chicks call you up on the phone,' so I said, 'OK, I'll give that a try.'"
Cassidy's first job out of college was at the now-defunct WEXI in Arlington Heights. After working as an anchor for several different local stations, he took over morning news duties at WMAQ-AM (now The Score) in 1975.
"I just love breaking news, because I know I'm telling people things they don't know," Cassidy said. "The big stories like when somebody dies, (and) as corny as I am even a closed expressway – the Kennedy is closed by an accident. That got me excited! I guess I'm a born radio news anchorman."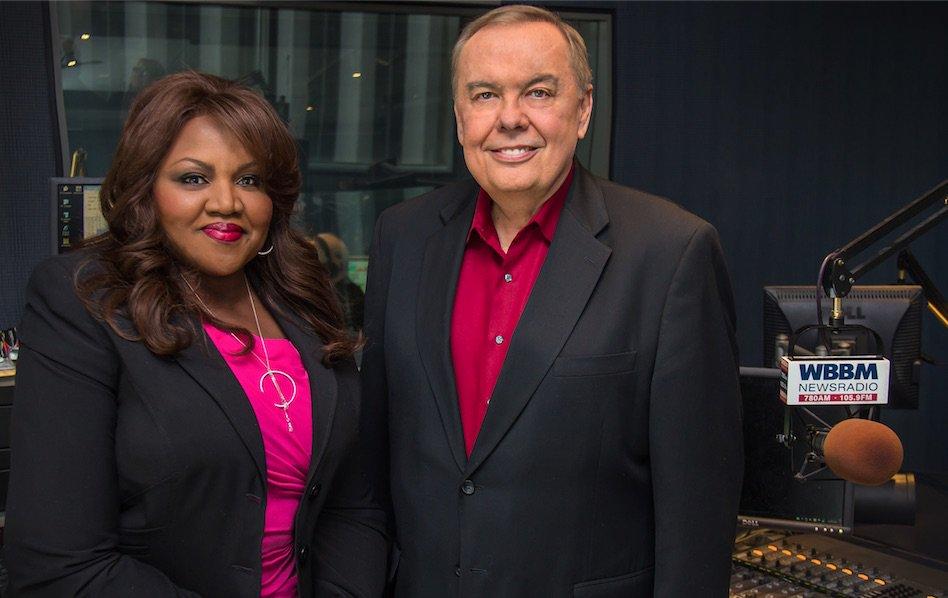 WBBM Newsradio co-anchor Felicia Middlebrooks hosted mornings with Pat Cassidy when he moved from WMAQ-AM. (Courtesy of WBBM Newsradio)
When WMAQ moved away from a news format, Cassidy went over to its then-sister station WBBM Newsradio to host with co-anchor Felicia Middlebrooks, who retired last year. He says it was a relatively smooth transition going from one newsroom to another.
"Instead of saying traffic and weather together on the 1s, I had to say traffic and weather together on the 8s. And instead of WMAQ, I had to say WBBM. Amazingly, the first day on BBM I said the call letters right after saying MAQ for 25 years. Then the second day is when I messed up a couple times," Cassidy said, laughing.
Cassidy says the story that sticks out most in his memory is the 9/11 attacks, which happened while he and Middlebrooks were on the air.
"Our biggest challenge was keeping our emotions under control. We're Americans too. We knew what was happening, and we could assume, many people were dying. And yet, we had to be the voice of calmness and reason because people on the Kennedy Expressway didn't have a picture, they had us," Cassidy said.
While Cassidy says he'll miss the camaraderie and teamwork, calling everyone at WBBM a "super pro," he's looking forward to hours that are more in sync with his family and friends.
"I got up at 2:30 in the morning for 51 years, which is just a mind-boggling thought. It amazes me that I did it," Cassidy said. "This is just my second week of retirement, so I'm still waking up at 2:30 a.m. – but I can go back to sleep, anyway."
---