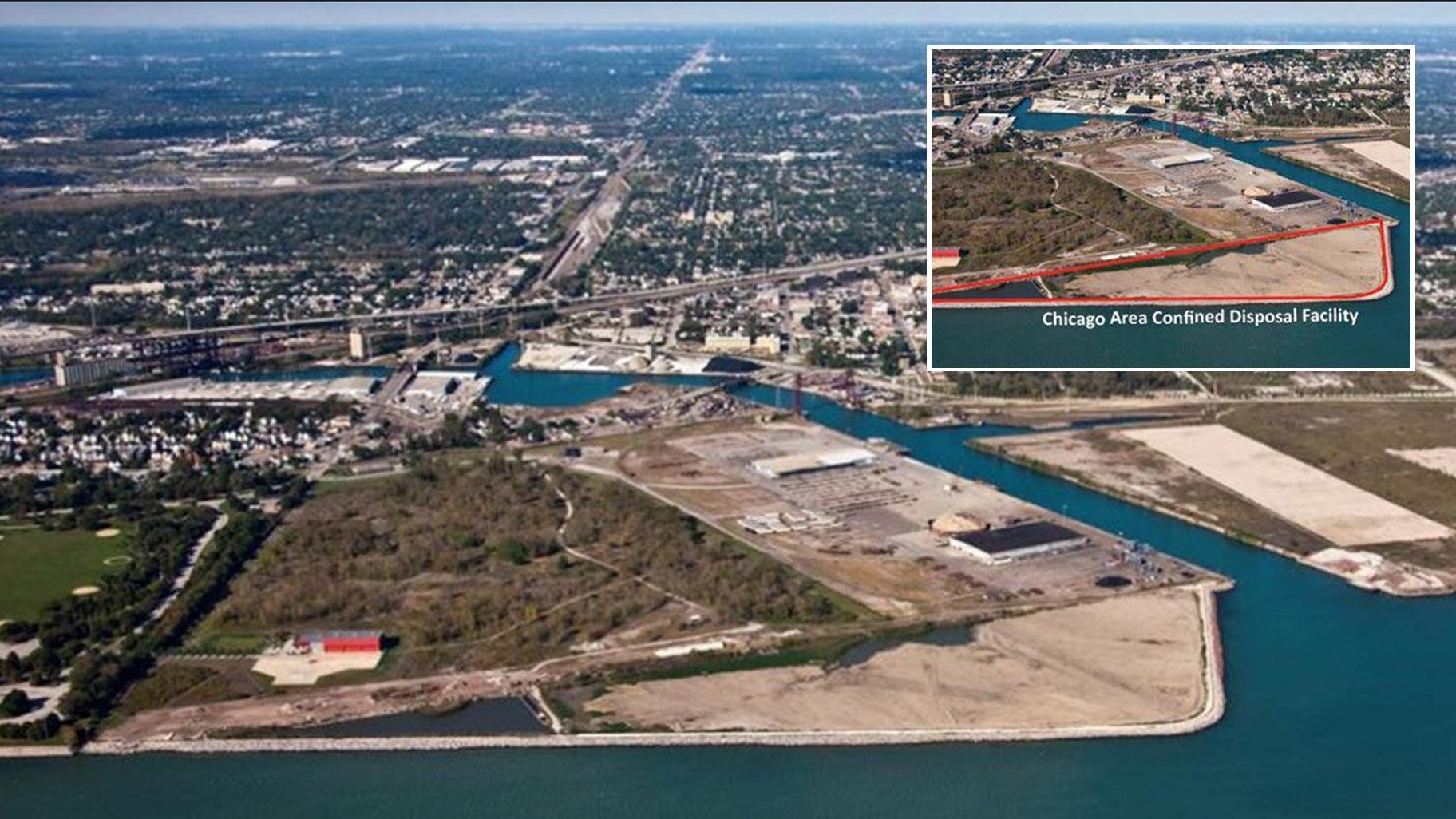 An aerial view of the Chicago Area Confined Disposal Facility, a 45-acre site on Chicago's Southeast Side that has been in operation since 1984. Inset: The CDF is outlined in red. (Credit: Army Corps of Engineers)
Community activists and environmentalists reacted with disappointment to Friday's approval by the Illinois Environmental Protection Agency of a one-year permit extension for a "confined disposal facility" on Lake Michigan operated by the U.S. Army Corps of Engineers.
The 43-acre dump, known as a dredged material disposal facility or confined disposal facility (CDF), is situated in Calumet Harbor, at the confluence of Lake Michigan and the Calumet River. The one-year extension expires Nov. 30, 2022.
"We are pleased to have received the permit," said Mike Padilla, U.S. Army Corps of Engineers Chicago District project manager. "It will allow us to resume the maintenance of the Calumet waterways in support of the important waterborne commerce they provide."
The dump opened in 1984 and stores polluted sediment dredged from the Calumet River and the Cal-Sag Channel. It's expected to reach capacity in 2022, at which point it was to have been turned over to the Chicago Park District for redevelopment.
Instead, the Army Corps has an additional permit application pending for a 20-year extension of the dump's life, to be made possible by a proposed 22-foot vertical expansion. The Illinois EPA is still reviewing that request.
"Friends of the Parks is not surprised that the U.S. Army Corps of Engineers was granted a permit extension to operate the Confined Disposal Facility. It is clear that the health and well-being of Southeast Side community residents are not being prioritized," Juanita Irizarry, the organization's executive director, said in a statement. "We remain determined to resist any efforts to drag out the closure of the CDF and its conversion to a park as promised."
Critics of the expansion plan say it could lead to compromised drinking water quality, particularly given Lake Michigan's rising level, shoreline erosion and strong storms that have sent waves crashing over formerly unassailable barriers.
"I find this quite disturbing that the CDF was approved, especially given concerns at the public meeting about water quality and whether the berm walls were compromised due to wave action caused by climate change," said Amalia NietoGomez, executive director of the Alliance of the SouthEast.
Kiana Courtney, an attorney with the Environmental Law and Policy Center, said activists remain opposed to the dump's location in a community already overburdened with environmental pollution and will continue to push the Illinois EPA to deny additional permits.
Contact Patty Wetli: @pattywetli | (773) 509-5623 |  [email protected]
---