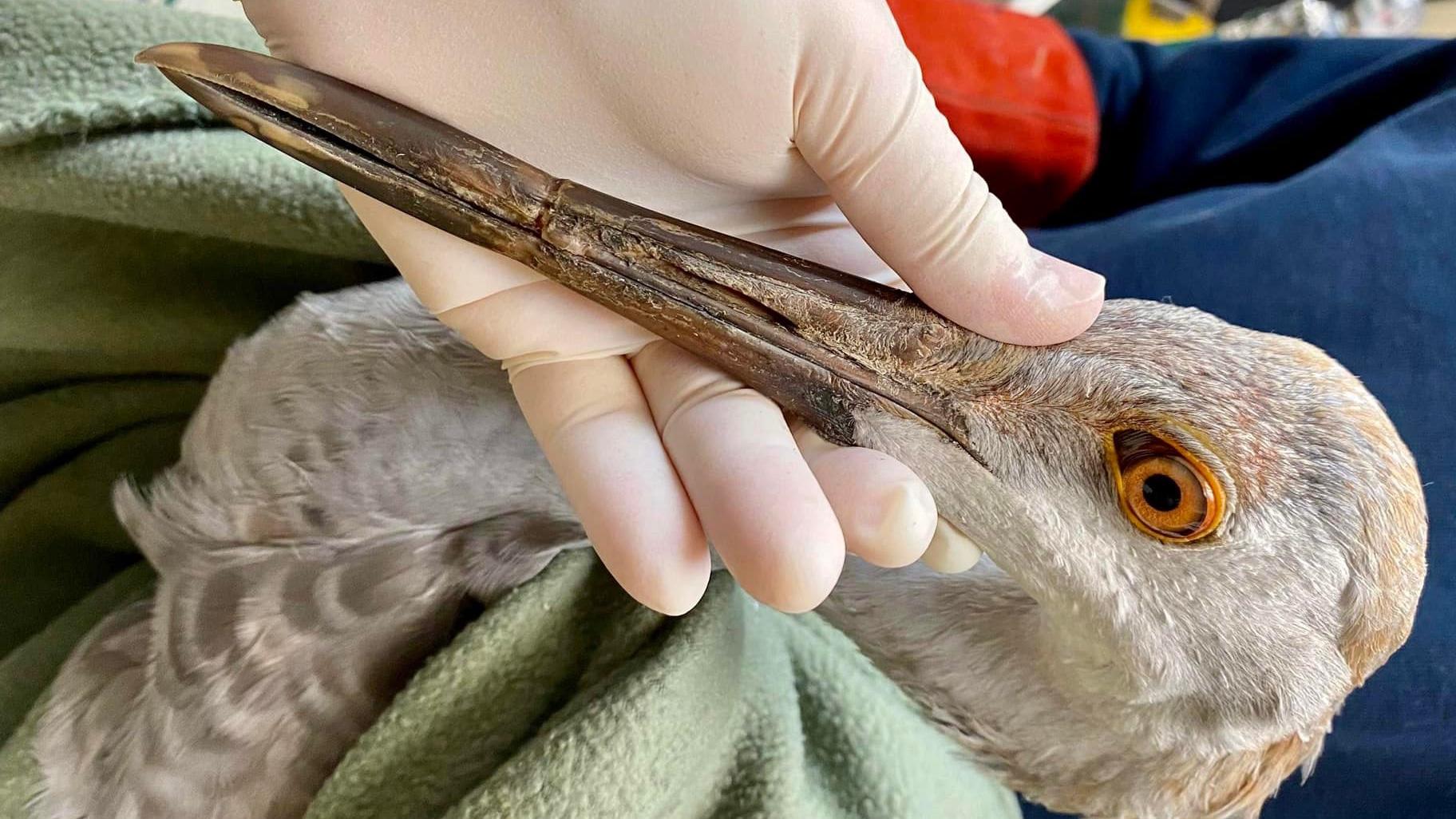 The notch in this sandhill crane's beak was caused by a plastic bottle cap, which became caught and kept the bird from being able to eat. (Willowbrook Wildlife Center / Facebook)
The team at Willowbrook Wildlife Center is reporting that a young sandhill crane rescued in Evanston over the Thanksgiving holiday is recovering nicely after being unable to eat for a week due to a plastic cap stuck around its beak.
"The bird was brought to us severely emaciated," Willowbrook staff shared on social media. "The plastic had also cut into tissue, softening the underlying keratin and nearly fracturing the upper beak, causing us to worry that eating may be a challenge for the bird. Luckily, that was not the case, and the bird started eating almost immediately."
Thanks to everyone involved in this rescue! Please remember to dispose of your trash properly, and to pick up litter when you see it, even if it isn't yours! You never know when such a simple act will save a life.
https://t.co/VE56Sl7fop

— Chicago Bird Collision Monitors (@BirdMonitors) December 1, 2021
---
The crane, first spotted struggling in Rogers Park, still needs to gain a significant amount of weight before being released, but its caretakers are hopeful he'll be able to join the tail end of cranes' migration south. The crane's immature plumage suggests it might be the bird's first migration. "It certainly did not go as planned!," said staff at Willowbrook, a rehabilitation and education center operated by the Forest Preserve District of DuPage County.
The plight of this individual sandhill crane brings into sharp focus the danger plastic poses to wildlife and the environment, a danger that coincidentally was the subject of a report released this week by the National Academies of Sciences, Engineering, and Medicine titled, "Reckoning With the U.S. Role in Global Ocean Plastic Waste."
The U.S. generates more plastic waste than any other country, exceeding that of all European Union member states combined, and shows no sign of giving up that dubious distinction, according to the report's authors. 
Much of that waste winds up in landfill, but every year millions of metric tons of plastic trash escape into the environment. Per the report, top items collected during litter cleanups consistently include bottle caps and straws, food wrappers, bottles and cans, and bags.
"Today's U.S. recycling processes and infrastructure are grossly insufficient to manage the diversity, complexity and quantity of plastic waste," the report concluded.
The report calls on the federal government to create a national strategy, by the end of 2022, to reduce the nation's contribution of plastic waste to the environment. 
Among the suggested interventions:
— Reduce plastic production, especially for plastics that are not reusable or practically recyclable. For example, establish a national cap on virgin plastic production.
— Encourage design innovation and the development of substitutes that degrade more quickly or can be more easily recycled or reused.
— Decrease the amount of waste generated by reducing the use of disposable plastic products. For example, ban specific products based on their toxicity or necessity.
"Such a strategy would enhance United States' leadership in creating solutions to global plastic pollution and shaping modern industrial plastic policy," the report stated.
For wildlife, those interventions can't come soon enough. 
Contact Patty Wetli: @pattywetli | (773) 509-5623 |  [email protected]
---