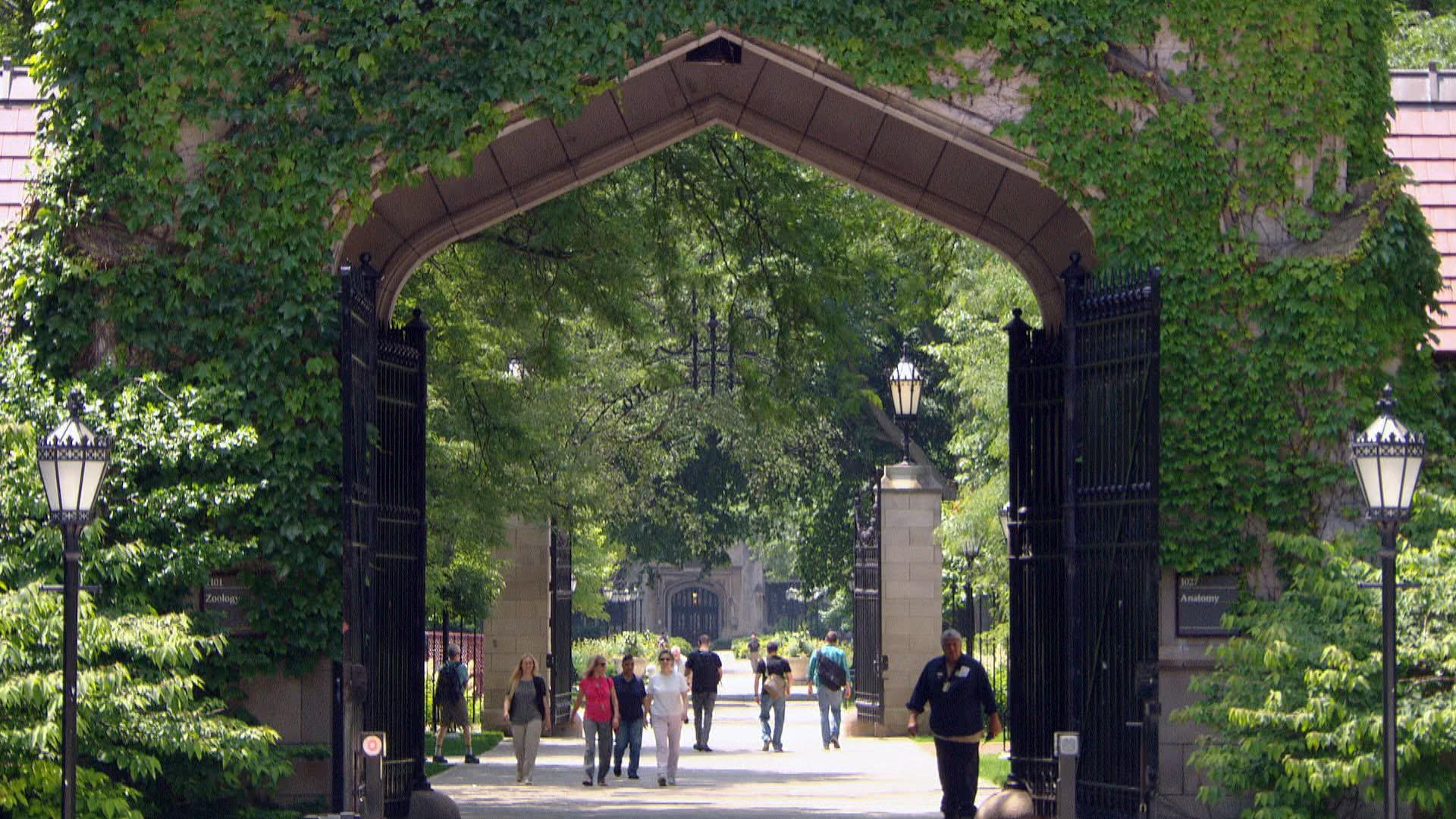 The University of Chicago (WTTW News)
After the fatal shooting of a recent graduate in Hyde Park this week, University of Chicago leaders say they're working with Mayor Lori Lightfoot and the Chicago Police Department to come up with new ways to protect students, staff and residents in the area.
In a joint letter published Tuesday, UChicago President Paul Alivisatos and Provost Ka Yee C. Lee said they've spoken with the mayor, alderpeople and Police Superintendent David Brown about formalizing "a number of short and longer-term public safety strategies specifically" for Hyde Park and its surrounding communities.
"Our city struggles with many of the same issues of violence that afflict all large cities in the U.S," Alivisatos and Lee said in their statement. "Unless we can meet that challenge together, our communities will not truly feel safe. The University and the Hyde Park community make up one of this City's great neighborhoods, and we are fully committed to doing more as a University and as an anchor institution on the South Side."
Alivisatos and Lee said they will be speaking with city leaders again Wednesday.
Their statement came the same day a 24-year-old UChicago graduate was killed in a robbery near the university's campus. That followed another shooting Tuesday near the university's Polsky Center and Harper Court.
According to the CPD, the recent grad was on the sidewalk in the 900 block of East 54th Street at around 1:54 p.m. when a dark-colored vehicle pulled up beside him. A man got out of that car, pulled out a gun and demanded the victim's belongings, according to police.
He then fired shots at the victim, striking him in the chest, before getting back into the car and fleeing. The victim was taken to the University of Chicago Medical Center where he was pronounced dead. His name has not yet been released.
Cook County Board President Toni Preckwinkle, who lives in Hyde Park, issued a statement Wednesday saying there must be an "immediate and urgent response to the violence as well as a long-term plan to address those root causes of violence."
"More important, our residents need to see a transparent demonstration of leadership across all levels of government working together at the same table with a shared goal, shared plan and shared accountability," Preckwinkle said. "History will judge each of us on what we are doing today to stop the violence and bloodshed. Collectively, we all must do more — now."
According to CPD data, the 35 homicides recorded in the police district encompassing Hyde Park and its surrounding neighborhoods so far this year marks an 84% increase over the same time in 2020. Shootings in that area are also up 44%.
While acknowledging they must do more to improve safety, university officials say they're developing plans to reduce violence. They also cited a previous message from Lee in which she highlighted ongoing public safety measures the university is already undertaking, including "mobilizing the academic and policy expertise of the UChicago community to engage with other national experts and officials in efforts to strengthen our cities and reduce the human toll of gun violence."
"We will push constantly for our city and our own University community to work on this problem with the immediacy, vision and ambition that it demands," Alivisatos and Lee said in their statement.
Contact Matt Masterson: @ByMattMasterson | [email protected] | (773) 509-5431
---