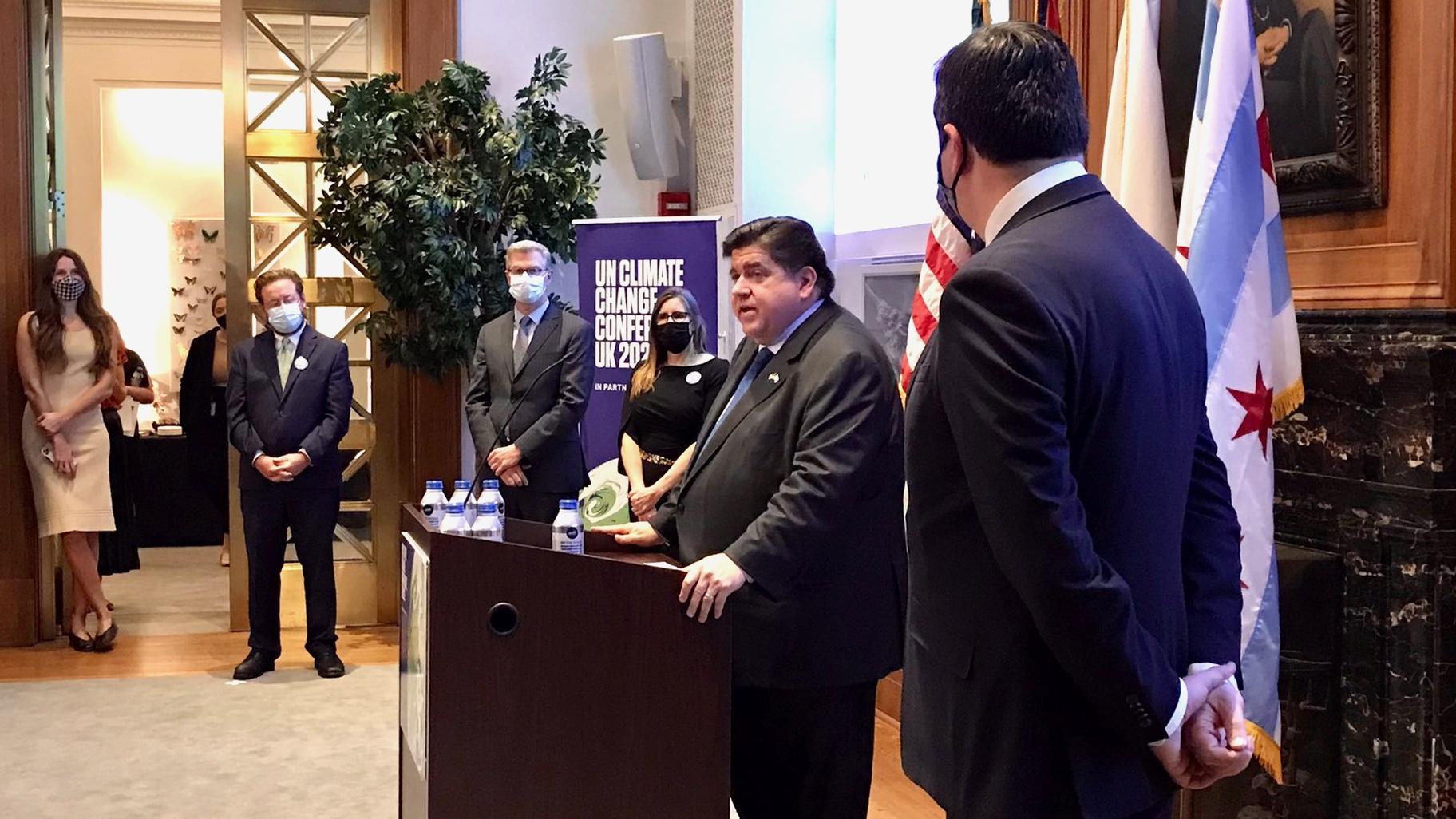 Illinois Gov. J.B. Pritzker speaking Nov. 1, 2021, at a COP26 kick-off event hosted by the British Consulate General in Chicago. (UK Consulate Chicago / Twitter)
Buoyed by the recent passage of the ambitious Climate and Equitable Jobs Act, Gov. J.B. Pritzker is heading to the COP26 climate change summit in Glasgow, Scotland, to present Illinois as a global player in the emerging green economy.
Pritzker is one of seven governors, and the only one from the Midwest, traveling to the conference as part of a large U.S. delegation.
His message will be: "In America's heartland, there's one state taking strides to match this moment," Pritzker told an audience gathered Monday night at the Field Museum for a COP26 kick-off event hosted by the British Consulate General in Chicago.
Already at COP26, which runs through Nov. 12, world leaders have hammered out top-level agreements on curtailing methane emissions and limiting deforestation. Delegations will continue negotiating on and launching initiatives tied to sustainable agriculture, clean technology, renewable energy and climate-resilient infrastructure.
Having a seat at this table gives Illinois the opportunity to seek out partners in developing climate change innovations while also pitching itself as a test bed for green solutions. 
It's at the state level, Pritzker said, where the U.S. can be the most nimble. "States are laboratories," he said.
Illinois and @GovPritzker will rank highly among the climate champions at #COP26 in the UK. @Chicago and Illinois have helped set the pace on sub-national #climate action, which will raise high as an example to the world in Glasgow. #TogetherForOurPlanet pic.twitter.com/9z5Hk09TED
— UK Consulate Chicago (@UKinChicago) November 2, 2021
In addition to Pritzker, Illinois-based corporations are also playing an influential role at COP26.
United Airlines, for one, is part of the 25-member First Movers Coalition, a group of U.S. companies making purchasing commitments to help establish and accelerate markets for low-carbon technologies, said Dan Lynch, vice president of state and local government affairs for the airline, who also spoke at the British Consulate General event.
United has already inked deals to purchase sustainable aviation biofuels and is also exploring the use of short-range electric aircraft, Lynch said.
Jack Darin, director of the Sierra Club's Illinois chapter, said it was a proud moment to see Illinois step into a leadership role on climate change.
"Climate action really hits the road when it comes to local action. Illinois has something to contribute," Darrin said.
The stakes are too high to leave anyone, at any level, on the sidelines, he said. "We need to open this conversation up so everyone finds a place to participate."
To highlight the ways local communities are tackling climate change in local communities, the U.S. and UK have teamed up on the Climate Challenge Cup, the winners of which will be announced Nov. 10 at COP26.
Included among the finalists is a project springing up on a former brownfield in Chicago's Auburn Gresham neighborhood: a renewable energy and urban farm campus, spearheaded by Urban Growers Collective.
The Challenge Cup event will stream live on the official COP26 YouTube channel. COP26 updates and webcasts of conference sessions can be found online as well.
Contact Patty Wetli: @pattywetli | (773) 509-5623 |  [email protected]
---