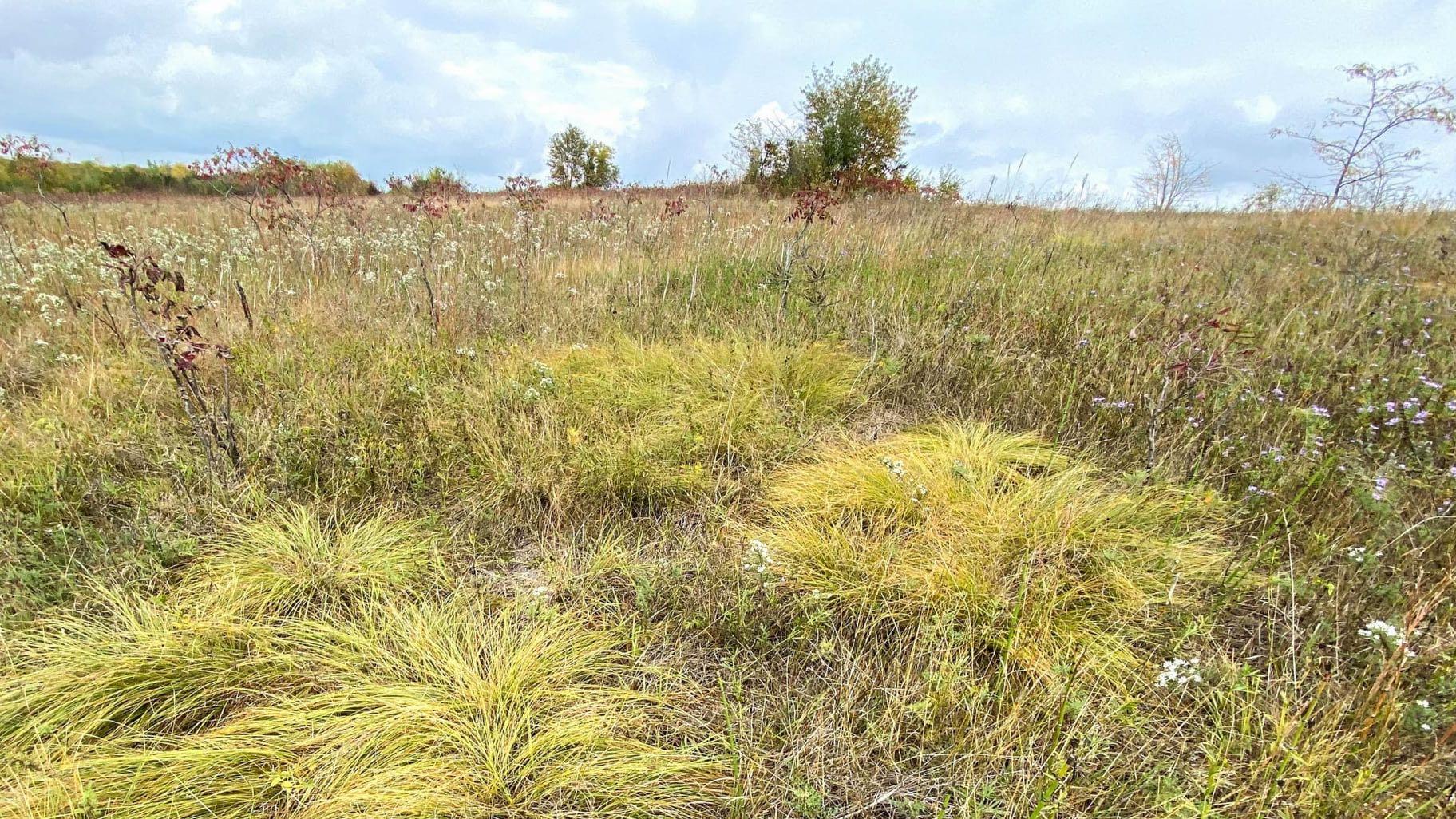 Bell Bowl Prairie, a high-quality remnant of Illinois prairie, located within the boundary of Chicago Rockford International Airport. (Courtesy of Cassi Saari)
Members of the coalition that sprung up to save Bell Bowl Prairie from demolition by the Rockford Airport are allowing themselves a brief victory lap to celebrate a temporary suspension of construction.
Then it's back to work.
Speaking at a post-mortem Friday morning, Kerry Leigh, executive director of the Natural Land Institute, and Amy Doll, director of the Friends of Illinois Nature Preserves, recapped the current situation at Bell Bowl, discussed immediate next steps and outlined long-term goals.
Where Things Stand
First things first, Bell Bowl hasn't been "saved," Leigh emphasized. "What I don't want to happen is for people to think this little win is the end of the story."
Bell Bowl has been granted a temporary reprieve, Leigh said, one that came about just as a judge was set to hold an evidentiary hearing related to the institute's request for a temporary restraining order against the airport, which would have stopped bulldozers from rolling through the prairie Nov. 1.
The airport is saying, "Let's step back for a minute," but not much else, Leigh noted.
There is still no sign that the airport's board of commissioners intends to meet with the Natural Land Institute or any other conservation organization to discuss alternative design concepts for the airport's planned $50 million expansion of its cargo facilities. 
"We need to demand a seat at the table," said Leigh. "The biggest thing we're fighting for is to redesign and re-site the road" that will slice through Bell Bowl's highest-quality habitat. The airport made no mention of the road in its Thursday press release announcing the construction suspension, she added.
Natural Land Institute continues to pursue legal angles, Leigh said, and will be pushing for access to Bell Bowl to ensure the airport is sticking to its word and not encroaching on the site between now and March 1, 2022, when the suspension expires.
"So there's lots of work to do," she said. "When March 1 rolls around, we may need to mobilize again."
What's Next
The question on the mind of a lot of people throughout the campaign to save Bell Bowl has been: "How did things come to this?" How is it that no one was aware the prairie was in jeopardy until August, when bulldozers were at the gate?
"Our feeling is that we were actively misled," said Leigh. "We do feel that we were blindsided."
Natural Land Institute has been the long-time steward of Bell Bowl and volunteers were on site in July for a scheduled workday. No one from the airport ever said a word about the cargo expansion design, she said.
Meanwhile, agencies including the Federal Aviation Authority, U.S. Fish and Wildlife Service, the Illinois Department of Transportation and the Illinois Department of Natural Resources, as well as local government officials, were all participating in or being kept abreast of environmental assessments being conducted on the site in advance of the expansion as far back as 2018.
"The regulatory environment that we have is no longer functioning to respond in the way that it needs to," Leigh said.
Doll, like many, learned about the threat to Bell Bowl in September. "I think it seemed to many of us this was a lost cause," she said, especially given the number of agencies that had signed off on the airport project.
It's time to reevaluate the processes and systems that failed Bell Bowl, said Doll, and to either clarify or rethink who has the power or the authority over places like Bell Bowl.
"This isn't just for Bell Bowl, but for unprotected areas all around our state," she said. "How do we make sure this doesn't happen again, so that we're not doing this at the 11th hour all across the state all the time?"
The Illinois Natural Areas Inventory, on which Bell Bowl is listed as a "high-quality" area, includes scores of important sites — valuable both from a conservation and historical standpoint — located on private property, with zero safeguards to ensure their survival.
Which sites are in the greatest immediate danger? What kinds of incentives could be established to encourage property owners to maintain these areas in perpetuity? These are issues the Bell Bowl coalition aims to tackle once the future of the patch of Rockford prairie is secure.
If there's a silver lining to the fire drill surrounding Bell Bowl, it's that it galvanized a broad range of people across Illinois, not just ecologists or environmentalists, said Matt Evans, a board member of Friends of Illinois Nature Preserves.
"Grassroots is a word that gets used a lot. But this was just regular people," he said, and those people stepped up where government couldn't or wouldn't.
"If the regulatory process isn't going to save something, the people still can," Evans said.
It's a success story that has implications beyond Illinois, he said. "There are Bell Bowl prairies all over the world, all over the country. This is a lot bigger than Rockford Airport."
Contact Patty Wetli: @pattywetli | (773) 509-5623 |  [email protected]
---