Everyone deserves to have art in their lives, whether they're making it or buying it. That's art manager Allan Bergart's philosophy. He's working to make art more available, and we have a preview of his latest art show, "The Fall Review."
"What you're buying is a cultural artifact, not art. I try to specialize in nurturing the emerging collector, "Bergart said. "We work directly with the artist to help create a full body of work. Every artist is compensated, nothing on the second market. Everything is never before seen."
He also tries to make the experience simple for patrons. "Most who have bought from Bergart have not bought art before. Everything is framed, it's very easy to buy," he said.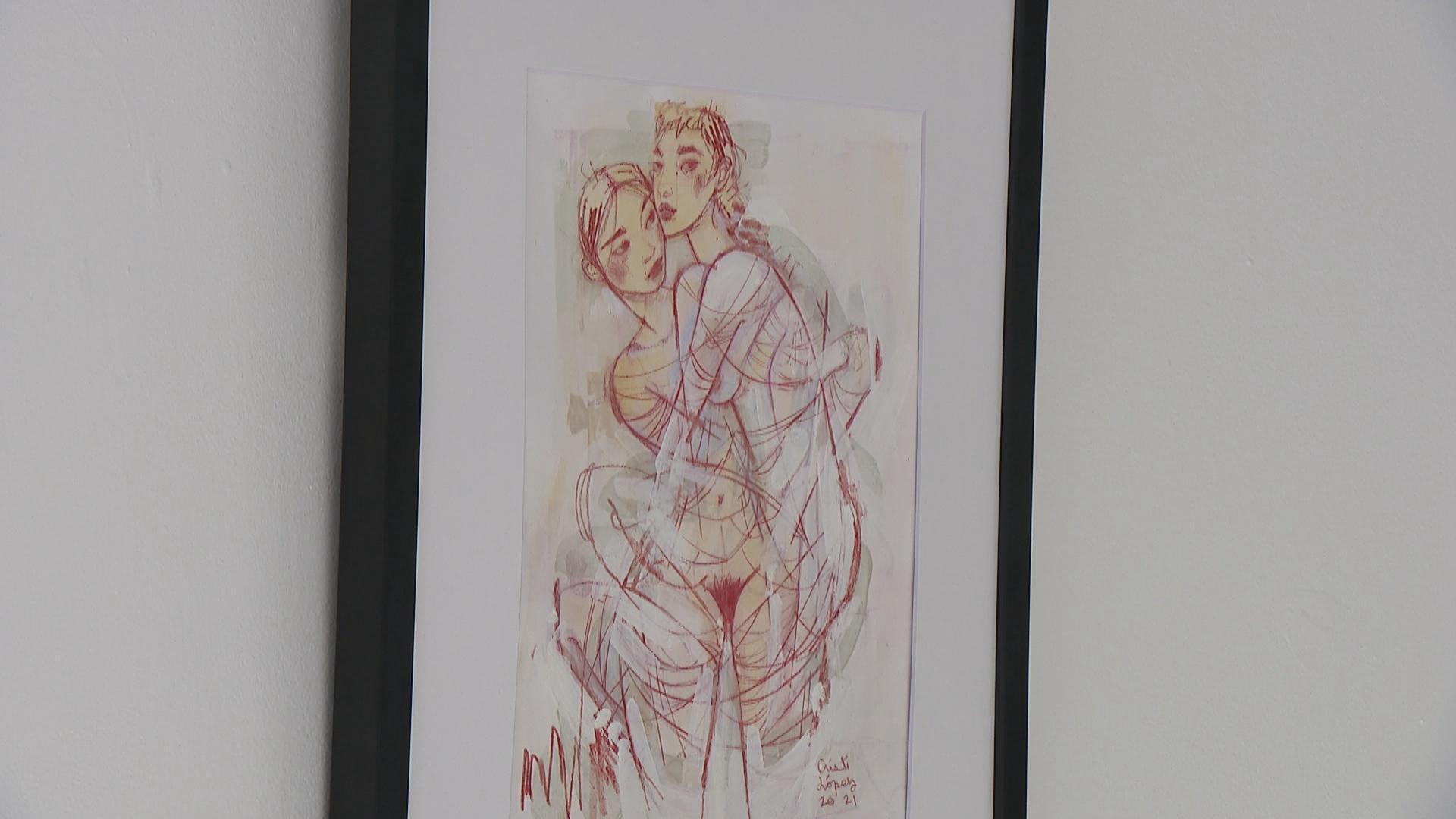 (WTTW News)
In his quest to make art more accessible, Bergart specializes in works on paper. He says works on paper, particularly 16x20 inches, are less intimidating. "I always talk with emerging collectors about how wonderful it is to collect works on paper. They're of great value compared to expensive canvas work and are less risk and can go anywhere," Bergart says.
His latest collection of works on paper by emerging artists will be on display this weekend in "The Fall Review."
Six artists will be showing full collections, using art of all mediums.
Among those artists is Iicky. "I did a series of taxi drivers," Iicky said. "I grew up in the Caribbean, and they make their living from tourism and were like heroes in a sense."
As a mixed medium artist, over time Iicky has learned to work with challenges, and not against them.
"What you're buying is a cultural artifact, not art," says art manager Allan Bergart. (WTTW News)
 "I left them out on the floor and water drenched them all and instead of allowing the mistake, I completed the pieces," licky said.
Other featured artists include Myron Laban, a muralist who will be displaying smaller sketches that go with his "You Deserve to be Happy" series promoting mental health awareness.
"Behind me is Laura Catherwood and James Sturnfield. They're working very deep within pencil and paper. I always talk to collectors about how important it is to collect pencil works because you can't trick a pencil," Bergart said.
"Cristi López in her studio practice focuses on a dialogue within herself, and an exploration within her own mental illness. Lefty Out There utilizes his trademark 'swiggle.' He works from an improvised standpoint and just keeps going. Very similar to Keith Haring. He normally sells out of LA and London, so it's great we have work from such a prominent emerging artist like him here in Chicago," he said.
(WTTW News)
While the art world may be ever-changing, Bergart says his goal will always remain the same. "Working with artists is my purpose. It really helps me become myself. When I can see an artist grow, it helps me grow. Art has changed the way that I view the world,' Bergart said. "You get to take a little of that culture with you every single day".
You can check out "The Fall Review" through Sunday at Congruent Space in West Town. Tickets are free with an RSVP. Most pieces range from $150 to $500, with some as high as $4,000.
---
Follow Angel Idowu on Twitter: @angelidowu3
Angel Idowu is the JCS Fund of the DuPage Foundation Arts Correspondent.
---