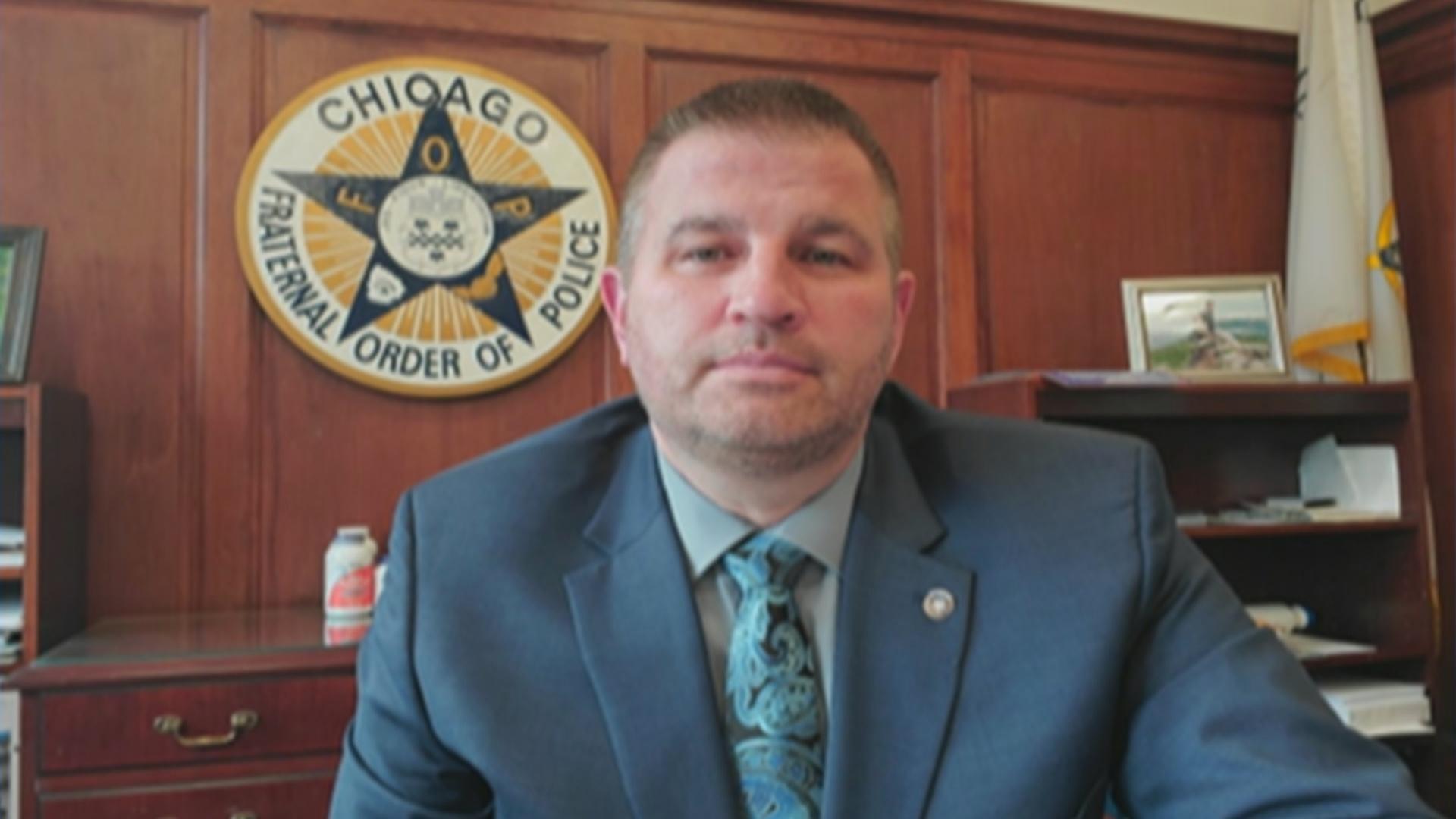 Fraternal Order of Police Lodge 7 President John Catanzara appears on "Chicago Tonight" via Zoom on Thursday, May 14, 2020. (WTTW News)
A Cook County judge refused to extended her order barring Chicago Police Union President John Catanzara from urging his members not to comply with the city's COVID-19 vaccine mandate for another 10 days.
Judge Cecilia Horan on Monday evening denied a request from city attorneys seeking to extend a temporary restraining order against Catanzara, who had repeatedly urged members of the Fraternal Order of Police not to give their vaccination status to Chicago officials as required under the city's vaccine mandate.
"The Court is sensitive to the challenges the City and the Lodge are facing," Horan wrote in a three-page ruling late Monday, "and encourages the parties to continue to work toward a feasible solution for the benefit of the citizens of Chicago and for the affected police officers."
In her ruling, Horan said she issued the initial temporary restraining order before the deadline for the city's vaccine mandate took effect, and at that time "there was no way to know how many Chicago police officers would fail to comply with the City's vaccination policy, and there was a real and imminent threat of a work-stoppage by a large number of Chicago police officers that would jeopardize the health, safety and welfare of Chicago citizens."
But as of Monday, Horan found "(t)here is nothing before the Court suggesting that these critical facts are still present."
During a hearing Monday, FOP attorneys claimed the temporary restraining order violateed Catanzara's First Amendment rights.
"What (the city is) asking for is an improper prior restraint," FOP attorney Joel D'Alba said. "There is simply no threat of harm or violence that supports the kind of prior restraint they're seeking here."
An initial 10-day temporary restraining order barring Catanzara from making such statements is set to expire at midnight Monday. City attorneys not only asked Horan to extend that order, but to expand it to include FOP Vice President Michael Mette and other union officials.
During a hearing Monday afternoon, city attorney Michael Warner claimed that if Catanzara's continued comments urging officers not to report their vaccination status don't "cross the line" of the judge's order, they "come right up to (it) and certainly his toes are across the line."
Catanzara during a Monday City Council meeting urged officers not to report their vaccination status to the city.
"I want every officer who is willing to go into a no-pay status who hasn't been called yet to show up to human resources at 35th and Michigan," Catanzara said during the meeting. "And you're going to see the hundreds of officers this police department is going to be without."
Warner referenced these comments during the hearing, arguing that Catanzara is essentially telling officers to "abandon their posts" and that doing so would "threaten the public safety of the city of Chicago."
"These statements are adding gasoline to the fire," Warner said. "Those are fighting words. Those are threats."
During Monday's hearing, Horan also denied an FOP motion to dismiss the city's ongoing lawsuit against the union.
Per the mandate, all city employees — including CPD officers — must either get fully vaccinated or submit to twice-a-week testing through the end of 2021. Employees must also disclose their vaccination status to the city, or risk being put into a no-pay status until they comply.
As of Monday, 23 officers have been placed into no-pay status for refusing to enter their vaccine information into the city's data portal, according to Police Superintendent David Brown. Fifty-seven percent of the CPD is now vaccinated, according to the city, and more than 70% of the department has disclosed their vaccination status to the city.
Still, more than 3,700 CPD employees have yet to disclose their vaccination status to the city.
Heather Cherone contributed to this report.
Contact Matt Masterson: @ByMattMasterson | [email protected] | (773) 509-5431
---