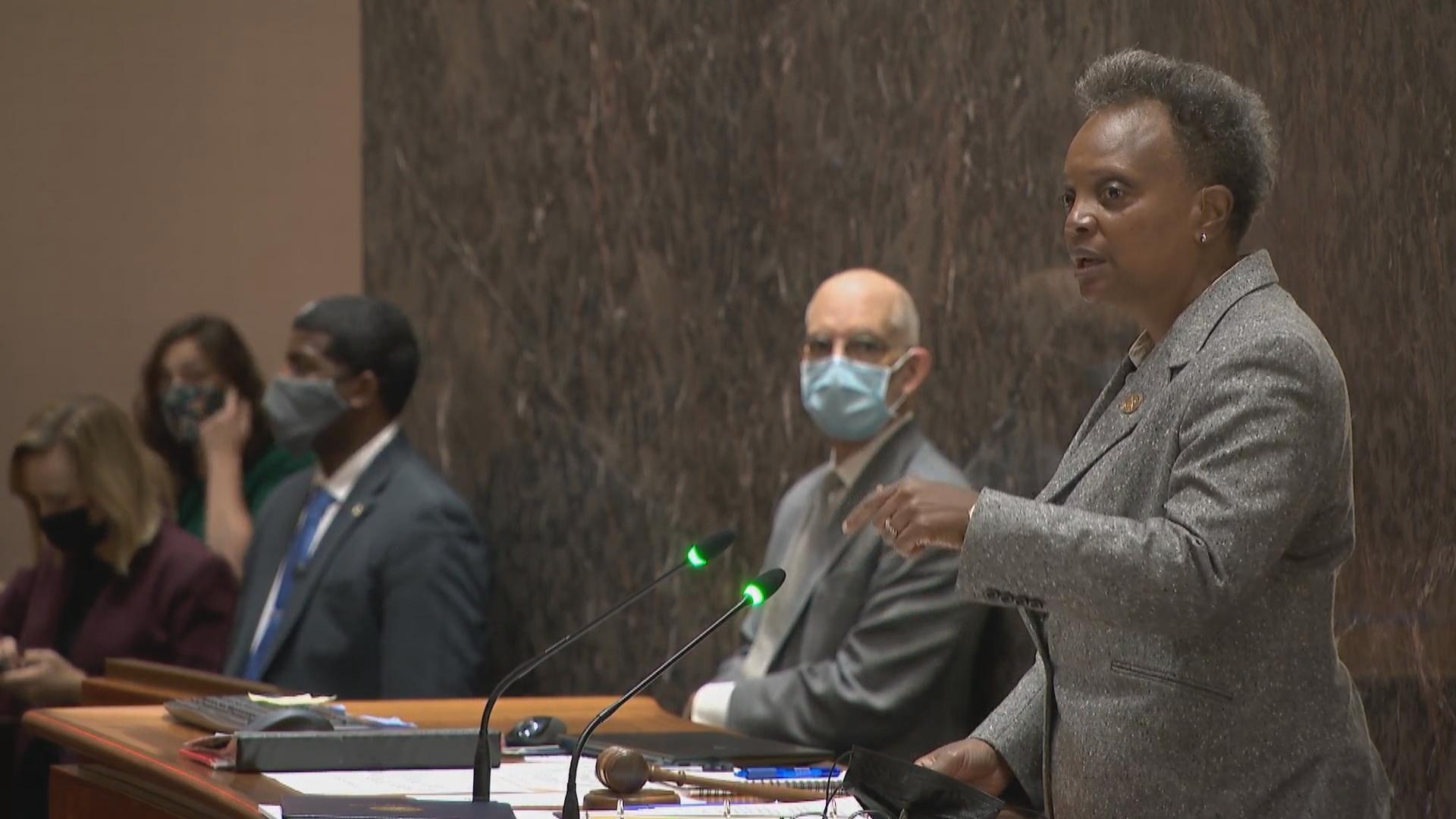 Mayor Lori Lightfoot speaks Monday, Oct. 25, 2021 at the Chicago City Council meeting. (WTTW News)
A measure that would have reversed Mayor Lori Lightfoot's order that all city employees disclose their vaccination status failed to advance at Monday's meeting of the Chicago City Council, even after the president of the police union vowed to oust members in retribution.
Authored by Alds. Silvana Tabares (23rd Ward) and Anthony Napolitano (41st Ward), the measure to give alderpeople the final say over whether employees could be disciplined for flouting the vaccine mandate was sent to the legislative purgatory of the City Council's Rules Committee.
Tabares told WTTW News that while she supports COVID-19 vaccines, an order with such an outsize impact on the city should have to go through the City Council.
"The mayor cannot pass laws on her own," Tabares said. "It cannot be 'my way or the highway.'"
In response, Lightfoot on Thursday blasted Tabares for introducing the measure at Catanzara's behest, saying it was shocking that a Latina would help a man who "spews hatred."
Tabares said the measure has nothing to do with race.
An effort by Ald. Raymond Lopez (15th Ward), one of the measure's 16 co-sponsors, to send the proposal to the City Council's Workforce Development Committee for a hearing failed on a vote of 20-30.
That is far short of the 26 votes the measure needs to pass the City Council as well as the 36 votes it would need to override an all-but certain mayoral veto.
However, five members of the City Council voted to send the proposal to the committee for a hearing who are not co-sponsors of the effort to roll back the mandate. All five have been critical of efforts to block consideration of measures opposed by the mayor by sending them into political purgatory.
After the meeting, Alds. Matt O'Shea (19th Ward) and Felix Cardona (31st Ward) said they had misunderstood Lopez's motion and should have voted for it, which would've made the vote 22-28. Both are co-sponsors of the effort to roll back the vaccine mandate.
Ald. Gilbert Villegas (36th Ward), the mayor's former floor leader, said he supported the measure to give the City Council the power to craft a compromise on the vaccine mandate while serving as a check on the mayor.
Another measure focused on the vaccine mandate, introduced by indicted Ald. Ed Burke (14th Ward) was also blocked from advancing. That proposal would have forced the city to continue to pay health care benefits for dependents of city employees disciplined for failing to disclose their vaccination status or be fully vaccinated.
The City Council's action came after several dozen people protested the city's vaccine mandate outside City Hall before the meeting, with several people waving signs and passing out flyers with false or misleading information about the COVID-19 vaccines.
During the meeting's public comment period, Fraternal Order of Police President John Catanzara cast the vote as a way to assert the Chicago City Council's independence from Lightfoot, and warned that those who prevented it from advancing would be challenged in the next municipal election, set for February 2023.
"We are coming for every one of your damn seats," said Catanzara, calling Lightfoot a "tyrant." "It is not a queen on that throne, it is a mayor."
Even though Catanzara had been ordered by a Cook County judge Oct. 15 to stop bashing the city's vaccine mandate on social media and to the press, the police union president urged officers not to report their vaccination status to the city.
"I want every officer who is willing to go into a no-pay status who hasn't been called yet to show up to human resources at 35th and Michigan," Catanzara said. "And you're going to see the hundreds of officers this police department is going to be without."
Catanzara told the City Council that the issue was not the vaccine itself but Lightfoot's refusal to negotiate over the rules in keeping with the police union's labor contract with the city. However, after Lightfoot announced the mandate, Catanzara compared the requirement to Nazi Germany. 
"We're in America, G-ddamnit. We don't want to be forced to do anything. Period. This ain't Nazi f---ing Germany, [where they say], 'Step into the f---ing showers. The pills won't hurt you.' What the f--k?" Catanzara said. He later apologized after his remarks were widely condemned.
Lightfoot first ordered all 30,956 city employees to be fully vaccinated by Oct. 15, but announced on Oct. 8 that employees who were not fully vaccinated could avoid discipline until Dec. 31 by testing twice weekly for COVID-19 on their own time at their own expense.
Ten days after the vaccine reporting mandate took effect, 57% of all Chicago Police Department employees have told city officials they are vaccinated, an increase of 3% since Oct. 18, according to data released by the city.
More than 70% of all police department employees have disclosed their vaccination status and complied with Lightfoot's order, an increase of nearly 6%, according to the data.
That leaves 3,735 officers in jeopardy of being disciplined and eventually fired for failing to comply with Lightfoot's order. Twenty officers have been stripped of their police powers and put on leave for failing to comply with the order, the mayor's office said Friday.
More than 68% of the Chicago Fire Department told the city they are fully vaccinated, and 86% of the department has disclosed their vaccination status, according to city data released Monday. 
That leaves 669 firefighters in jeopardy of being disciplined, officials said.
Every other city department had more than 85% of their employees disclose their vaccination status to city officials, according to city data.
Contact Heather Cherone: @HeatherCherone | (773) 569-1863 | [email protected]
---