From a studio on Western Avenue, an artist creates work that reflects both the beauty of nature and the grit of the city. And though he may be one of Chicago's most prominent artists, Tony Fitzpatrick grew up in Lombard. Now he's back in DuPage County for what he says will be his final museum show.
---
TRANSCRIPT
Tony Fitzpatrick: When you get here in the morning before there's a lot of folks, you just listen to the music of the birds, tree branches, the wind.
Nature will heal you if you let it.       
Marc Vitali: The natural world and the urban environment share the stage in a museum exhibition that features all kinds of birds, real and imagined.
Fitzpatrick: I was really informed by, believe it or not, religious art when I was a kid. I grew up in a big Catholic family, I have five sisters, two brothers, and my father was in the funeral business, and they'd have mass cards, holy cards.
There was something densely atmospheric about these pics that just kind of got to me, just kind of went through me like ice. That, and the comics. You know, Dick Tracy, Little Orphan Annie.
I started drawing at a really young age.
The nuns used to tell my mother, 'Everything's fine until he goes off into Tony World.' Well, I liked Tony World. I was in charge there.
Justin Witte, curator, Cleve Carney Museum of Art: His works are very layered collage pieces, and that layering contains a lot of different elements that replicates the layering you experience in the city - the different cultures, the sounds, the snippets of poetry and language.         
Vitali: A prolific artist, Tony Fitzpatrick works with a small team of assistants, often young artists themselves.
His big break came in 1989 when he designed an album cover for the Neville Brothers.
Fitzpatrick is also an in-demand actor – from the series "Patriot," to his turn as the Chicago police chief in Spike Lee's "Chi-Raq." And he's a poet and a playwright.
Fitzpatrick: I'm kind of insatiably curious.
I like to think that I learn from everything that I look at. I didn't really go to art school. I went to community college for a little bit and my education came via the Art Institute of Chicago, the MCA. I mean, people are like "Well, you never went to school." I had the best teachers in the world.
Vitali: His new show is called "Jesus of Western Avenue." It's at the Cleve Carney Museum of Art on the campus of the College of DuPage. The late Cleve Carney was an arts advocate and an early collector of Fitzpatrick's work.
Fitzpatrick has proclaimed this his final museum show.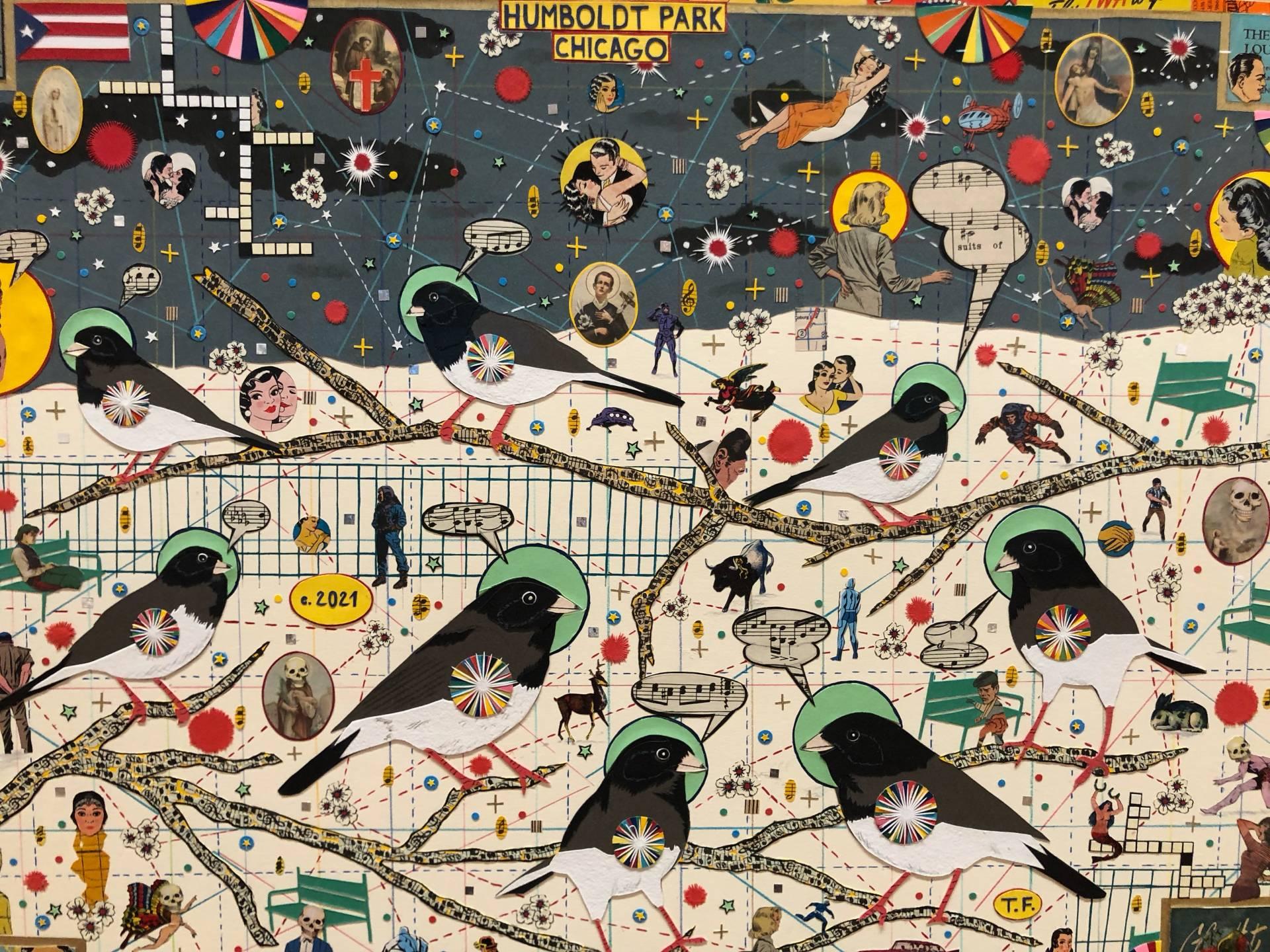 (Tony Fitzpatrick)
Fitzpatrick: I think it's time for people who look like me to get out of the way and create some institutional wall-space for people who've not had a light shined on them. I've gotten mine. I'm in MOMA, I'm in the Met, in the Art Institute. I think when you get to the top of the hill you hold a hand and pull the next person up.       
Witte: There's over 90 works in this exhibition. At first he was like 'Oh I'm going to do 60, then 70, 80.' Then he showed up with 90-plus works and most was made in the last three years. In that work, you see a lot of reflection of what's happened the last three years, politically, and also through the pandemic.
Fitzpatrick: You only get one ride around the fountain and then it's into the ditch. There's a poem by Mary Oliver, 'What will you do with this one precious life you have?' Well, I chose this.
It's evolved over 45 years, and I still enjoy doing this every day. I still enjoy making art largely about Chicago, a lot of it about nature lately, I've become kind of an activist for bird life, for avian life.
My grandmother, who could not tell you a cardinal from a blue jay, every morning she'd toast a couple of pieces of bread, spread some jelly on it, chop it up and throw it out the back door to the birds. I'm one of 8 kids, you know, and we never wasted food and I'd say 'Why you giving all our bread to the birds?' She looks at me and says do me a favor and be quiet. Give your ears a chance for once. And she opens the window a little bit, and then I heard it. I heard swallows and red-winged blackbirds, mourning doves, and she said 'You know, birds are the first music the Irish ever had,' and she said 'If you're quiet and you watch, for a piece of bread you can hear God sing.'
Note: An earlier version story of this story incorrectly spelled Justin Witte's name. It has been updated.
---
More on this story:
The exhibition just opened at the Cleve Carney Museum of Art on the campus of the College of DuPage. It is free and open to the public – but you must register for a free ticket online. And you can see more of Fitzpatrick's work on his website: www.TonyFitzpatrick.co
---
Video: Tony Fitzpatrick recalls an encounter with his old friend, the late Studs Terkel.