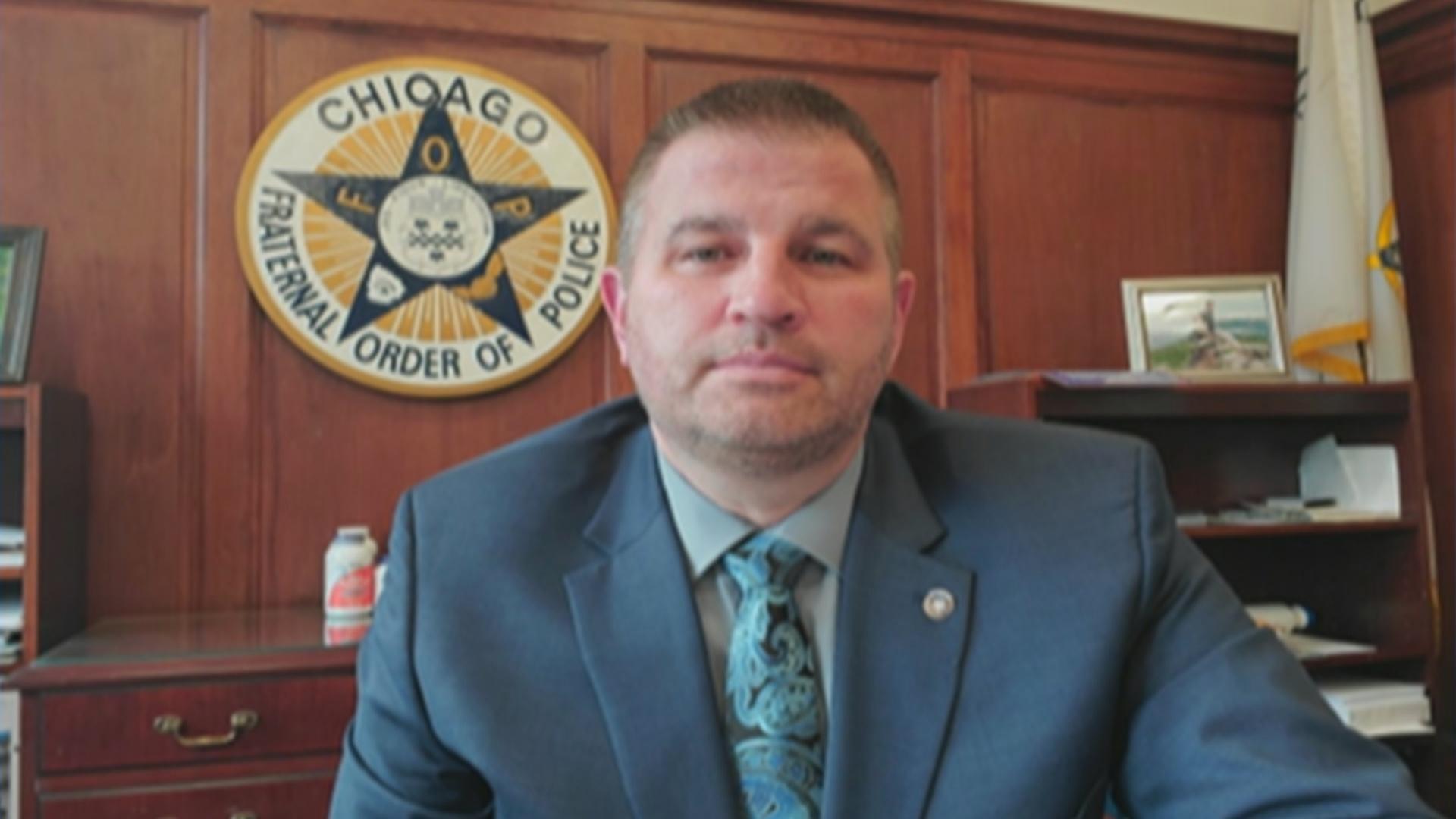 Fraternal Order of Police Lodge 7 President John Catanzara appears on "Chicago Tonight" via Zoom on Thursday, May 14, 2020. (WTTW News)
Mayor Lori Lightfoot asked a Cook County judge Friday morning to stop the Fraternal Order of Police Lodge 7 and President John Catanzara from blocking the city's vaccine mandate with illegal threats of a strike or work stoppage.
"As Chicago's mayor, I cannot and will not stand idly by while the rhetoric of conspiracy theorists threatens the health and safety of Chicago's residents and first responders," Lightfoot said in a statement. "President Catanzara has time and again deliberately misled our police officers by lying about the requirements of the policy and falsely claiming that there will be no repercussions if officers are insubordinate and refuse to follow a City and Department directive or order."
All city employees — including members of the Chicago Police Department — have until midnight Friday to tell the city whether they are fully vaccinated against COVID-19. Those who are not can avoid discipline by agreeing to be tested twice a week, on their own time and at their own expense, until Dec. 31.
In videos posted to the police union's Facebook page, Catanzara called on officers to defy that requirement and warned Lightfoot and other city leaders that if they went forward with the mandate "it's safe to say that the city of Chicago will have a police force at 50% or less for this weekend coming up."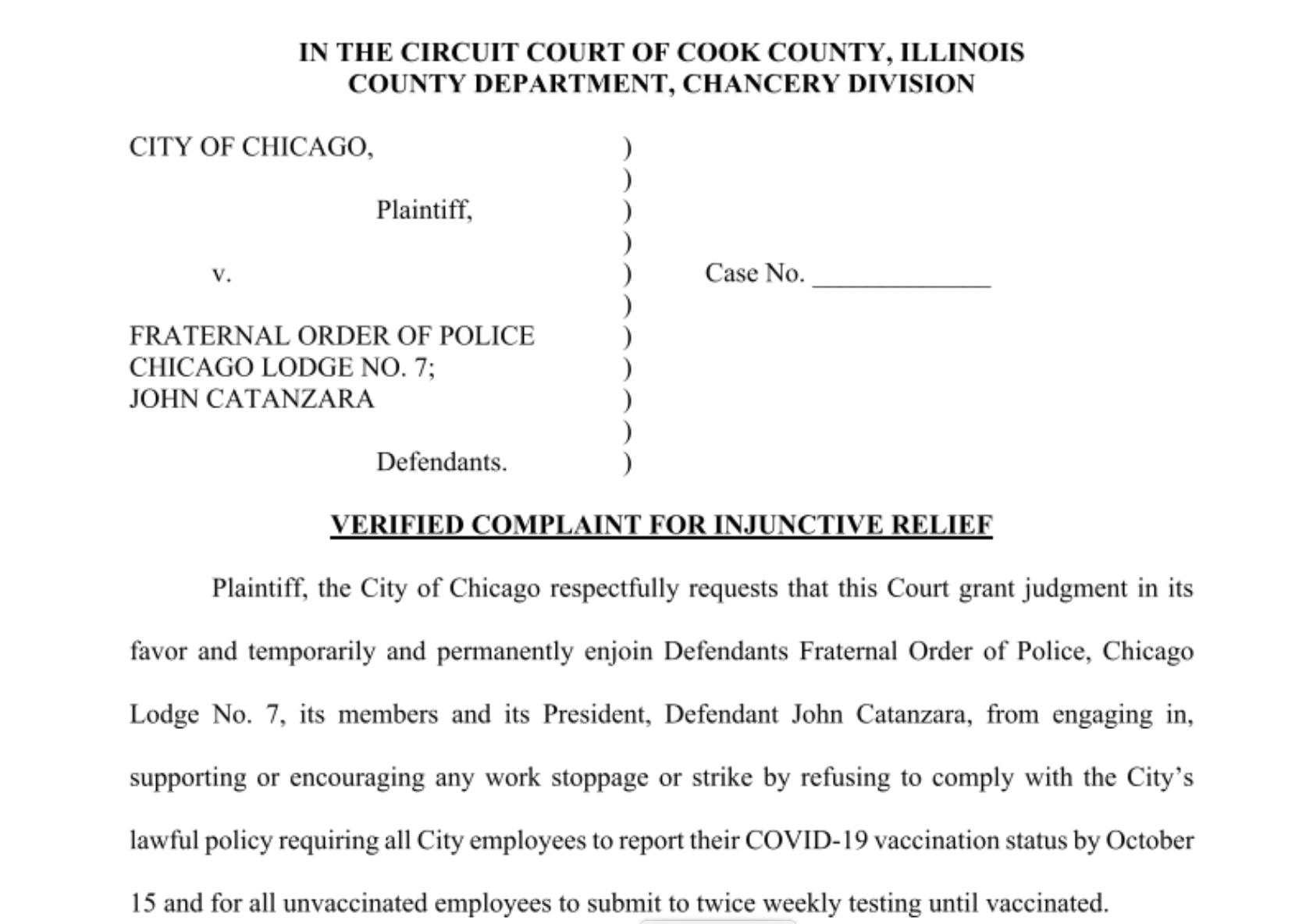 Document: Read the complaint. That statement violates state law, which prohibits police unions from striking or engaging in a work stoppage to extract concessions from municipalities, according to the city's complaint.
"By doing so, and by predicting that 50% or more officers will violate their oaths and not report for duty, Catanzara is encouraging an unlawful strike and work stoppage which carries the potential to undermine public safety and expose our residents to irreparable harm, particularly during an ongoing pandemic," Lightfoot said.
The union responded to the complaint in a tweet.
President John Catanzara has never engaged in, supported, or encouraged a work stoppage. @LoriLightfoot is the only one who has said she will send our dedicated Officers home without pay if they choose to reject her unlawful orders.

Hold the line, CPD, like you always do. https://t.co/m5fEI5sLdX

— Fraternal Order of Police - Chicago Lodge #7 (@FOP7Chicago) October 15, 2021
Lightfoot told reporters Thursday that it will take city officials several days after the vaccine mandate deadline passes to verify which employees have not yet been vaccinated but agreed to regular testing and those who have chosen not to comply.
As Lightfoot looked on, First Deputy Superintendent Eric Carter said officers who don't comply with the mandate can face discipline "up to and including separation," or firing.
Dr. Allison Arwady, the commissioner of the Department of Public Health, demonstrated the city's vaccine portal for reporters Thursday, seeking to refute what she called "a lot of noise" and misinformation about the requirement.
Employees are not required to submit confidential medical information or test results to the portal. Employees who have been fully vaccinated need only submit a copy of their vaccine card, Arwady said.
City workers can apply for medical or religious exemptions to the mandate, which will be reviewed by city officials "on a case-by-case basis," officials said.
Cardinal Blase Cupich has instructed pastors in the Archdiocese of Chicago not to grant religious exemptions to the vaccine, saying that is not supported by church teachings or law.
Lightfoot told reporters she was not concerned that large numbers of officers would decide to disobey the city's vaccine mandate and leave the city short-handed as violent crime continues to sweep across the city, but contingency plans were in place.
After Lightfoot announced the mandate, Catanzara compared it to Nazi Germany. 
"We're in America, G-ddamnit. We don't want to be forced to do anything. Period. This ain't Nazi f---ing Germany, [where they say], 'Step into the f---ing showers. The pills won't hurt you.' What the f--k?" Catanzara said. He later apologized after his remarks were widely condemned.
Four Chicago police officers have died from COVID-19 since March 2020, with many more sickened by the virus. Dean Angelo, a former president of the police union, died Tuesday from COVID-19.
Contact Heather Cherone: @HeatherCherone | (773) 569-1863 | [email protected]
---