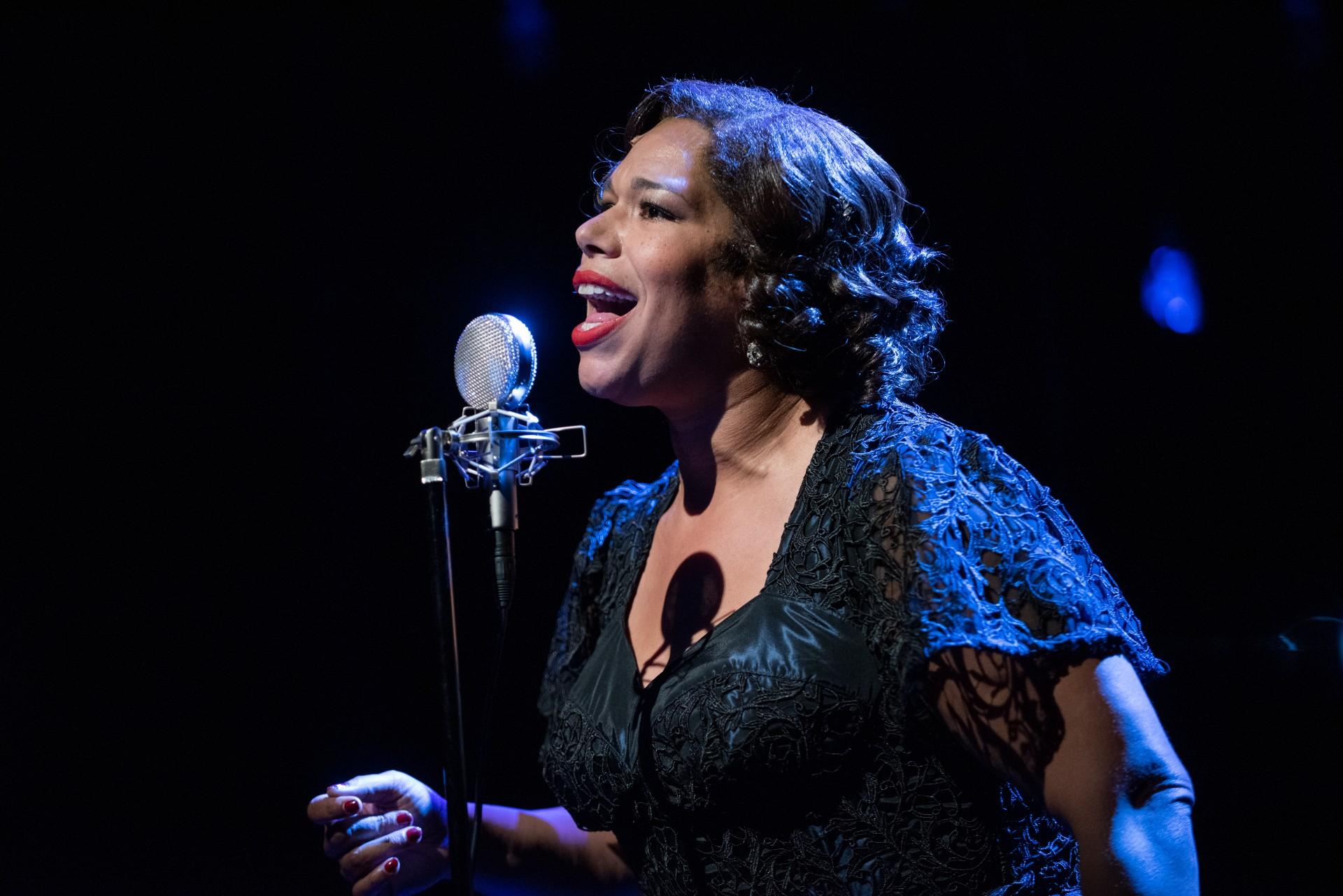 Bethany Thomas performs in "Songs for Nobodies." (Photo credit: Michael Brosilow)
The search for that thing called "happiness" is elusive at best, and the definition of that word might be as varied as the person in pursuit of it.
But with her bravura one-woman performance in "Songs for Nobodies," Australian playwright Joanna Murray-Smith's exceptionally clever and monumentally demanding musical theater work about the complex nature of that state of being – Bethany Thomas, the multi-talented actress/singer who has appeared on most of Chicago's major stages throughout the past two decades, has clearly found the kind of star turn that can change a career, and a life, while unquestionably generating immense happiness, awe and bravos among her audiences.
Thomas starred in the show's 2018 U. S. premiere, and was set to perform it at Northlight Theatre's stage in Skokie in May 2020, by which time the pandemic had resulted in a lockdown. But Friday evening she finally was able to light up the stage with a 100-minute tour de force that showcased both her extraordinary vocal range and musical ventriloquism and her remarkable range and charm as an actress.
Meticulously directed by Rob Lindley, and enhanced by the impeccable music direction of Andra Velis Simon and Lindsay Jones' sound design (with Simon at the keyboard, Yulia Block on drums and accordion, and Kelsee Vandervall on cello and percussion), Thomas arrived on stage looking glamorous in a black lace dress (designed by Mieka van der Ploeg) as she moved around set designer Jeffrey D. Kmiec's elegant multi-platformed stage that is beautifully lit by Jesse Klug.
The wonderfully theatrical operative conceit in "Songs for Nobodies" is that five different women stuck in menial or unsatisfying jobs – and in some cases plagued by self-doubt and unfortunate circumstances that undermine their untapped talents – have unexpected encounters with five different celebrities they adore. And in the process of interacting with these famous women they realize that celebrity is not necessarily synonymous with happiness, and that they themselves have gifts to share. The show's exceedingly clever structure also gives the actress the chance to play 10 different roles and sing in multiple styles and languages.
The initial encounter, set in 1961, finds a maid in a posh hotel ladies' room coming face-to-face with an idol, Judy Garland, and stitching the hem of her dress in the wake of her fabled concert at Carnegie Hall. And that meeting sparks a performance of "Come Rain or Come Shine."
Next comes the surprise opportunity that opens up for an usher (and wannabe singer) at the 1963 Kansas City benefit where Patsy Cline was the star attraction. Beyond all her fantasies, the usher is invited to accompany Cline as a backup singer – an experience (sound the music for "Stand By Your Man" and "Crazy") – that came just before the plane crash that would end Cline's life at the age of 30.
And then it is on to the school librarian who recounts the moment during World War II when her father, who was being held in a detention camp in Nazi Germany, was somehow smuggled out by Edith Piaf, who had been entertaining the enemy. Thomas' rendering of two Piaf classics, "L'Accordioniste" and "Non, Je Ne Regrette Rien," is astonishing, not only in her perfect French accent but also in the way she brilliantly echoes the unique nasal tone of the "little sparrow's" voice.
From there we meet an ambitious journalist at the New York Times who wants desperately to be promoted from fashion reporter to feature writer in the male-dominated newsroom of the time. After much pleading, her boss assigns her to do an interview with Billie Holiday who she meets at a bar. Holiday is in no mood to talk, but the reporter is relentless, and finally gets her story. Along the way we hear such Holiday classics as "Strange Fruit" and "Lady Sings the Blues," with Thomas uncannily capturing yet another singer's wholly unique sound.
Topping it all off (and I am issuing a spoiler alert here), is a fifth encounter. This one unfolds as an Irish nanny is working on the extravagant yacht of the Greek shipping magnate Aristotle Onassis during the time he was having an affair with opera diva Maria Callas. Suffice it to say that Thomas' rendering of "Vissi d'arte" ("I lived for my art, I lived for love."), an aria from Puccini's "Tosca" whose tragic title character was among her most famous roles, is absolutely breathtaking.
Thomas clearly has found her own star vehicle in "Songs for Nobodies." How she can make it through eight shows a week at Northlight between now and Oct. 31 is enough to boggle the mind, and "I lived for my art" might well become her own anthem. But one can only hope that this show will have a commercial run downtown and/or a national tour in its future. It's a knockout.
For tickets, visit northlight.org or call (847) 673-6300.
Follow Hedy Weiss on Twitter: @HedyWeissCritic
---