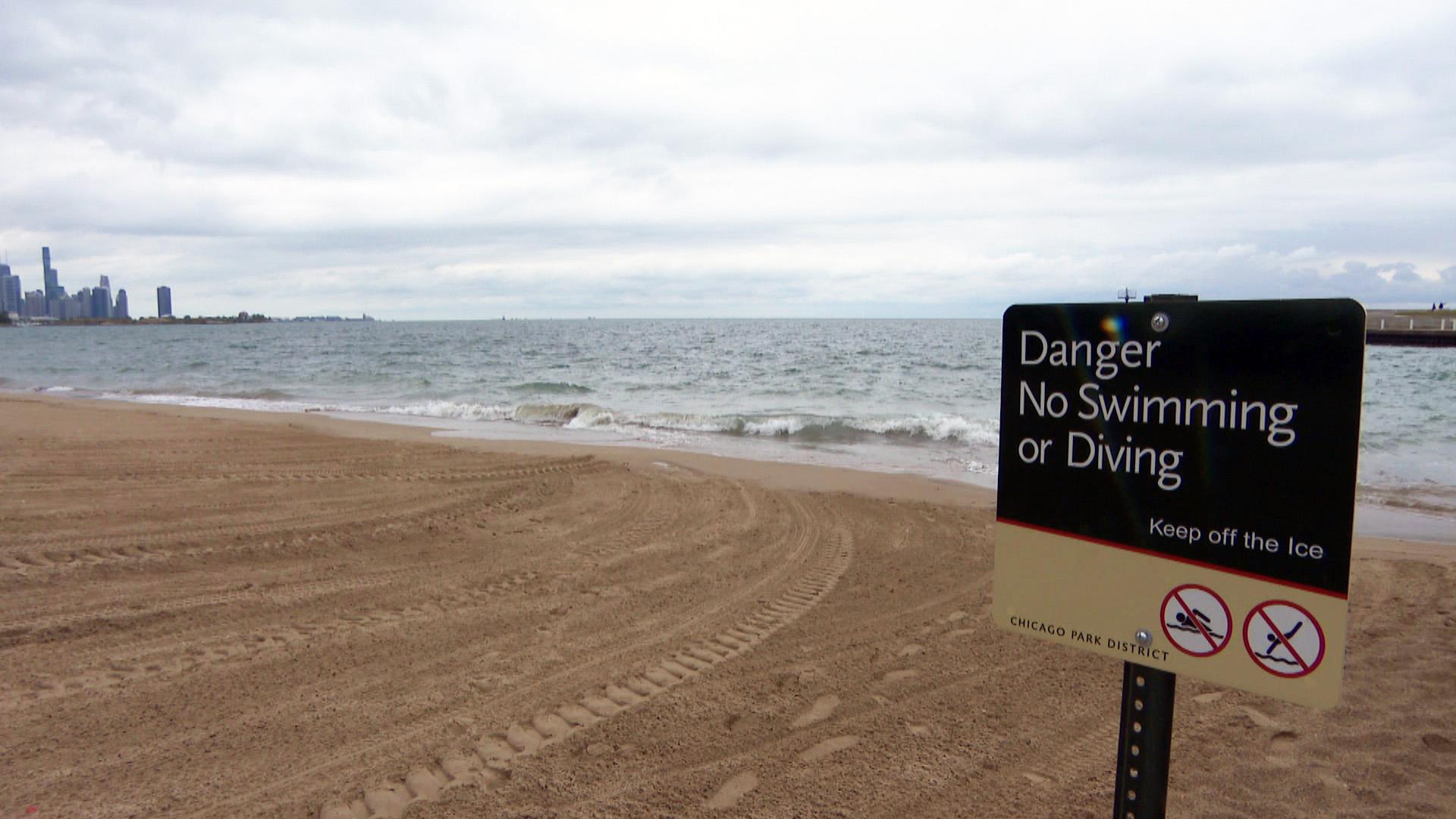 A Chicago beach sign warns people against swimming or diving in Lake Michigan. (WTTW News)
Recent drownings have placed increased attention on the potential dangers of swimming in Lake Michigan, prompting safety officials to remind Chicagoans that even if it still feels like summer, the lakefront's beaches are now closed to swimmers for the season, with lifeguards no longer present along the shoreline.
Representatives from the police and fire departments, the Office of Emergency Management and Communications, and the Chicago Park District held a joint news conference on the lakefront Tuesday, with choppy surf in the background highlighting their point about the lake's hazards.
A high-wave warning has been issued for the coming days — a warning officials urged people to take seriously.
"In wind-driven conditions, we treat Lake Michigan as an ocean," said Jason Lach, Chicago Fire Department's deputy district chief in charge of marine and dive operations. When conditions are rough, he said, "Even a good swimmer will have a bad day."
The Chicago Park District recently began installing life rings along the lakefront after advocates spent years campaigning for the safety devices. The district had resisted deploying the life rings on the grounds they would encourage people to enter the water at unsanctioned locations such as piers. But the drowning death of 19-year-old Miguel Cisneros on Aug. 22 off Pratt pier galvanized public support for the rings.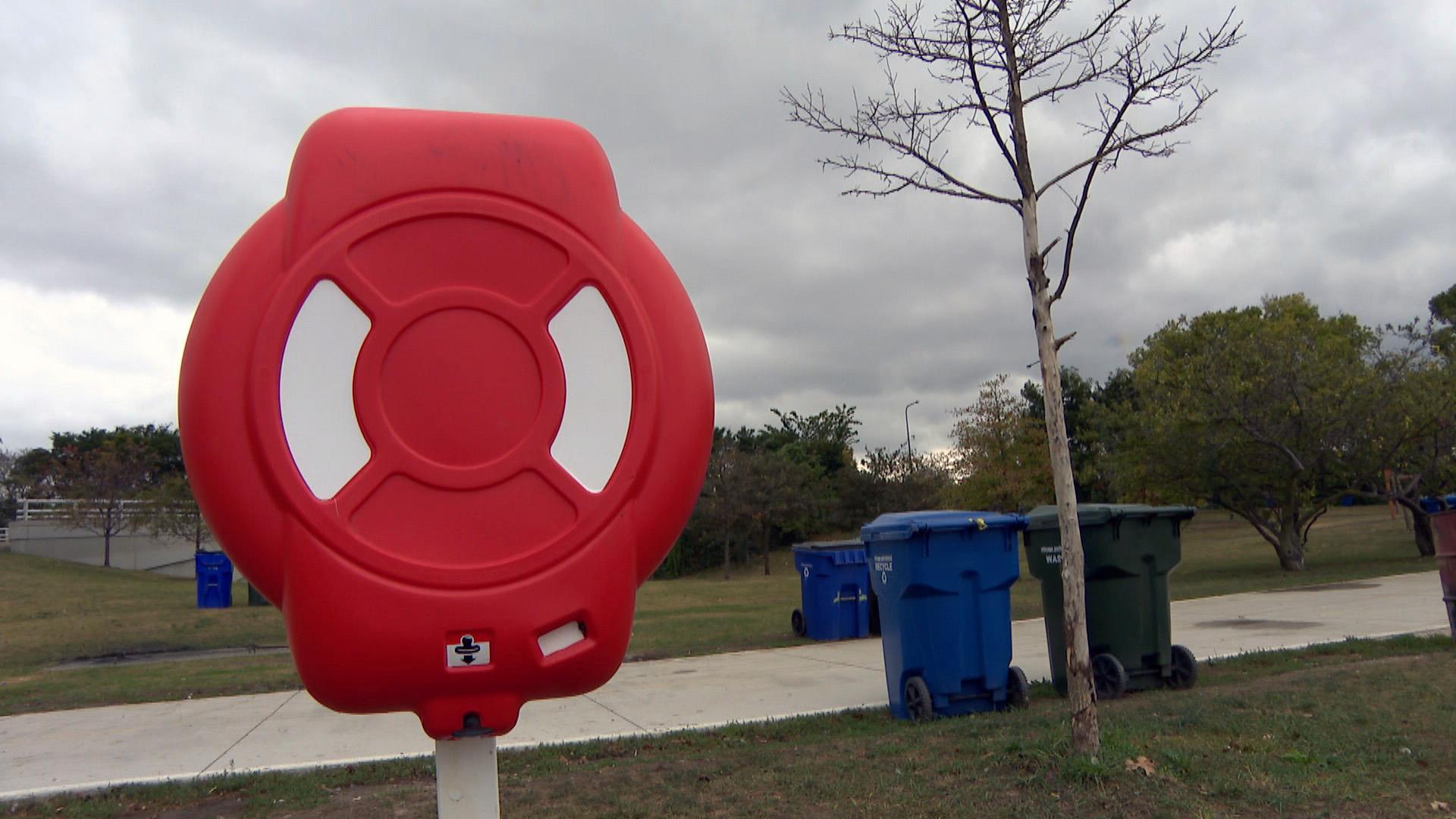 A newly installed life ring installed on a Chicago beach on Tuesday, Sept. 21, 2021. (WTTW News)
What had been announced as a pilot program for the life rings has since "taken flight," according to Alonzo Williams, the district's chief programming officer.
Several rings have already been installed and hundreds more are on order, though the vendor has notified the district of supply chain delays, Williams said. Once they arrive, the devices will be placed at both authorized and unauthorized swimming locations, a reversal of the district's previous plan to only put them at sanctioned swim sites.
Officials emphasized that the presence of life rings shouldn't give people a false sense of security when entering lake waters, particularly when no lifeguards are present or when conditions are dangerous. People can text "Chilake" to 78015 to opt into alerts on the lake's status.
"It can be extremely dangerous," said Sean Loughran, commander of the Chicago Police Department's special functions division, which includes the department's marine unit. "Treat this body of water with respect."
Loughran said his team alone had conducted 26 rescue operations in 2021, with 14 fatalities.
Anyone on shore who spots someone struggling in the water should immediately call 911, provide the dispatcher with a call-back number, and stay on the scene to help quickly direct responders to the accurate location, he said. 
"Avoid the temptation to jump in the water yourself," Loughran said. Too often the good Samaritan also winds up in trouble, and a rescue operation for one person turns into a rescue operation for two, he said.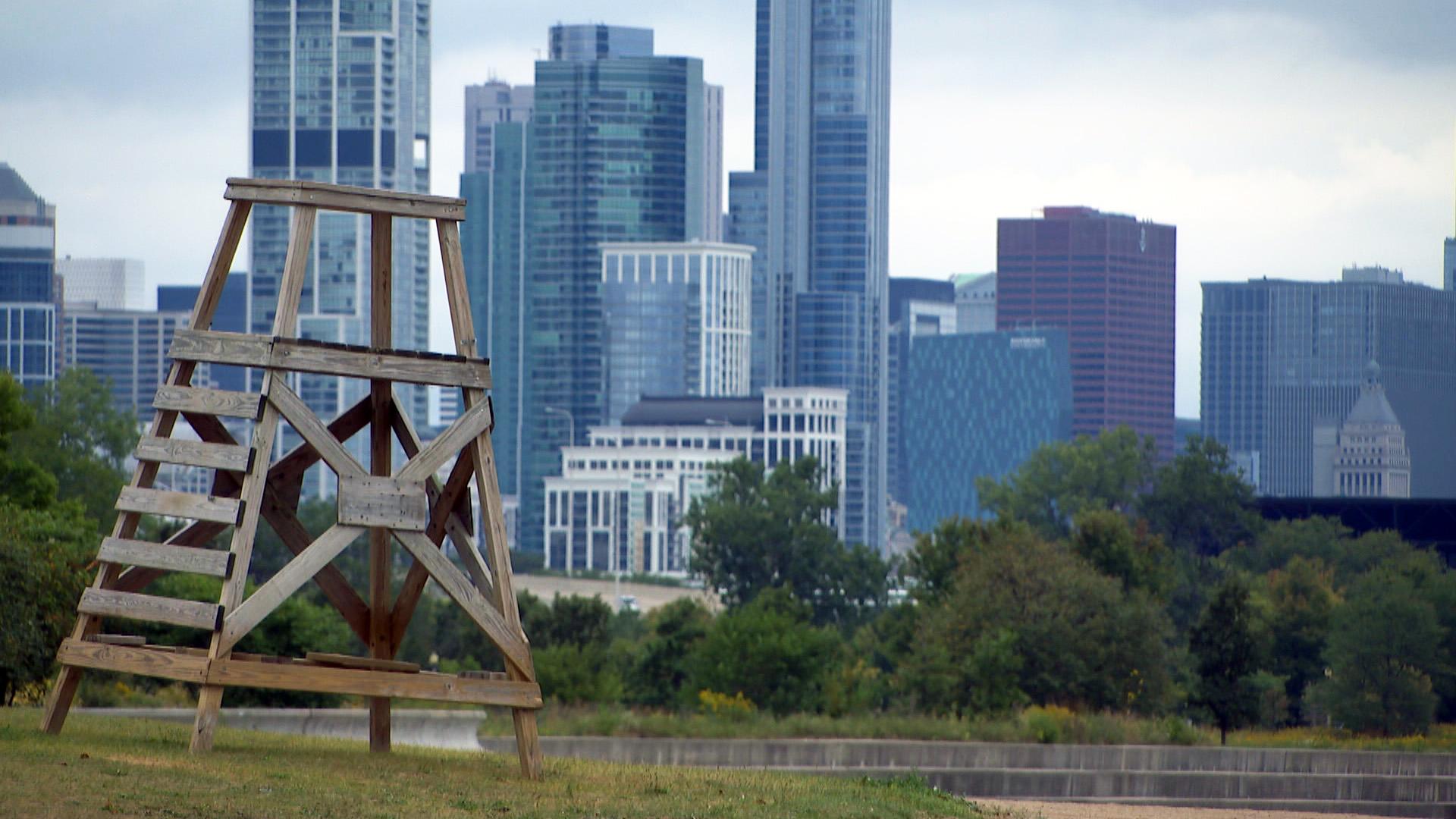 (WTTW News)
If a life ring is available, Lach offered advice on how best to use one. Stand up-wind of the person in the water and throw the ring out as far as possible, even over the swimmer's head. That way they can grab onto the rope if they can't reach the ring. 
According to the Great Lakes Surf Rescue Project, 83 people have drowned in the Great Lakes in 2021. Thirty-eight of those deaths have been in Lake Michigan, the latest on Sept. 18 when 21-year-old Hussin Abdul-Samad drowned off Clark Street Beach in Evanston. Just days earlier, a pair of kayakers were reported missing and later found drowned in Lake Superior near Pictured Rocks.  
Contact Patty Wetli: @pattywetli | (773) 509-5623 |  [email protected]