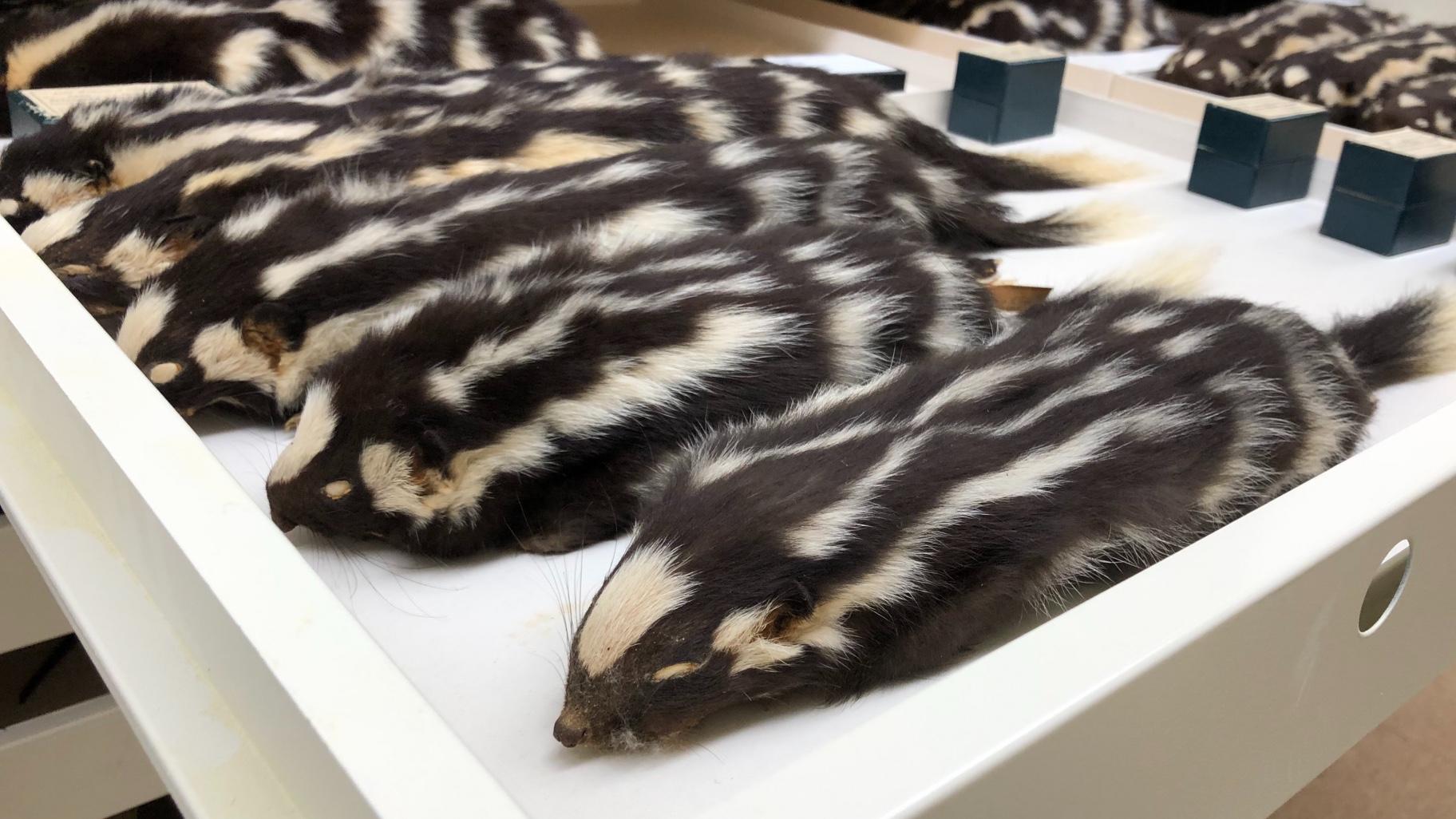 Spotted skunk specimens in the Field Museum's collection. DNA analysis revealed new species. (Patty Wetli / WTTW News)
The skunk family tree has just added a few new branches, as scientists affiliated with the Field Museum uncovered members that had been hiding in plain sight.
People who don't study mammals for a living may be surprised to learn there's more than one kind of skunk. Pepe Le Pew of Looney Tunes fame is perhaps the best known, but it has cousins including the smaller spotted skunk, whose handstands would be adorable if the acrobatics weren't a signal the critter was about to unleash a stink bomb.
In the nearly 300 years since spotted skunks were first recognized by Western scientists, their species count has been pegged at anywhere from two to 12, and most recently agreed upon as four — all of which seems like an unusual amount of fluctuation.
Adam Ferguson, Negaunee collections manager of mammals at the Field Museum, and his fellow researcher (and wife) Molly McDonough, a biology professor at Chicago State University and research associate at the Field, decided to end the debate once and for all. The results of their study were just published in the journal Molecular Phylogenetics and Evolution.
Analyzing the DNA of 200 specimens, they found not four distinct species of spotted skunks but — we won't drag this out Maury Povich-style — seven. 
"Why didn't we know?" asked Ferguson.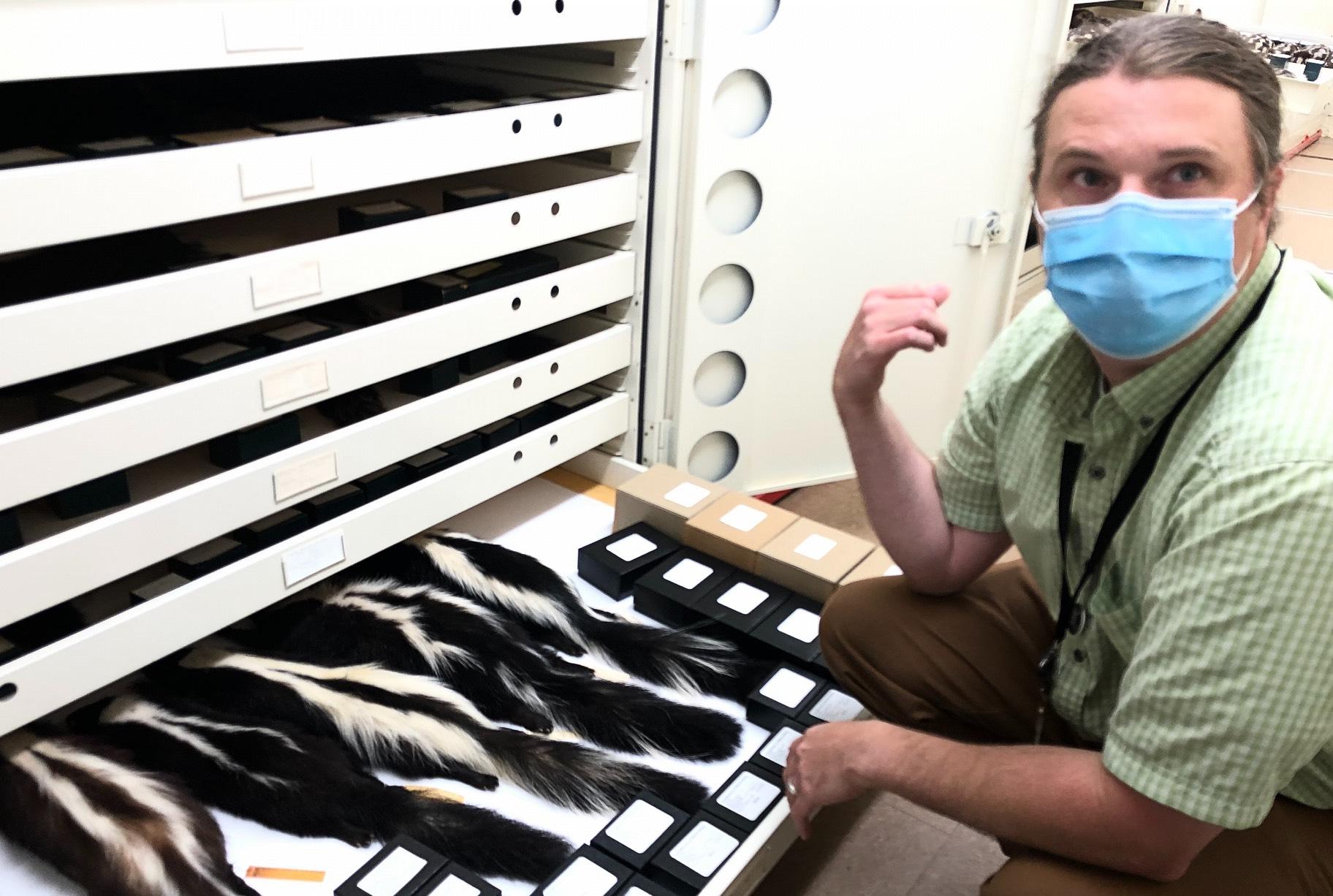 Scientist Adam Ferguson, with specimens of the more familiar striped skunk. (Patty Wetli / WTTW News)
North American mammals are among the most studied in the world, in part because U.S. institutions have comparatively more resources than their global counterparts, but also because the continent's diversity isn't as overwhelming as someplace like, say, the Amazon.
"You can get a handle on it," Ferguson said.
Yet skunks, for all their notoriety, kind of flew under the radar.
In the past, species distinctions were heavily reliant on morphology, with scientists classifying skunks according to traits, like the color patterns on their fur or the size of their teeth or claws. Thing is, the morphology varies, Ferguson said, and researchers were often led astray. A pair of skunks with the same skull shape and telltale patch of white on their head could be the same species, or not.  
More refined study was needed to clear up the species muddle, but funders haven't exactly been beating down the doors of skunk scholars, said Ferguson, and even when the dollars are available, well, there's another problem.
"Catching them stinks," he said.
Ferguson has what he calls a "skunk outfit," clothing that can be left outside for weeks to detox if he gets sprayed, something that's happened to him maybe a half dozen times — by three different species, he humble-brags — out of hundreds of encounters. 
Even when working with a live skunk that's had its scent glands removed, or a specimen that's had its fur treated with a cocktail of hydrogen peroxide, baking soda, dish soap and water to neutralize the telltale odor, a certain tang persists.  
You get used to it, Ferguson said, as improbable as that seems.
He recalled one project where he and colleagues spent a day out in the field processing 80 or 90 skunks and then nonchalantly headed into the nearest town for lunch, only to draw "good god, what is that stench?" stares as folks recoiled from the assault on their nostrils.
"You'd forget you reeked," said Ferguson.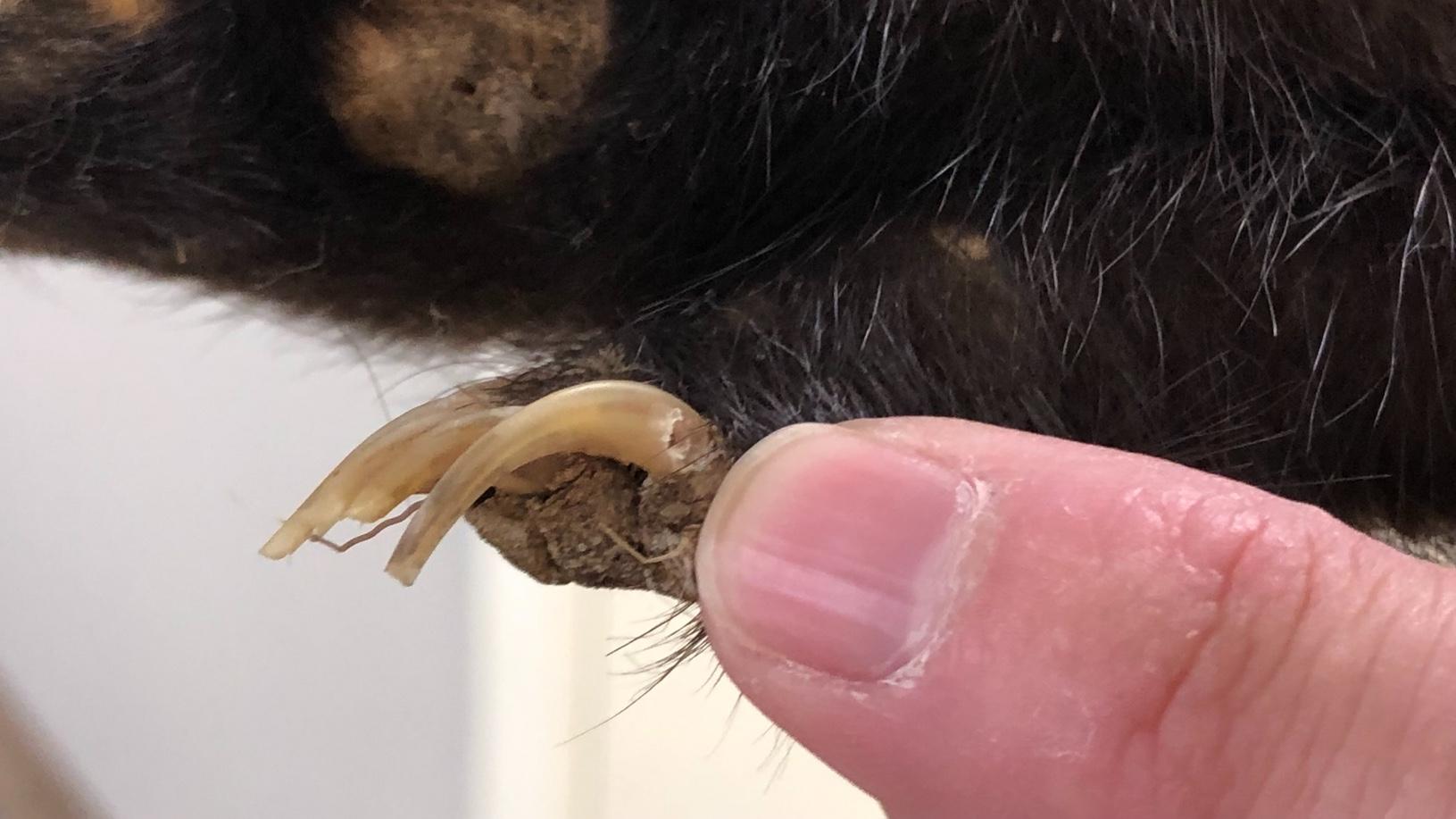 A tiny hole marks the point in a skunk's claw where DNA was extracted. The goal, with museum specimens, is to leave as much intact as possible for future researchers. (Patty Wetli / WTTW News)
For their study on spotted skunks, Ferguson and McDonough needed specimens from across the animal's range, which extends from Canada to Central America, Florida to Arizona. (They're not found in Illinois.)
Unlike their striped brethren, spotted skunks tend to avoid urban areas, favoring instead the canopy cover of forests or rocky desert outcrops where they can duck for cover from the owls brave enough to hunt them. This preference for remote habitat makes spotted skunks harder to come by, so Ferguson and McDonough had to get creative.
They obtained some skunks through museum collections like the Field's, some were trapped and some were acquired by accident — as in the specimens were roadkill, brought in by folks who'd seen the "wanted" flyers the researchers had posted in places like feed stores and farm supply shops. (Skunks' poor eyesight makes them sitting ducks on highways, by the way.)
"In Texas especially, we needed as many eyes looking as we could get," Ferguson said. "It was like, 'Call us. We're like ghostbusters, we'll come get them.'"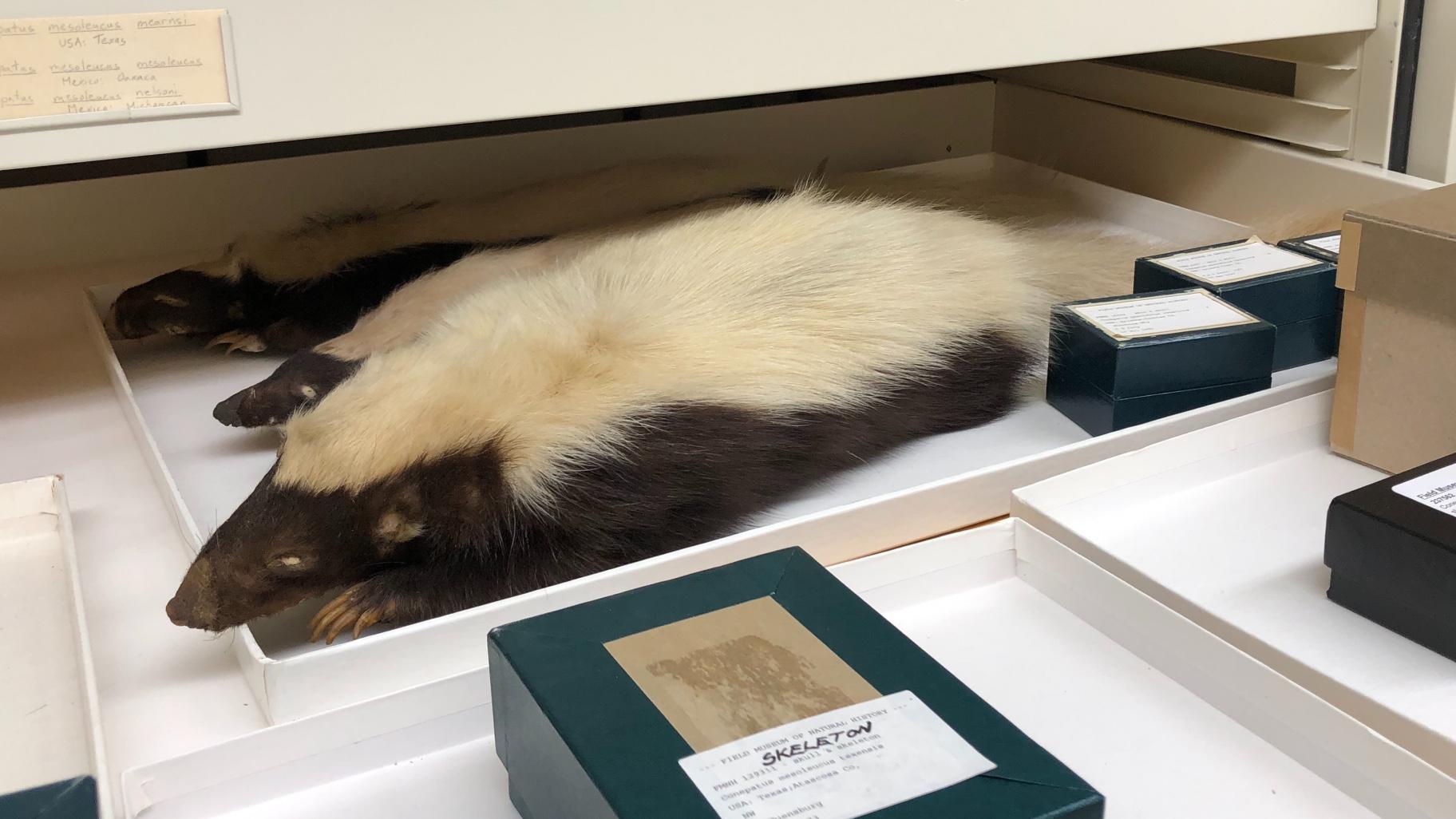 Hog-nose skunks, like the specimen seen here, have the most white and tend to be the largest of the skunk family. (Patty Wetli / WTTW News)
What does it matter, one might ask, if there are seven species of spotted skunk, or four, or 40 or none?
Define "matter," Ferguson said.
If the question is, "How do skunks benefit humans?" that's not the easiest sell given the way they've been demonized for centuries. There's a reference from the 1600s, by a Jesuit missionary, describing the creature to the folks back home in the Old World: "I mention it here, not on account of its excellence, but to make of it a symbol of sin … No sewer ever smelled so bad."
But in their defense, skunks do eat rats and yellow jackets, and they dig, which helps with soil aeration, Ferguson said. Are they the linchpin to an entire ecosystem? Probably not, but we also don't know enough about them to declare anything definitively.
"We can't understand what we don't know," said Ferguson.
If you're a skunk, though, the research of Ferguson and McDonough could be a matter of life or death.
Their study showed that what was previously thought to be a subspecies is not, in fact, a variation but actually a full-blown species on its own, the Plains spotted skunk. The newly defined Plains species was once abundant in places like Kansas but hasn't been seen there in years, which is one of the reasons it's been proposed for the endangered species list. The discovery of its unique lineage could bolster the argument for that listing, Ferguson said, with species generally "taken more seriously" than subspecies.
Skunks powerful scent spray is an excellent defense, but they have occasionally been hunted for their fur. Black strips have been used as fur trim, sometimes sold as "sable," Ferguson said. (Patty Wetli / WTTW News)
As is often the way with scientific study, one answer leads to more questions. 
Ferguson and McDonough may have identified the seven species of spotted skunks, but they don't know much about the range of the Yucatan spotted skunk, for example, or what the species do differently. Do they eat different foods? Have different mannerisms or habits? If so, what and why? And what might be the implications for conservation management?
It's also possible that more species of spotted skunk are out there, but just weren't collected for the recent study.
"If someone digs deeper and gets more samples," Ferguson said, "you're never really 'done' done."
Contact Patty Wetli: @pattywetli | (773) 509-5623 |  [email protected]
---