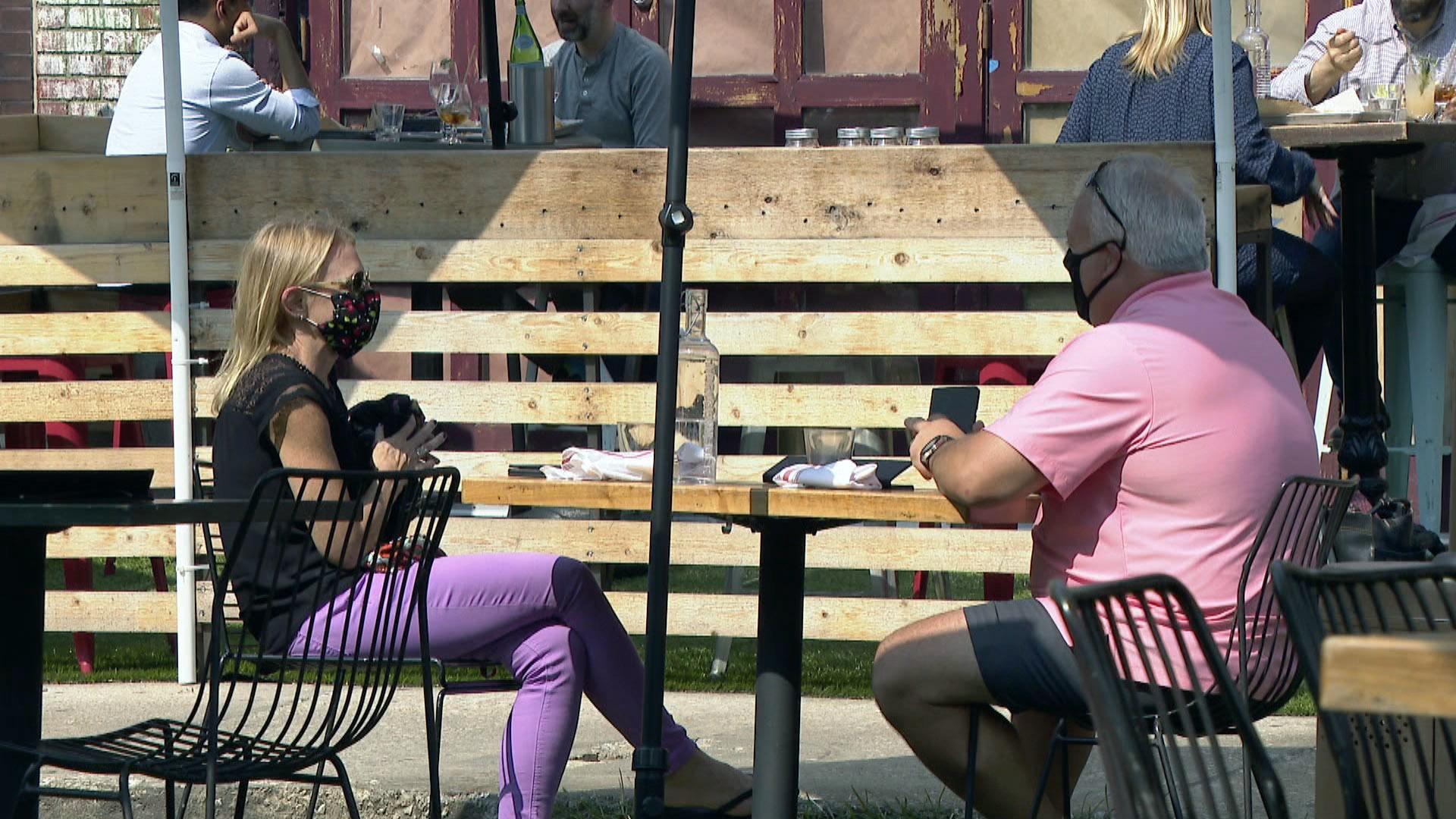 Diners wear face masks as they sit outside a restaurant in Chicago. (WTTW News)
After a weekslong surge in COVID-19 infections and hospitalizations, Gov. J.B. Pritzker on Thursday announced an indoor mask mandate for all Illinois residents and a vaccine requirement for pre-K through 12th grade teachers and staff, higher education employees and students, and health care workers in settings such as hospitals, nursing homes, urgent care facilities and doctors' offices.
Employees and students must receive at least their first dose of vaccine by Sept. 5 or undergo weekly testing, Pritzker said.
The state's indoor mask mandate will go into effect Monday. Pritzker lifted that mandate for people who are fully vaccinated on May 17, following guidance from the Centers for Disease Control and Prevention. Illinois residents were first required to wear masks outside their homes on April 23, 2020.
"Unfortunately, our current vaccination levels are not enough to blunt the ferocity of the delta variant hospitalization surges in some regions," Pritzker said. "Because of the delta variant, hospitals are fighting the battle we had hoped would be behind us by now."
While more than 65% of all Illinois residents are vaccinated, some areas of the state have vaccination rates in the teens, Pritzker said.
"Vaccination remains the strongest tool to protect ourselves and our loved ones, to restore post-pandemic life, to our communities and most crucially to maintain our health care system's ability to care for anyone who walks through their doors who needs help," he said. "Unfortunately, we are running out of time as our hospitals run out of beds."
The announcement comes days after Pritzker warned that new mitigations could return amid a rise in the number of hospitalizations due to the virus.
"What I am announcing today is a floor. At a minimum, those who work at schools and health care settings should be vaccinated or tested to keep our kids and our most vulnerable safe," Pritzker said.
As of Wednesday, 2,184 people in Illinois were hospitalized with COVID-19 — 489 of them in intensive care units and 241 on ventilators, according to Illinois Department of Public Health Director Dr. Ngozi Ezike.
"Nearly all Illinoisans hospitalized with COVID are the Illinoisans not vaccinated, and those hospitalizations are only increasing," Pritzker said. "Our ICU usage has multiplied by a factor of seven this summer alone."
Chicago officials said local hospital capacity, including ICU bed availability, remains stable despite a steady increase in COVID-19 infections this summer.
According to the Chicago Department of Public Health, 85% of the city's ICU beds are in use and, as of Tuesday, less than 10% of the beds were filled by COVID-19 patients — equal to roughly 100 people.
During the city's COVID-19 peak in April 2020, 500 COVID-19 patients occupied ICU beds. "Even then, the hospital system in Chicago was able to adequately handle that surge," officials said in a statement. According to CDPH, if 400 people were in ICUs with COVID-19, that would be an indication of "very high transmission" of COVID-19.
To help curb the spread of the virus, Pritzker had already imposed a mask mandate for schools and state buildings and required some state employees to get vaccinated against the coronavirus.
Pritzker didn't say whether the state's vaccination mandate would be expanded to all state workers, but said all employees in his office were vaccinated. He does not anticipate a need to implement capacity limits on businesses, he said.
The new COVID-19 rules come days after U.S. regulators gave full approval to Pfizer's COVID-19 vaccine, and after Chicago Public Schools officials announced Aug. 13 that all teachers and staff would need to be vaccinated by Oct. 15.
City workers in Chicago also have until Oct. 15 to be fully vaccinated against COVID-19, Mayor Lori Lightfoot announced Wednesday. An indoor mask mandate for Chicago residents, regardless of vaccination status, took effect Friday. An indoor mask mandate for suburban Cook County went into effect Monday.
All of Illinois' 102 counties are experiencing high transmission of COVID-19 — a designation defined by the Illinois Department of Public Health as an area with more than 100 cases per 100,000 people over a seven-day period.
In Cook County, the average seven-day case rate per 100,000 people is 126.05, according to state data. 
Chicago is now recording 443 cases per day based on a seven-day average, according to Chicago Department of Public Health data. In the past week, the number of cases has decreased 5%, according to city data.
Swift pushback
In a letter Thursday, Illinois House Republican Leader Jim Durkin called on the governor to include legislators in the decision-making process, saying he learned of Thursday's announcements via a Chicago Sun-Times article even though he spoke with Pritzker Wednesday night.
"You are willing to negotiate with your biggest supporters, the public sector unions, on the pandemic response, but still will not listen to the General Assembly or the residents of Illinois most impacted by your actions," said Durkin. "I will reiterate my plea on our call yesterday to please make your experts available to the General Assembly so that we can examine their data and plans, review the results of your many previous mandates and together plot a course of action that will work."
Durkin also requested the governor call a special session.
Pritzker pushed back on Durkin's letter. "I've always been available to the leader for any calls he wants to make with ideas," the governor said, adding he's "open to hearing" from the legislature and encouraged Durkin to take any action he deems necessary, such as holding hearings.
"I have asked all along here for any new ideas anybody has about how to bring down the number of hospitalizations and ICU beds, how to bring down the spread of COVID," Pritzker said. "And I've listened when people have offered up those ideas."
Contact Kristen Thometz: @kristenthometz |  [email protected]
---