Meet Dougie, a 6-year-old brown rescue pit bull with tons of energy.
Erin Crowley is Dougie's owner. Before Dougie came into the picture, Crowley and her boyfriend adopted another pit bull, Duncan.  
"I really wanted to get clothes to match Duncan because I was so obsessed with him, and I couldn't find anything online," Crowley said. "I could purchase things but when I put it on him it would be coming down to his chest because pitties have wide chests."
Crowley soon realized that people reacted differently to Duncan than they did to other dogs.  
"I noticed that people wouldn't get in the elevator with us and would wait to take the next elevator — that's how scared they were," she said. "I felt so bad for him because I knew how good of a dog he was."
Sadly, Duncan died of a rare cancer when he was 2 years old.
"After his passing, I was more determined to start a line that could help people see pit bull-type dogs in a different light," Crowley said. 
Crowley went to Facebook to share her idea and within hours she had hundreds of responses from people interested in getting involved. Crowley decided to leave her decadelong teaching job and follow her heart to start Pittie Clothing Company.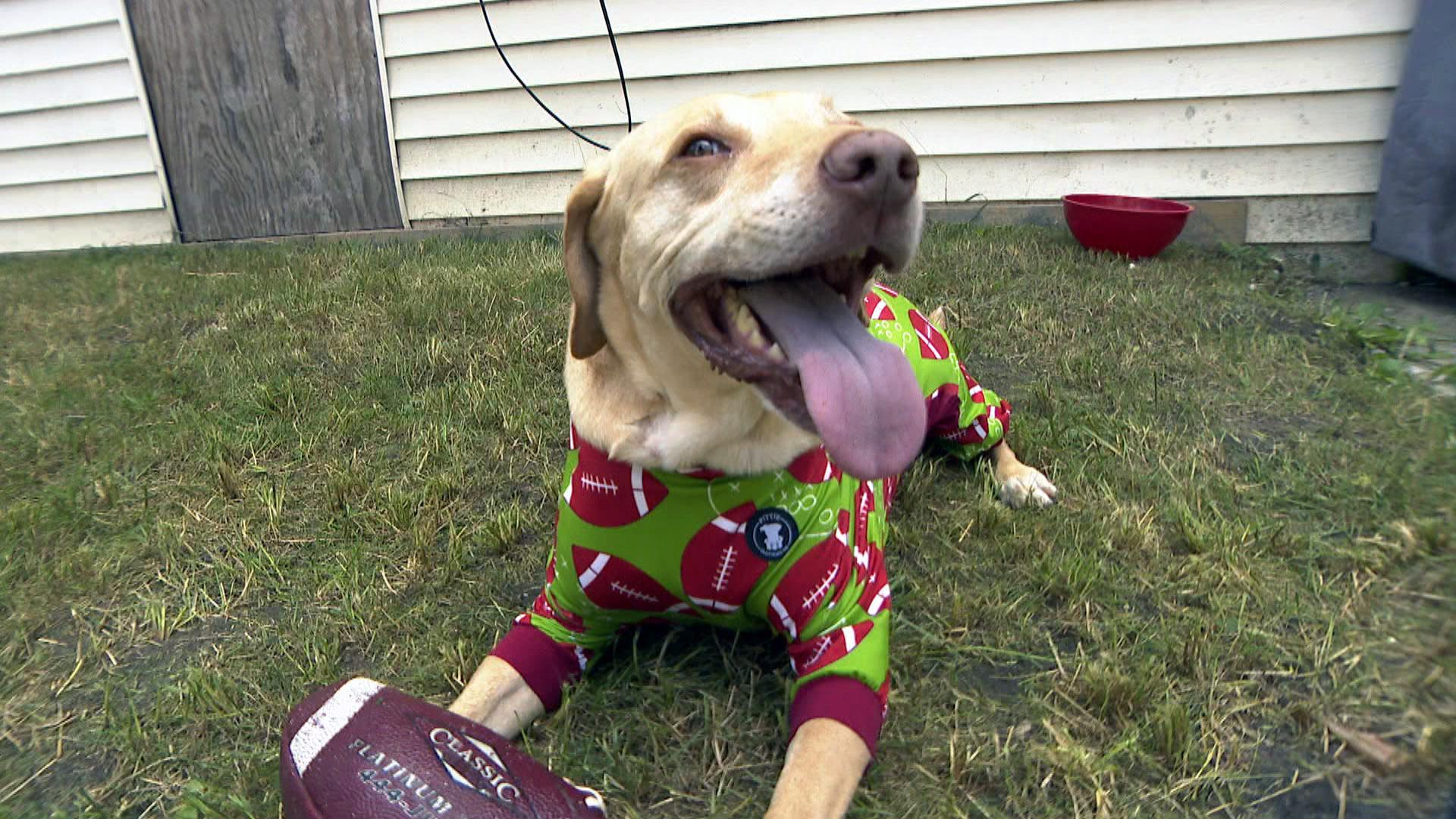 A dog models apparel from Pittie Clothing Company, founded by Erin Crowley of Humboldt Park. (WTTW News)
"It's hard when you're one person," she said. "I basically fund all this with my teacher salary money so I'm now slowly adding new sizes for kids and humans."  
Crowley is hoping these fun, colorful pajamas will help people feel more comfortable approaching pit bulls.    
"Now they ask, 'Can I pet your dog?' It allows the owner to start talking about these pittie-type dogs … It's really nice and it's sort of a good conversation starter."
Tara Majeed has two pit bulls of her own: Larry and Frank. She runs Rescue Chicago, a nonprofit that works with shelters, including the city's Animal Care and Control where she donates dog items and assists with the adoption process. That's how she and Crowley started a friendship.     
"It's really important to me to support small businesses like Erin, a female entrepreneur who's also giving back to the rescue community," Majeed said.
Crowley also donates her creations to dogs looking for their forever homes, and works with different organizations to donate a percentage of her proceeds to rescues.    
"I really like to do different projects with different rescues," Crowley said. 
Pittie Clothing Company has been in business for two years and Crowley says she's excited to keep designing new patterns and sets that humans and pit bulls can enjoy wearing.   
---