Chicago veterans of the Afghan war are expressing their anger and despair at the Taliban takeover of the country and the shambolic evacuation effort that has unfolded in recent days as thousands of Afghans and American citizens attempt to flee.
The U.S. State Department said Thursday it has processed 6,000 people who will soon be evacuated from Afghanistan through Kabul Airport.
U.S. officials are feverishly trying to evacuate tens of thousands of U.S. citizens and Afghan allies as the Taliban exerts full control over the country.
The Taliban takeover and chaotic withdrawal by U.S. forces are weighing heavily on the minds of veterans who fought in America's longest war.
Chicago native Tom Amenta, a former member of the 75th Ranger Regiment who served two tours of duty in Afghanistan in 2002 and 2004 says he has been full of "anger" and "fury" at the images of the chaotic American withdrawal.
"I am so angry. I am so upset," said Amenta. "In the military one of the things you do is plan for the best case, the worst case, and the most likely case scenario, and clearly the worst case wasn't considered because we are seeing it right now."
Amenta, co-author of the soon-to-be-released book "The Twenty Year War" which profiles veterans from the global war on terror, is particularly critical of the lack of planning for bringing U.S. citizens and Afghan allies out of the country and harm's way.
"We don't have a plan right now if the Americans – our citizens – cannot get to Hamid Karzai International Airport. We don't have a plan to go get them, unlike the Brits, unlike the French, that currently have special operations troops deployed to go actively to bring their people to the airport," said Amenta. "And furthermore, we don't have a plan to bring our allies back as well. This sounds harsh but it's an unmitigated disaster right now."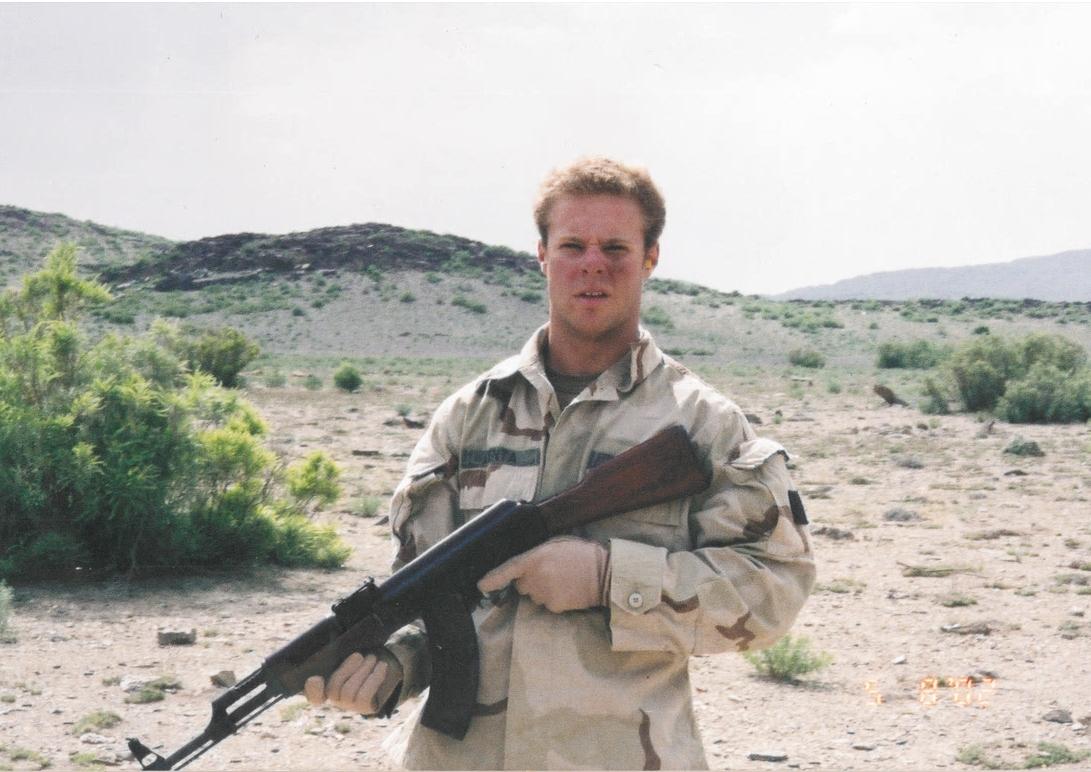 (Credit: Tom Amenta)
Brent Webb, who served in the U.S. Air Force from 2006 to 2012 and deployed to Afghanistan in 2010, says that the rapid Taliban takeover and chaotic evacuation had left him with feelings of despair.
"Last Friday, whenever the country started to fall apart, I had a Vietnam veteran in our American Legion Hall come over to me. He kind of buttonholed me in the hallway and he goes 'Hey Brent, I want you to know that what is about to happen is going to hurt really bad.'"
Webb, who suffers from post-traumatic stress disorder, said at that time he hadn't realized how quickly the country would fall to the Taliban and still thought Afghan forces might be able to prolong the fight.
"And then Sunday, when we saw that Kabul had fallen or was about to fall, I remember just a lot of feelings of despair, powerlessness and a sense that you just can't believe that they would let it get this bad," said Webb. "When we were there, we always tried to take all these different scenarios into account … and it doesn't seem like that happened. And that's extremely frustrating because we wanted this to go differently."
Despite assertions by President Joe Biden and Chairman of the Joint Chiefs of Staff Gen. Mark Milley that the swift collapse of the Afghan National Army could not have been foreseen, Amenta said that once U.S. forces withdrew "in the middle of the night" the writing was on the wall.
"When you understand what we were doing and how we were supporting the Afghan National Army and the Afghan National Police Force, it was primarily through air resources … logistics and things to help support them to do their mission," said Amenta. "And so when you remove those things you are already going to create a massive problem. But the other thing that we did – and we need to be honest about what we did to the Afghan National Army and their police force – we demoralized them by leaving in the middle of the night from Bagram Airfield … We just cased the colors and bounced."
He is particularly critical of the narrative being pushed by the Biden administration that the Afghan army did not have the will to fight. He notes that according to the Brookings Institution, some 45,000 Afghans have died fighting the Taliban in just the last six years.
Amenta says that he has probably talked to 60 or 70 veterans in recent days and that while all agreed America's longest war needed to end, none of them wanted to see it end this way.
"We definitely needed to find a way to leave," said Amenta. "Twenty years is way too long … I am so resolute in my belief we needed to find a way to leave. And I am equally resolute, just furious, at the way the current administration is doing it."
Webb agreed that the war had to end and says he doesn't have partisan feelings about the decision to pull out. He said that President Biden was "just the poor bastard that had to make the call."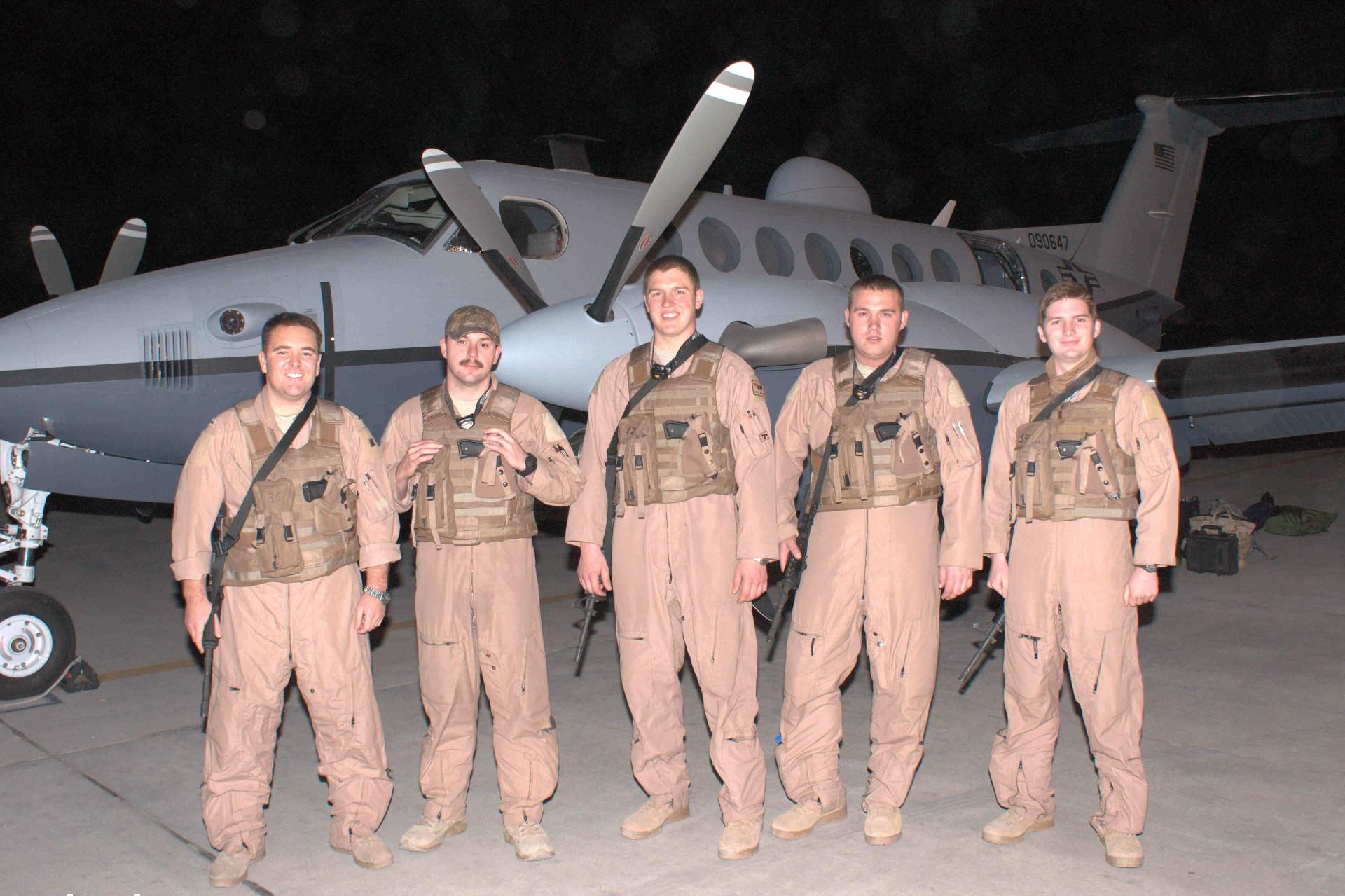 Brent Webb is pictured on the far right. (Credit: Brent Webb)
He says the United States now has to do everything it can to bring American citizens and those Afghans that supported the U.S. mission to safety.
"The only option is to get everyone out," said Webb. "Everyone who works as an interpreter. Everyone who worked supporting U. S. troops … We made a sort of promise to them that we will take care of you and your family. We need to get them and their families out of the country immediately. And any American citizen that's there that's in danger that wants to leave."
But as American engagement in Afghanistan appears to be ending with an ignominious final act, Webb says he refuses to believe that all of the pain and sacrifice was for nothing.
"We let a generation — 20 years of children that were born in Afghanistan 20 years ago — grow up with the American presence there. And I'm sure that some of them hated that. But then there were others that probably grew up for the first time seeing that their mothers and wives, their daughters could be educated and that actually is a wonderful thing," said Webb. "And we created a window for that to happen."
---