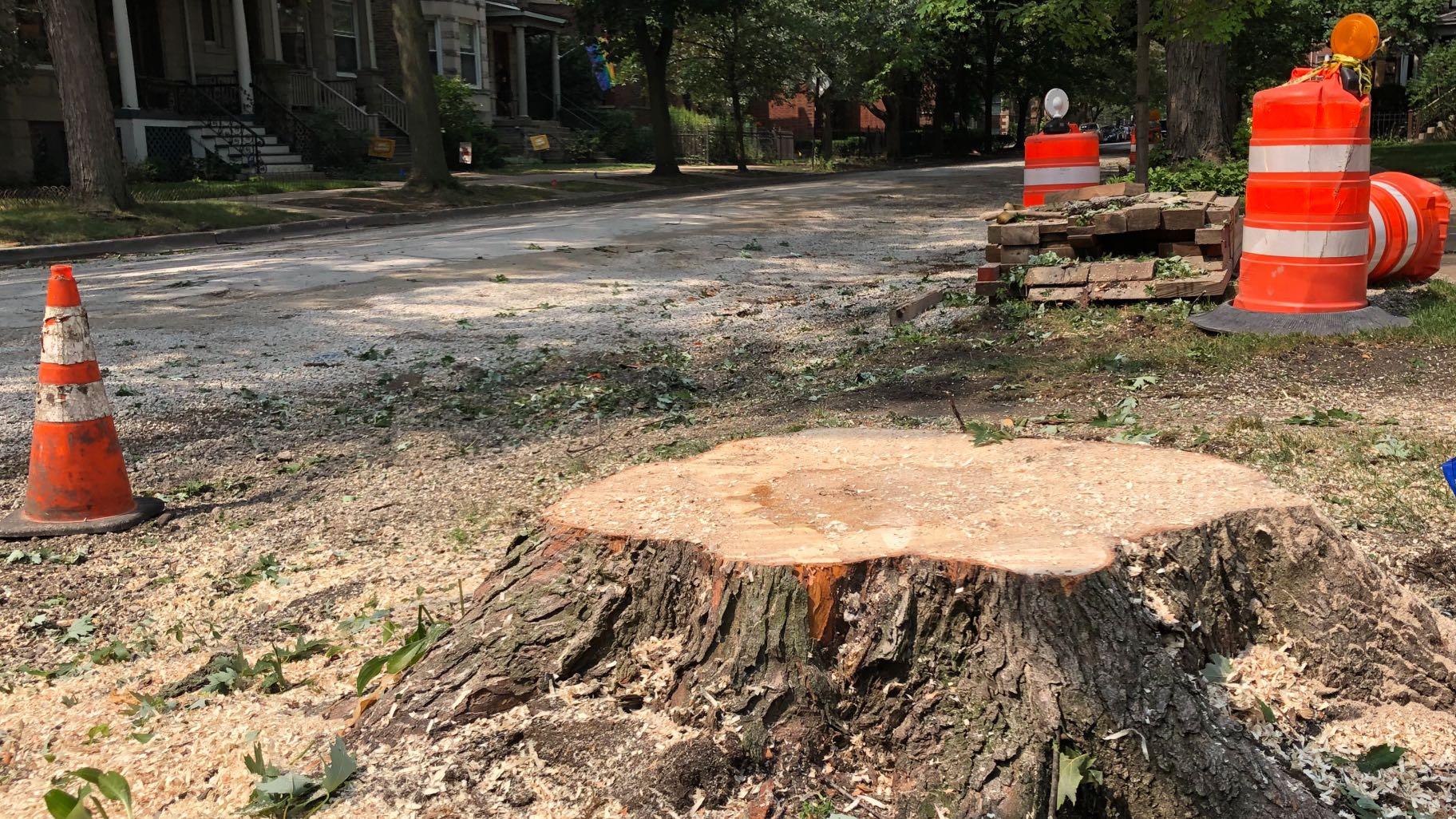 Trees met the chainsaw in Andersonville due to a Water Department project. (Patty Wetli / WTTW News)
After a two-year reprieve, a slew of trees slated for the chopping block met with the chainsaw Tuesday due to a water main replacement project in Andersonville.
The Department of Water Management notified Ald. Harry Osterman (48th Ward) late last week that the trees' days were numbered, citing the poor performance of a much ballyhooed tree-saving technology in a pilot study.
So on a day when the heat index soared into the triple digits, forestry crews were dispatched to North Side blocks on Balmoral, Berwyn, Farragut and Summerdale. Down came maples, buckeyes and honey locusts, with freshly exposed stumps marking once-shaded spots.  
This was the scenario neighbors, environmentalists and a handful of aldermen had hoped to avoid when they urged the city in 2019 to revisit its practice of open-trench digging and tree removal during water and sewer projects. 
Among the alternatives: a technology known as cured-in-place pipe, in which a liner is either inserted into or pulled through an existing pipe in need of repair. A resin within the liner gradually cures and adheres to the pipe, essentially forming a new pipe.
The cured-in-place method, deployed in cities including Evanston and Toronto, is far less invasive than the typical process of tearing up parkways, sidewalks and trees to lay a new pipe.
The Water Department agreed to a pilot study and selected sites to test cured-in-place, the majority of them in Andersonville. More than a year after the technology was installed for the trial, Water Department Commissioner Andrea Cheng delivered the bad news to Osterman: cracks were found in 3 of 12 test liners that used the insertion process — an unacceptable failure rate of 25%.
After consulting with the Illinois Department of Public Health, the Water Department determined that pipe replacement via traditional methods would be necessary at those 12 locations (11 of them in Osterman's ward), Cheng wrote in a memo to the alderman. The trees had to go.
The jury is still out on cured-in-place test sites using the pulled process, she added.
Independent consultants are conducting the study and continuing to evaluate technologies in several different neighborhoods, said Megan Vidis, Water Department spokesperson.
These include a technique called "air spading," in which high pressure air — instead of actual spades or other heavy equipment — is used to remove the soil around a tree's roots. This form of gentle exposure shows where a tree's roots and pipe might intersect and allows for targeted pruning of roots versus removal. 
A full report will be issued on the pilot study when the results from all locations have been analyzed, Vidis said.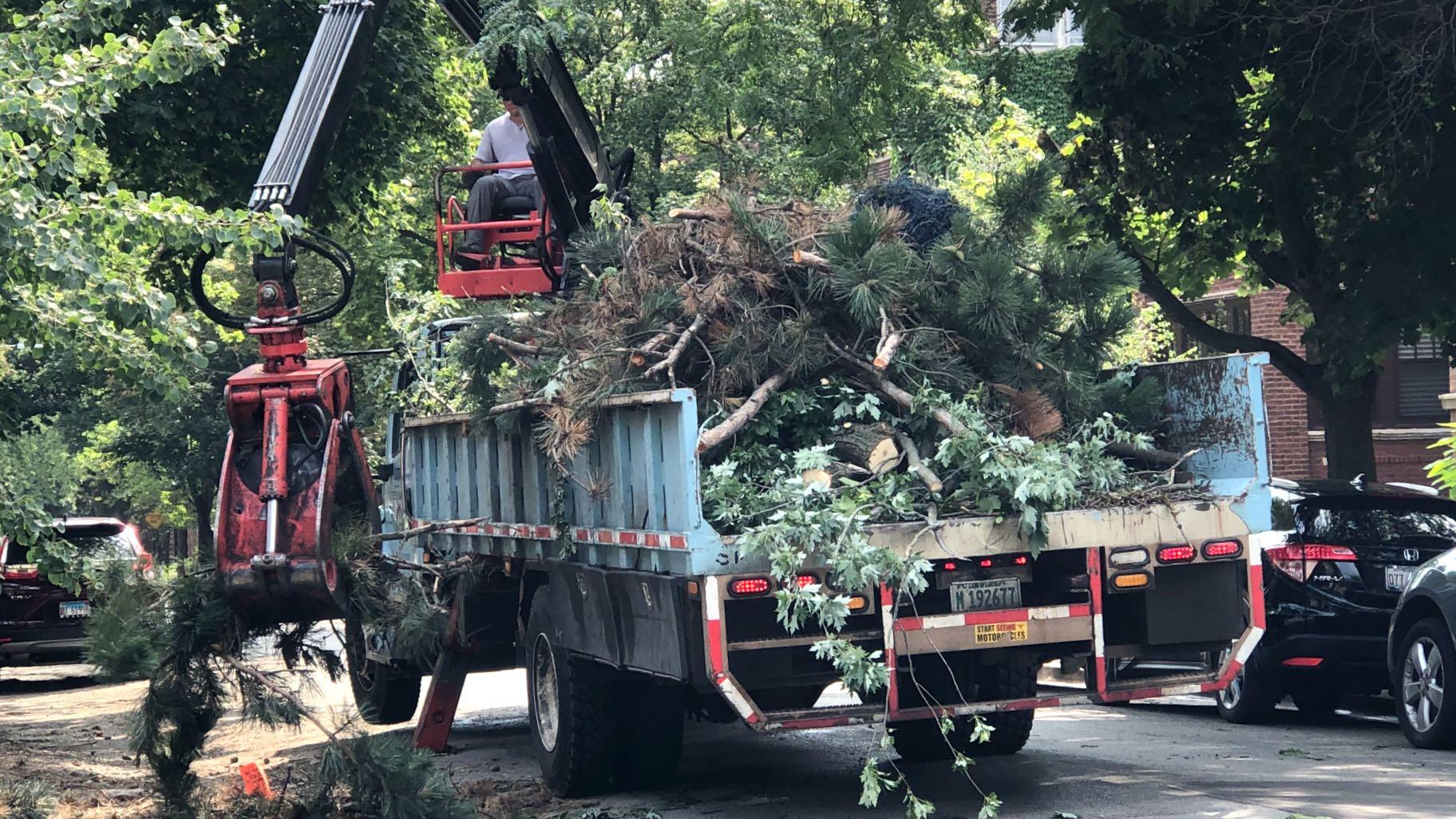 City forestry crews haul away tree debris in Andersonville. (Patty Wetli / WTTW News)
News of the faulty cured-in-place liners couldn't come at a worse time — or a better one, said Daniella Pereira, a certified arborist who is the vice president of community conservation at Openlands.
Worse, she explained, because a recently released tree census shows the city's tree population is declining and vulnerable to stressors. If cured-in-place is truly off the table and trenching is the only option, it will be a challenge to increase Chicago's canopy cover, a key component of mitigating the effects of climate change.
But on the fortuitous side of things, she said, Chicago's City Council just approved the creation of an Urban Forestry Advisory Board. It would be ideal, Pereira said, for that body to review the cured-in-place pilot when the full report is made available. Why did the liners fail? Where did the cracks occur and when? These are questions she expects the board will investigate.
More importantly, conservationists like Pereira are pinning their hopes on the ability of the board's yet-to-be-appointed members to create consensus around the worth of trees as green infrastructure. (The mayor's office did not respond to a request regarding a timeline for appointments.) 
There is a way to assign a dollar value to a tree, she said: How much carbon does it store, how much stormwater does it absorb, how much wildlife does it support, how much of a cooling effect does it provide?
In cases of trees vs. pipes, these valuations should inform decisions about whether a tree is removed to make way for a pipe, or a pipe is rerouted to make room for a tree, Pereira said. The same factors should be taken into account when replacing a tree. 
"I understand not every tree can be saved. Not all trees are high quality or are even healthy," she said. "But you don't replace a 20-inch tree with a 2-inch tree. Fifty one-year-old trees aren't the same as one 50-year-old tree."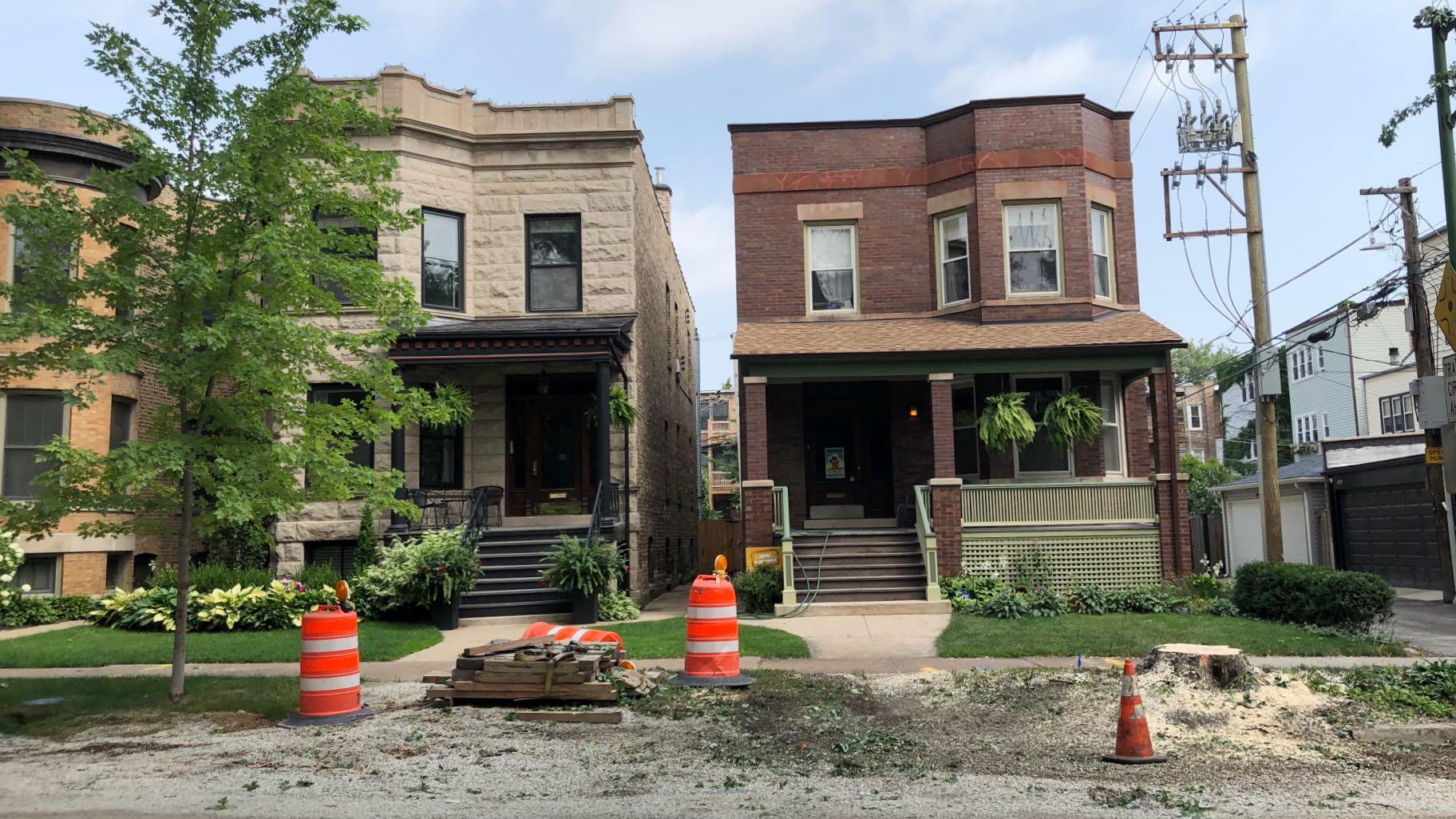 With a tree removed in front of the home on the right, Chicago has a new gap in its tree canopy cover. (Patty Wetli / WTTW News)
On this point, the Water Department concurred.
"(We're) committed to minimizing the environmental impact of any water infrastructure construction — particularly on mature trees," Vidis said. "We look forward to both contributing to and receiving input from the new Urban Forestry Advisory Board in order to make the best data-driven decisions possible."
Back in Andersonville, as forestry crews hauled away the debris from a morning's work of tree removal, Dereck Murphy swept the sidewalk in front of his home and surveyed the torn-up street. It's been a construction mess for more than two years, he said, as the Water Department started and stopped work while the cured-in-place study was introduced, and the coronavirus pandemic ground everything to a halt.
"It would have been worth it if they were able to save some trees," Murphy said. "Now I just want the street fixed."
Contact Patty Wetli: @pattywetli | (773) 509-5623 |  [email protected]
---