Promising that Chicago is "turning the corner" on the COVID-19 pandemic, Mayor Lori Lightfoot said Wednesday the city faces a projected $733 million budget shortfall in the 2022 fiscal year. 
In a speech under the Chicago Cultural Center's Tiffany dome, Lightfoot praised the city's residents, businesses and institutions for weathering the pandemic and celebrated the fact that the projected budget deficit for 2022 is 40% less than the $1.2 billion shortfall officials confronted a year ago. Lightfoot called the city's 2021 spending plan the city's "pandemic budget" and its 2022 spending plan a "recovery budget."  
"All signs are that we are indeed turning the corner on this crisis," Lightfoot said. "But recovering from its financial fallout is only half the battle. We must also recover from its social fallout as well—looking beyond finances and retaining our focus on making meaningful investments in the lives of our residents and the communities they call home." 
Even as Lightfoot said the city was "fiscally bouncing back from this crisis," confirmed cases of COVID-19 continued to surge Wednesday in the city and across the nation, fueled by the more transmissible delta variant despite efforts by city officials to vaccinate all Chicagoans older than age 12. 
While Chicago fully reopened on June 11, the increase in COVID-19 cases, hospitalizations and deaths means Chicago's economy — and the city's tax revenue — could suffer another blow, or recover more slowly than anticipated. 
Chicago finance officials told reporters that the budget forecast released Wednesday was based on conservative revenue projections, an acknowledgment that the pandemic is far from over despite the lack of a mask mandate or limits on gatherings or business operations designed to stop COVID-19 from spreading in Chicago.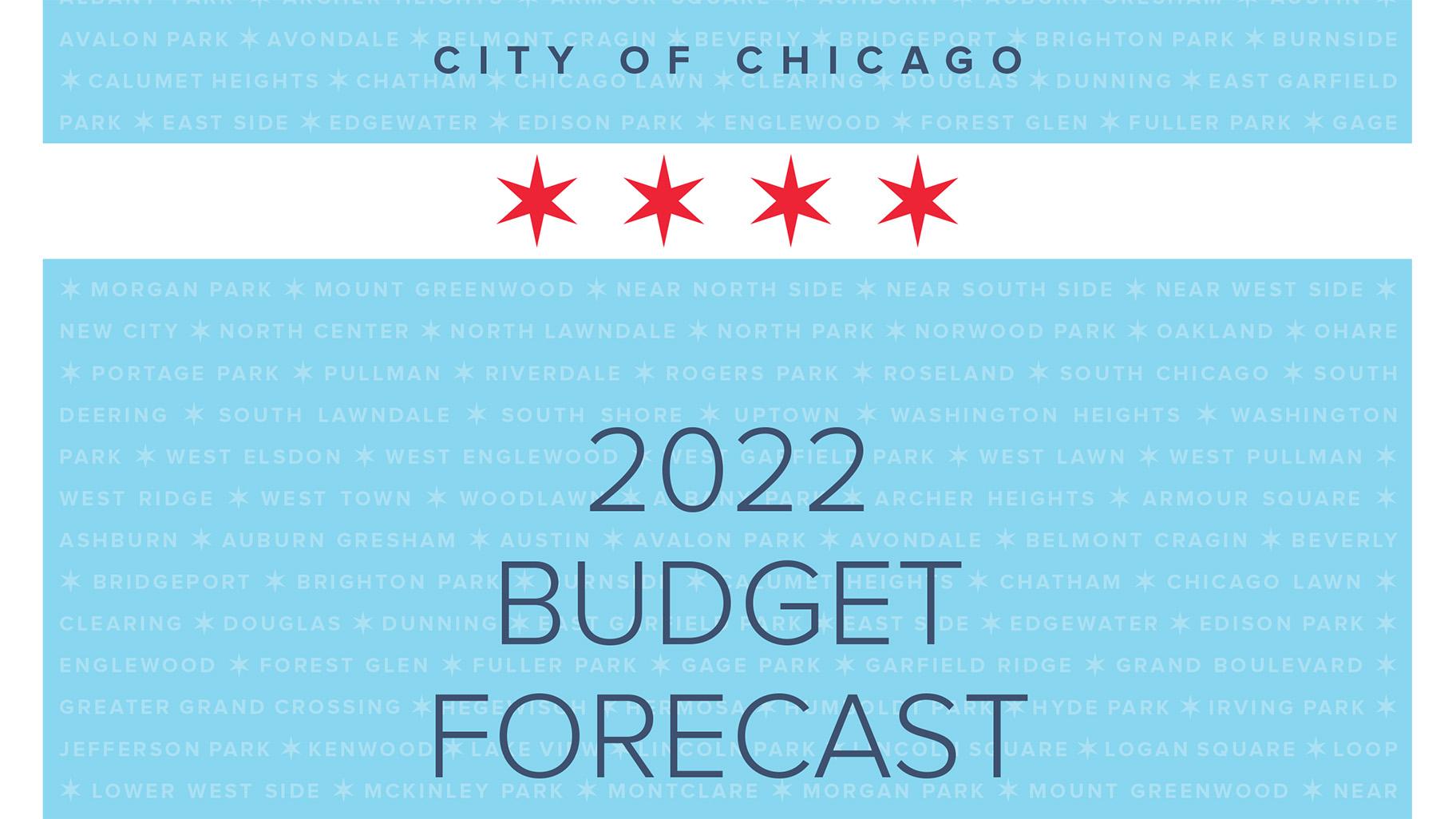 Document: Read the budget forecast. The city's 2022 budget will also be pinched by soaring pension payments, as the city faces an estimated bill of $2.3 billion for its four funds, according to budget projections released Wednesday, an increase of $255 million.  
Those payments are required by a state law that is designed to force the city's pensions to be funded at a 90% level by 2045, ensuring that funds can pay benefits to employees as they retire. 
In addition, the city needs an additional $275 million to send retroactive pay increases to Chicago police officers as called for in the tentative agreement reached last month with the Fraternal Order of Police Lodge 7. 
The city plans to refinance $1 billion in debt to generate $250 million in savings to cover the bulk of that cost, said Chicago Chief Financial Officer Jennie Huang Bennett. 
Despite those pressures, the city faces a less bleak financial picture than it did a year ago because of the so-far strong rebound in revenue and the fact that the American Rescue Plan signed into law by President Joe Biden in March will send $1.9 billion in federal relief funds to Chicago. 
While Lightfoot is expected to present a detailed budget to the Chicago City Council in mid-September, she said Wednesday she will propose using $782 million from the federal relief package to cover the cost of providing city services and paying city workers during the pandemic and make up for revenue lost during the pandemic. 
That does not include any reimbursements for police department personnel cost, said Budget Director Susie Park. 
In all, the pandemic cost the city $1.7 billion, Lightfoot said. 
That proposal marks a shift in strategy from Lightfoot's administration, which proposed in April using $965 million from the federal relief package to pay off the high-interest debt the city incurred to balance its 2020 and 2021 budgets. 
In addition to borrowing $465 million in 2021, the city's 2020 spending plan called for the city to borrow another $500 million, but the city canceled those transactions after Congress approved the relief package. 
However, U.S. Treasury Department officials told cities and states that "payment of interest or principal on outstanding debt" would not be allowed, throwing Lightfoot's plans into disarray. 
Although city officials appealed that rule, Huang Bennett said Wednesday they have gotten no response and have outlined another "path forward." 
That will entail using funds from the city's corporate fund, which officials use to pay most of the city's bills, to retire that high-interest debt while using federal relief funds to keep the city's bank account out of the red, Huang Bennett said.  
However, progressive members of the City Council have vowed to oppose Lightfoot's plan to use $965 million — or nearly half of Chicago's share of the relief package — and on Tuesday introduced their own plan to spend the money. 
That would leave about $1.1 billion, or a little more than half of the federal relief package to be spent as part of the city's 2022 budget, but Lightfoot said again Wednesday she would not allow those funds to be spent in ways that worsen Chicago's overall financial position. 
"To spend every penny of these [American Rescue Plan] funds without any regard for the long-term fiscal consequences would be utterly irresponsible, ineffective, and leave us with nothing to support ourselves, God forbid another crisis strikes our city," Lightfoot said. 
Instead, Lightfoot said Wednesday those funds should be used "holistically" to address systemic inequities that plague Chicago's Black and Latino neighborhoods. 
The release of the 2022 budget forecast is likely to trigger a renewed debate over how to spend the entire federal relief package with progressive members of the Chicago City Council, who want to use the bulk of the funds to send direct aid to Chicagoans struggling to stay afloat amid the pandemic.  
That proposal would expand city funding for child care, reopen public mental health clinics, eliminate debt from unpaid water bills and fund programs to shelter unhoused Chicagoans. 
The United Working Families political organization and the Chicago chapter of the Democratic Socialists of America remain furious that Lightfoot used $281.5 million in COVID-19 federal relief funds from the first relief package approved in March 2020 to cover the cost of salaries and benefits for Chicago Police Department officers even as the groups demanded the department's budget be cut. 
The debate over the police budget — which totaled $1.7 billion in 2021 — will also be a flashpoint during negotiations over the city's spending plan. 
There is "no question" that the budget for the police department — which is under the oversight of a federal judge after a probe found that officers routinely violated the civil rights of Black and Latino Chicagoans — should increase in 2022, Lightfoot said. 
The department needs additional funds to recruit new officers and expand programs that offer officers counseling in the wake of trauma they experience on the job. The 2021 Chicago budget eliminated 614 vacant positions in the police department. 
However, those cuts prompted several alderpeople who represent wards where many police officers live to vote against the spending plan, costing Lightfoot crucial votes she may need if progressive and socialist aldermen unite in opposition to her plan. 
The city's 2021 $12.8 billion spending plan, which hiked property taxes by $94 million, passed with just two votes to spare. That plan authorized the city to hike property taxes automatically based on an increase in the cost of living. That will generate about $20 million in 2022, Huang Bennett said. 
An additional property tax hike is not likely to be required to balance the 2022 budget, Lightfoot said. 
In addition, Lightfoot announced Wednesday the city would use $37 million from a previous federal relief package to earmark $14 million for youth prevention programming, $9 million for neighborhood recovery initiatives and $14 million for child care assistance. 
Contact Heather Cherone: @HeatherCherone | (773) 569-1863 | [email protected]
---