Objections to a proposal that would add a two-story triangular structure to Wrigley Field, at least on historic preservation grounds, are a decade too late.
Plans for the 20,000-square-foot DraftKings Sportsbook addition, to be built at the stadium's southeast corner, received unanimous approval Thursday when they came before the permit review committee of the Commission on Chicago Landmarks. An overall plan for Wrigley Field, given clearance in 2013, included a variation of the addition.
"So, the cow has left the barn?" Commissioner Lynn Osmond asked following a presentation on the addition. 
Osmond's chief complaint: the addition's copious signage, which she termed reminiscent of Times Square.
Yet the amount of signage depicted in renderings, totalling roughly 1,100 square feet, is just a fraction of the more than 5,000 square feet granted to the Cubs in the 2013 agreement.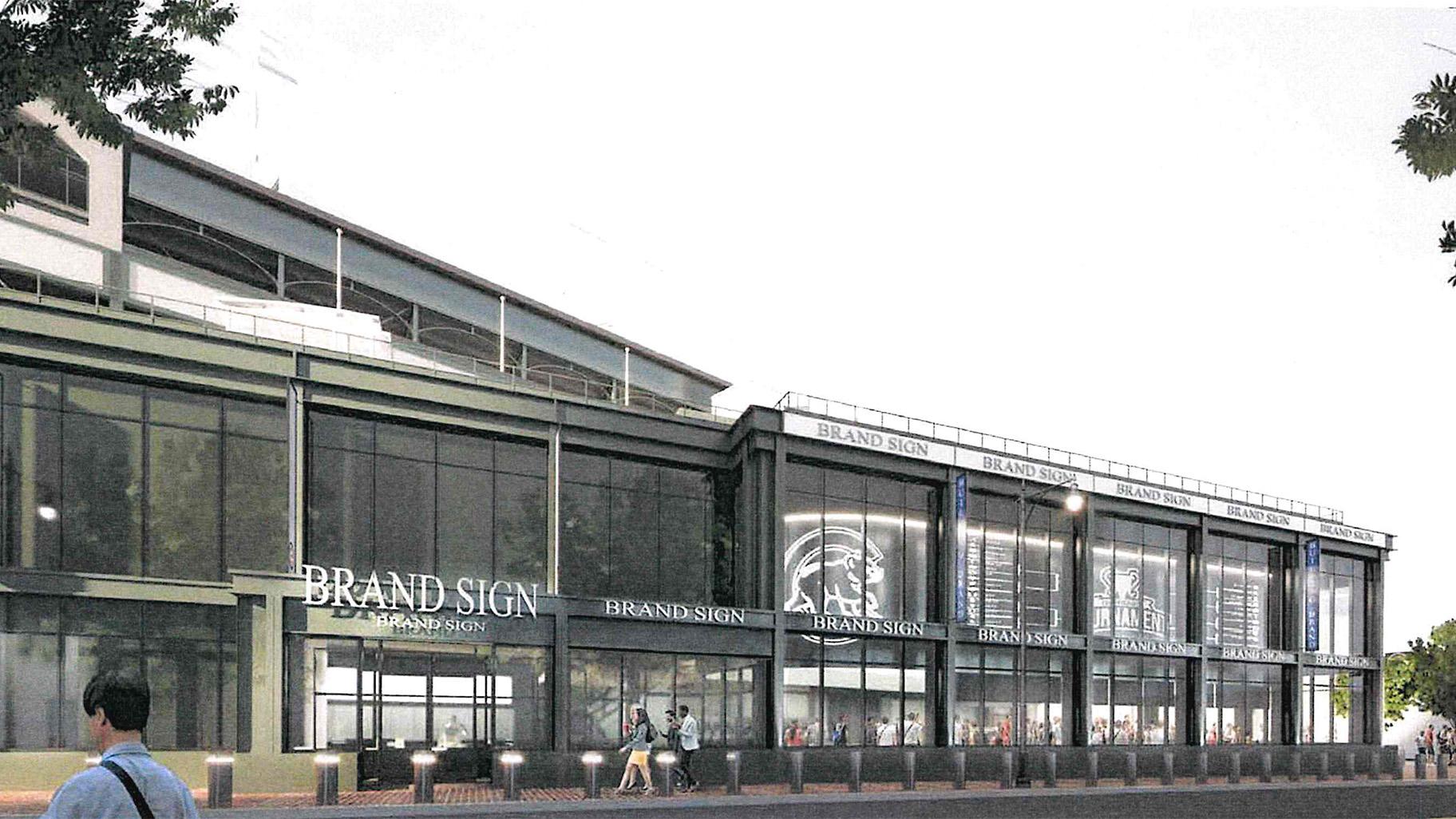 A rendering of the Wrigley Field mini triangle building from the south side of Addison Street. (Gensler / Courtesy office of Ald. Tom Tunney)
Ald. Tom Tunney, whose 44th Ward includes Wrigley Field, noted that the "very generous" signage allowance was an integral part of the city's negotiations with the Cubs, offered to the team as a revenue stream in lieu of taxpayer funding for stadium improvements. 
"Wrigley was guaranteed a certain amount of signage, so that's what we're going on," said Larry Shure, a planner on staff with Chicago's Department of Planning and Development, who reviewed the Cubs permit.
There are some conditions attached to the commission's approval, including future review of materials, finishes and signage by historic preservation staff.
Alterations to Wrigley Field, which is not only a city landmark but also a national one, need to meet with approval from the National Park Service as well.
Beyond any issues surrounding Wrigley's facade, the issue of operating a sportsbook betting site will require passage of legislation by City Council.
For preservationists, though, Wrigley Field is in danger of dying a death from 1,000 cuts. 
Mary Lu Seidel, who works for Preservation Chicago and counts herself a lifelong Cubs fan, spoke in advance of the team's presentation to the permit committee. 
Taken individually, changes to the stadium may seem innocuous, she said, but collectively they're having a substantial impact.
"Don't leave us with a ballpark that requires us to wear blinders," Seidel said. 
Contact Patty Wetli: @pattywetli | (773) 509-5623 |  [email protected]