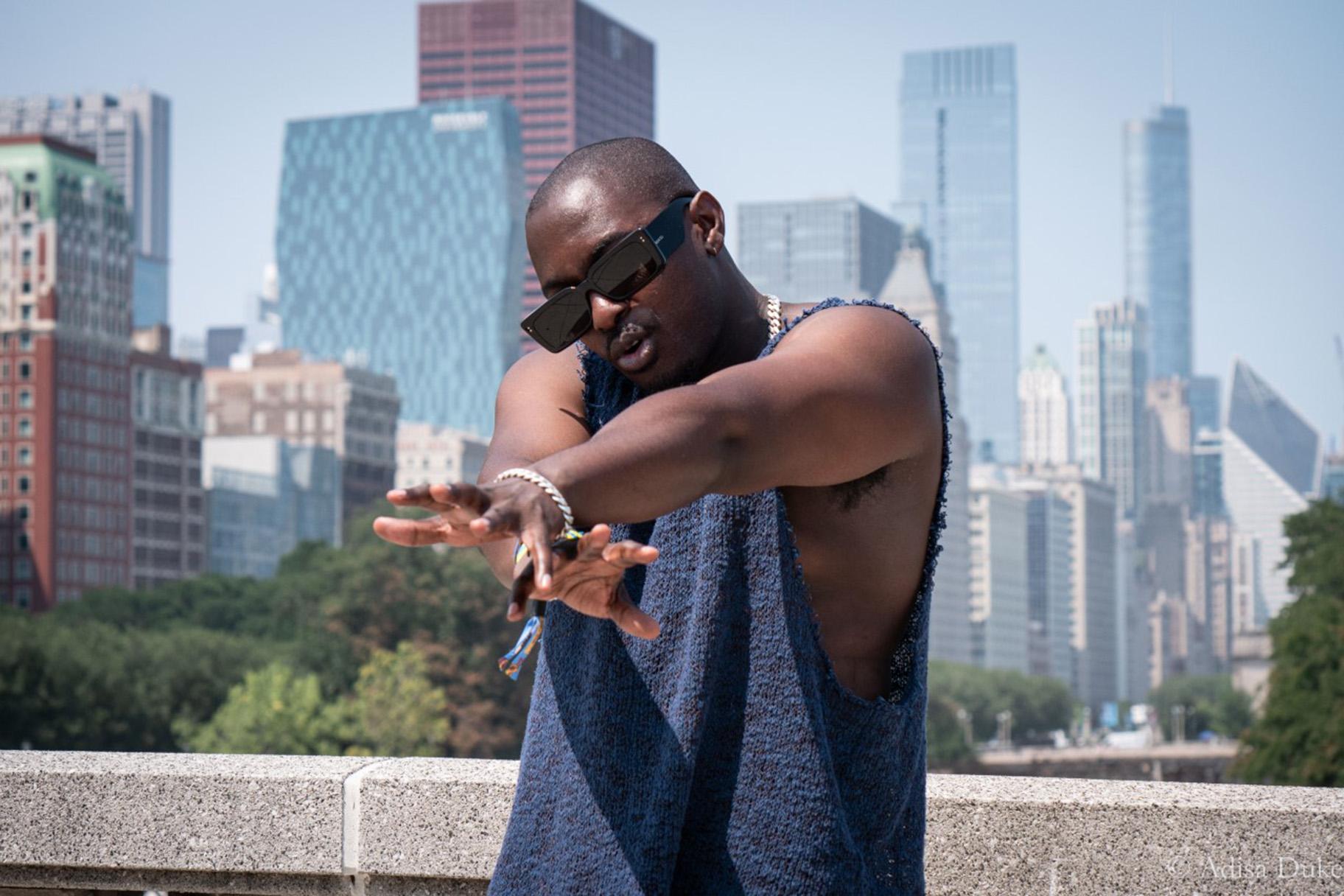 Nez (Credit: Adisa Duke)
In a sea of familiar artists — from Megan Thee Stallion to Miley Cyrus — a few local faces are hoping to make a bigger name for themselves at this year's Lollapalooza. Among them is Chicago-based songwriter and producer Nez. He's worked with artists from Chance the Rapper to ScHoolboy Q to ASAP Rocky, but it wasn't until the past year that he began creating his own music. 
"It was really interesting just because in the pandemic, for me to be making dance music when everyone is in the house … it was really about escapism for me," Nez said during an interview Sunday. "So I just wanted to continue the path I'd already started by creating music I wanted to see. Dance music is Black music, and I think it's important to bring that conversation back to the forefront."
During his first Lolla set, fans will really hear Nez both sing and rap over his house mixes. He hopes that sound will help people understand the versatility of artists of color, who he feels are generalized and put into rap- or R&B-only boxes. While he's been working in the music business for some time, the 34-year-old artist says he's not taking this step in his career lightly.  
"So I've had the opportunity of being in the business, and my peers have helped me as I've transitioned to being an artist in giving advice," Nez said. "So I think just me building my own network as a producer and a writer, and then me getting into the artistry; the kind of music that I'm making … people are just organically taken to the unique sound. This is literally my first show, my first live performance ever. So being at home in Chicago performing at Lolla, this is a full circle moment for me. My homie Vic said, 'You skipped a lot of steps my G'. So I'm not taking this for granted. I'm very appreciative."
Vic Mensa agrees. The Chicago-based artist says it's great to see a longtime friend finally receive his due, and says Lollapalooza could do even more to give local artists a national platform. 
"His partner at the time, Rio, did my first beat ever when I was about 15 or 16 years old," Mensa said. "Nez has been an inspiration, collaborator, friend and big brother to me. So I'm psyched he's bringing ghetto house music to where it needs to be. But you know what else we need? A stage of only Chicago artists, that would be fire. A full day of local artists and just call it the Chicago stage."
One of the artists on that stage could be Rockie Fresh, who also made his Lollapalooza debut this year. He performed "Fresh," the new, unreleased song he'd been working on during the pandemic. 
"I'm a true hustler, so I know how to pivot. I ended up putting a studio in my house during the lockdown, and made the most music I've probably ever made in my life," he said. "That made me a lot more excited to perform. I'm charged up and ready to share more."
As these rising artists look ahead at developing their careers after their Lollapalooza debuts, they want to remind fans watching that it's simply a result of hard work.
"I'll be performing at a festival in Spain, Primavera Sound, in November," Nez said. "I plan to go on my own tour, releasing more music and just really introducing people to me as an artist and my personal sound."
"I just want people to know, not to sound cliche, but I came up very regular," Fresh said. "So it's like everything I've experienced is based off of hard work, but also believing that dreams really come true. I want to be that inspirational story for people. To show them that when you work hard, stay focused, and you really stick it out with what you want to do, you can get to where you want to go."
Follow Angel Idowu on Twitter: @angelidowu3
---
Angel Idowu is the JCS Fund of the DuPage Foundation Arts Correspondent.
---