At Tempel Farms in Old Mill Creek, a rare horse breed known as the Lipizzan stallion is trained a form of equestrian riding called dressage.
"We're trying to keep the art form alive, the training and the history … one of the only places still doing it," said head trainer Bill Clements.
When the Lipizzans are about 4 years old, they begin their formal training.
"A lot of people don't realize we put a lot of time into these horses before they're ready to perform," Clements said. "It is a lifelong endeavor for both the rider and the horses."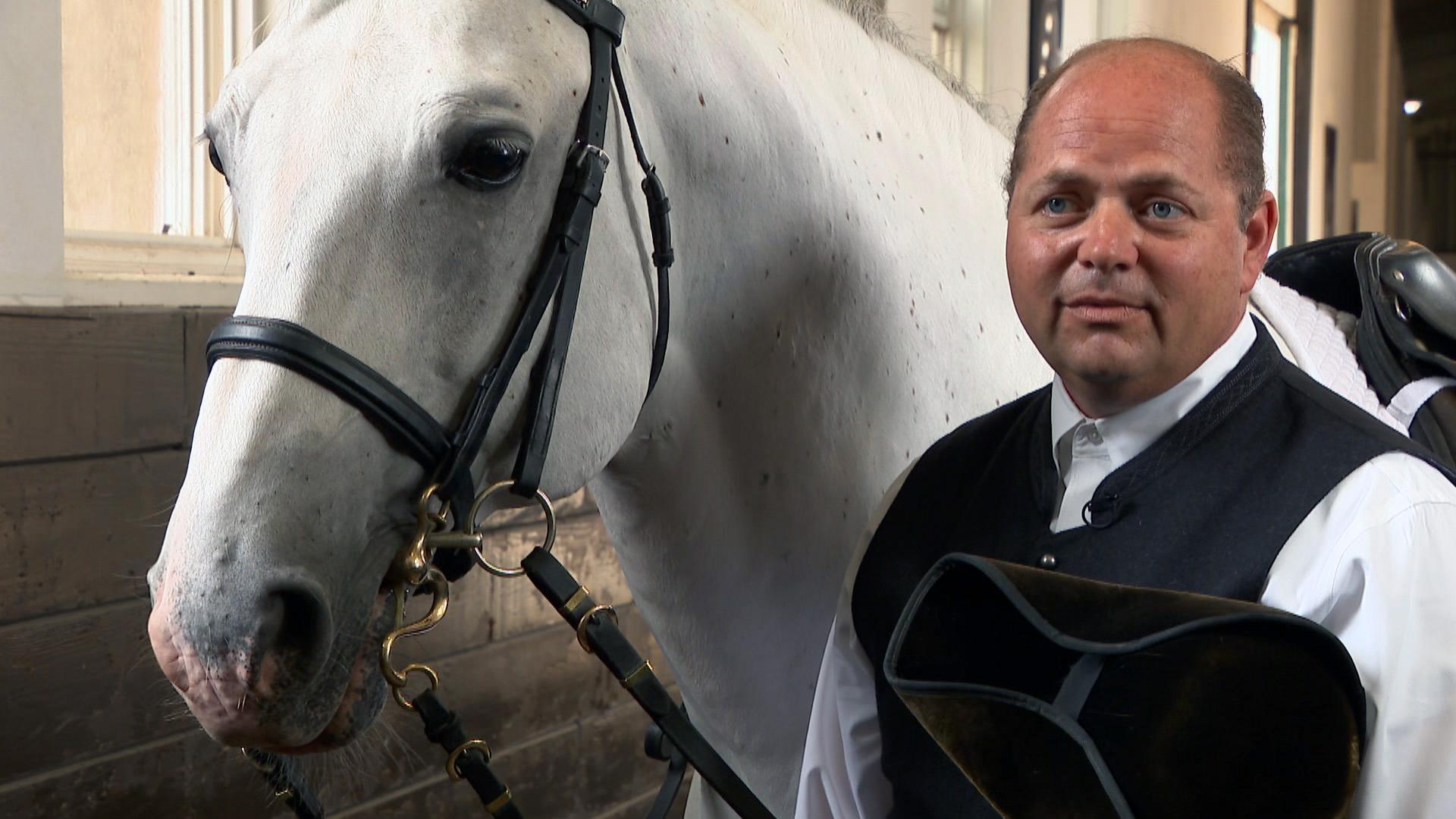 Bill Clements, head trainer at Tempel Farms. (WTTW News)
That relationship is built over a period of five to six years, with trainers working with the horses for about an hour a day. Once they've got the routines, it's time for weekly educational sessions and performances, where attendees can learn more about the art form. 
"What it does is it begins with the youngest of our herd, our foals," said Esther Buonanno, program director at Tempel Farms. "We moderate basically what it is about the Lipizzan horse that enables it to dance or 'dressage.' We show from young horse, to intermediate horse, to advance horse what it is the rider is doing and the different gates the horse works in that are built upon over years and years to develop what resembles dance in it's highest art form." 
Buonanno narrates these weekly sessions and performances. She's not a trainer, but says the horses' natural ability and curiosity to adopt this art form fills her with pride.
"They learn to work with one another, next to one another. They learn to not just move in straight lines and circles, but to cross their legs over in really elegant ways," she said. "What we even do here at Tempel Lipizzans, which is not done anywhere else is in the country, is the airs above the ground. These are former battle maneuvers stylized into an art form, where you actually see the horses jump up off of their feet and kick into the air." 
Cathy Grimes, a former rider who attended a recent show, said seeing the Lipizzan stallions perform is truly a once-in-a-lifetime experience. 
"They emanate a presence and an energy and a power," Grimes said. "To come and smell them, feel them, see their sweat, see their eyes, see their ears and the way they listen to their trainers … I don't think you can ever fully capture classical riding unless you're right here."
---
More on this story
For information about upcoming presentations by the Tempel Lipizzans, visit the Tempel Farms website.
Follow Angel Idowu on Twitter: @angelidowu3
---
Angel Idowu is the JCS Fund of the DuPage Foundation Arts Correspondent.
---