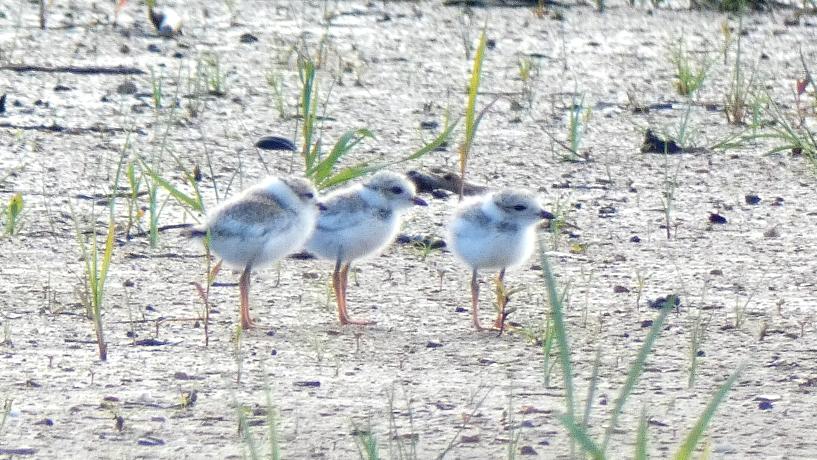 Monty and Rose's plover chicks, 2020. (Courtesy of Bob Dolgan)
In just a few short years, Monty and Rose have gone from anonymous hatchlings to arguably two of the most famous birds in the world.
A new full-length documentary charts the story of Chicago's beloved piping plovers, from their hatching in 2017 to their improbable courtship on Chicago's lakefront to their status as standard bearers for shorebird habitat conservation efforts.
"Monty and Rose" will be screened Sept. 4 and Sept. 6 at the Music Box Theatre, with tickets now on sale. A portion of the proceeds will benefit the education work of the nonprofit Great Lakes Flyway Project.
The feature-length film builds on an earlier short documentary and brings the audience up to the present.  
Director Bob Dolgan, a volunteer plover monitor and past board member of the Chicago Ornithological Society, began filming the plovers when the endangered birds first arrived in Chicago in 2019. Along with capturing dramatic moments — like the showdown between the plovers' protectors and organizers of a proposed music festival, Mamby on the Beach, which would have jeopardized the birds' nest — "Monty and Rose" highlights the ongoing work of volunteers to ensure the safety of the plovers and their chicks. 
The film also incorporates the history of lakefront natural areas in Chicago, specifically Montrose Dunes, where the plovers have nested three summers running, according to Dolgan.
Defying the odds, Monty and Rose have now successfully hatched 11 chicks on a heavily trafficked urban beach. The couple is one of just 70 breeding pairs of Great Lakes piping plovers, which is well below the hundreds that once nested along the region's shores but an improvement over the dozen pairs the population had dipped to by the 1990s. 
Screenings of "Monty and Rose" are scheduled for 1 p.m. Sept. 4 and 2:30 p.m. Sept. 6. Tickets to the Sept. 4 premiere include a panel discussion and cost $25; tickets to the Sept. 6 showing are $20.
For those who can't get enough of all things Monty and Rose, Imperial Oak Brewing will release its Piping Plover Pale Ale at 11 a.m. Aug. 1 at its Brookfield location.
Earlier this summer, the couple's 2020 chick, Nish, and his partner, Nellie, who nested in Ohio this year hatched a quartet of chicks. Monty and Rose's four "grand-chicks" have been given names: Erie, Maumee, Ottawa and Kickapoo.
Contact Patty Wetli: @pattywetli | (773) 509-5623 |  [email protected]
---