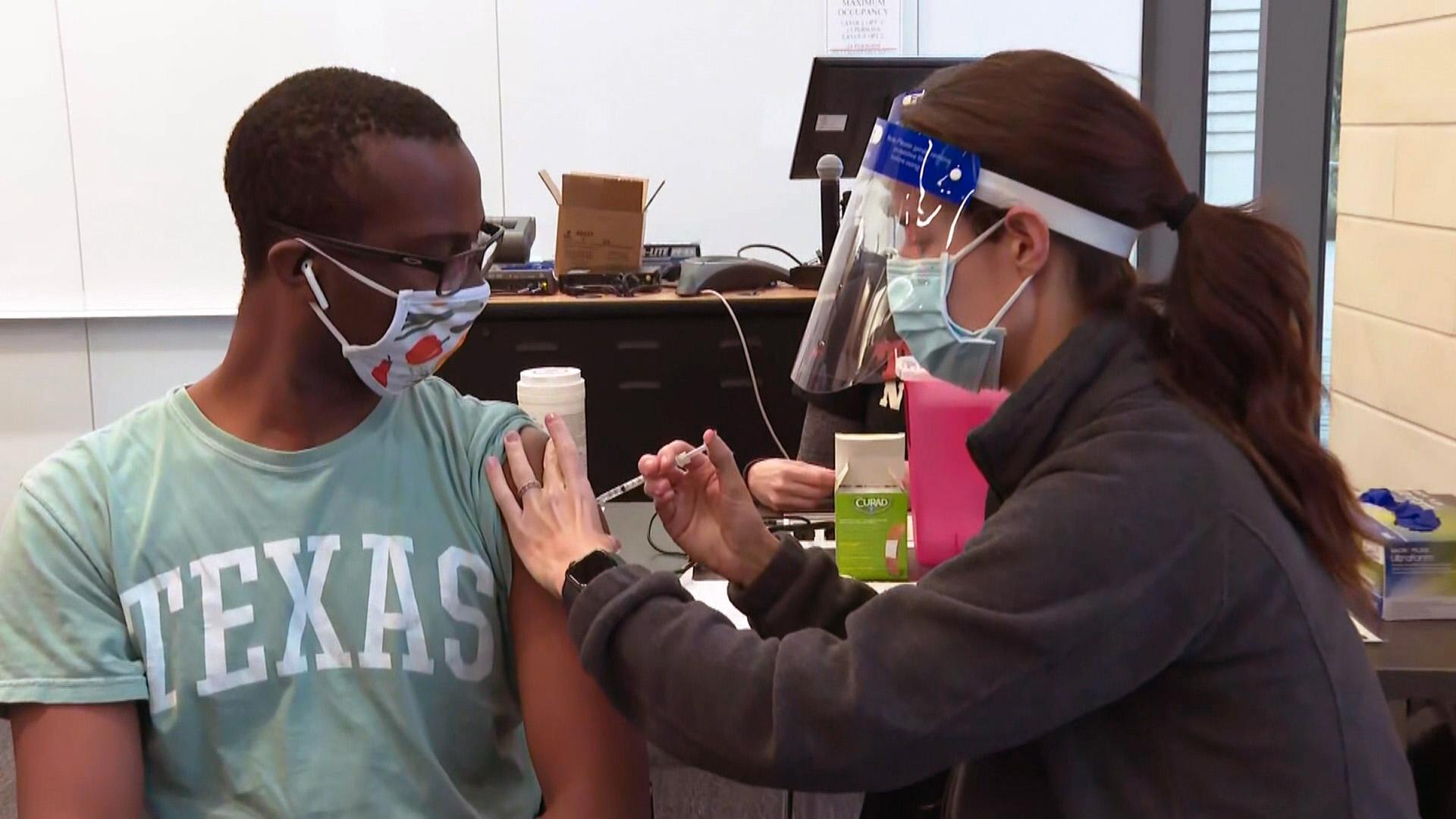 (WTTW News)
With waning demand for the COVID-19 vaccine and concerns about the spread of a more contagious COVID-19 variant, suburban Cook County officials are again urging residents to roll up their sleeves to get jabbed.
"To any who have been hesitating about being vaccinated, please, I implore you to hesitate no longer. We're very concerned about the spread of this so-called delta variant. It is much more contagious than previous variants of COVID-19," said Dr. Kiran Joshi, co-lead for the Cook County Department of Public Health. "There are ample opportunities throughout suburban Cook County, throughout the city, throughout the state. Please go out, get vaccinated."
While only a small portion of positive COVID-19 tests undergo genomic testing to determine the type of variant circulating, officials are seeing the number of delta variant cases double every one to two weeks, according to Joshi.
Officials have detected 38 delta variant cases to date, with seven reported in the last two weeks, according to CCDPH data.  
"We know it's here. We believe it's going to continue to increase," he said of the delta variant. "We're very concerned about those increases. We think the public – the unvaccinated public – should be as well."
Dr. Claudia Fegan, Cook County Health chief medical officer, said the vaccines are safe and unvaccinated people pose a risk to not only themselves but others.
"This vaccine is safe. It's effective. It doesn't alter your DNA. It doesn't change your fertility. It's going to be a life-changer," Fegan said. "It is only until we all get vaccinated that we will all be safe. … Those folks who have not gotten vaccinated pose a threat to the rest of us."  
More than 1.3 million suburban Cook County residents (some 59%) have received at least one dose of a COVID-19 vaccine, but only 48.2% of the population is fully vaccinated, according to the latest CCDPH vaccine data.
"We're seeing particularly low vaccination rates in the southland, and again we're very concerned about this because this is many of the same communities that have been disproportionately affected by COVID-19," Joshi said.
There are three clusters of communities with low vaccination rates located in the near south suburbs, far south suburbs and western suburbs, according to Joshi.
"The evidence is very clear about the vaccines and that they are protective against the delta variant. If you and your community are vaccinated, great. I don't think you need to be concerned," he said. "If you are unvaccinated or are in a community with low rates of vaccination, I would encourage to go out and get vaccinated and to encourage others around you to do the same."
People living in communities with low vaccination rates should adhere to the Centers for Disease Control and Prevention guidance, which advises wearing masks indoors in health care and school settings, according to Joshi.
"Broadly, we need to think about this in terms of risk. Even if you are vaccinated, if you're in a small, enclosed space with poor ventilation, and you're anxious about that, it's perfectly fine to wear a mask," he said.
Officials also announced they would be closing the county's remaining mass vaccination sites next week, with locations in Forest Park and Des Plaines closing Tuesday and one in Matteson closing Wednesday. 
"Our largest mass vaccinations sites, while they were at their peak, they were giving up to 4,000 doses a day (and) are now seeing less than 100-150 people per day," said Cook County Health CEO Israel Rocha. "We believe that most people who knew at the outset that they wanted to get vaccinated have been vaccinated.
"The easy part is over. Our focus is now on changing hearts and minds, educating and encouraging those who have not yet been vaccinated to get their vaccination," he said. "It is critical that we focus on those who are unvaccinated, meet them where they are and give them the means to make that choice to become vaccinated."
Officials will focus on bringing vaccines to where people live and work, including to festivals, community events, large event venues and schools. Information for vaccination events will be posted on the My Shot Cook County website.
"We know that this work will be challenging, but I assure you we will be relentless in bringing opportunities for vaccination to those communities while working hand-in-hand with partners who are trusted messengers to talk about how COVID-19 vaccines are safe and effective," Joshi said.
Organizations and community groups interested in hosting a vaccine clinic can submit a request for one online.
On Saturday, the Matteson site, located at 4676 Promenade Drive, will host live entertainment and provide free personal protective equipment kits and to-go meals from local restaurants from 10 a.m.-5 p.m., according to Rocha.
For more information about COVID-19 vaccines, including where to get a shot, visit the My Shot Cook County website.
Contact Kristen Thometz: @kristenthometz | (773) 509-5452 |  [email protected]
---