The Boys & Girls Club set to be built as part of the new police and fire training facility is the first new club to be built in Chicago in a generation, officials said. (Credit City of Chicago)
A plan to include a new Boys & Girls Club as part of a redesigned police and fire training academy is one vote away from final approval, as supporters told aldermen Wednesday that it will benefit young residents of the West Side and bring much-needed investment to one of Chicago's most violent neighborhoods.
The proposal, backed by Mayor Lori Lightfoot and unanimously endorsed by the City Council's Housing and Real Estate Committee on Wednesday, calls for the city to rent the land for the two-story, 18,000-square-foot facility to the Boys & Girls Clubs for $1 per year for 55 years, with two 10-year options to extend the lease. 
A final vote by the full City Council is scheduled for July 21. If the plan is approved, it will end a ferocious controversy that has raged for nearly four years.
The $6 million cost of building the facility in Garfield Park will be funded by private donations to the Boys & Girls Clubs, according to plans presented to aldermen.
"This new club represents a transformational opportunity for young people in Chicago to promote healing and build bridges where few currently exist," said Mimi LeClair, president and CEO of the Boys & Girls Clubs of Chicago.
The club will offer arts classes, a fitness center, day care, summer camp and after-school programs, officials said.
Club leaders surveyed teens who live and go to school on the West Side and are confident they will embrace the new facility, LeClair assured Alds. Daniel LaSpata (1st Ward) and Byron Sigcho-Lopez (25th Ward) — both members of the City Council's Democratic Socialist Caucus.
LaSpata and Sigcho-Lopez said they were concerned that building a Boys & Girls Club on the same campus as the new public safety training facility, which quietly started construction in January and is expected to be finished in the fall of 2022, could exacerbate tensions between police and youth.
"I also know from some public comments from police leadership and from the experience of some of our youth that, sometimes, our officers — I'm trying to find the delicate way of saying this — they may not view young Black and brown Chicagoans the way they deserve," LaSpata said. "There are times when our young people, particularly our young people of color, are viewed as threats when they're not really doing anything wrong. They're just living their lives."
However, Ald. James Cappleman (46th Ward) called the proposal a "win-win-win-win" that will benefit West Side teens, their parents, the community and the police.
Ald. Walter Burnett (27th Ward) lauded Ald. Emma Mitts (37th Ward) for being steadfast in her support of the new facility, which will be built in her West Side ward, despite the controversy.
"For anyone who said that this was not going to be a benefit for neighbors, I can truly say you're wrong," Mitts said. "If you're saying it is not going to bring economic development to the neighborhood, I can tell you you're wrong on that point."
The facility will also be home to two restaurants, Peaches and Culver's. Former Mayor Rahm Emanuel added those eateries — both owned by African Americans — to the facility as opposition rose to the proposal.
Emanuel announced the plan for the training facility in August 2017, saying it was needed to address serious concerns outlined by the U.S. Department of Justice in its January 2017 investigation of the Chicago Police Department that found officers graduate from the five-month academy "unprepared to police lawfully and effectively."
The City Council voted 38-8 in March 2019 to approve the facility over the objections of hundreds of protesters who blocked access to City Hall's elevators for 10 hours the day before the decisive vote. 
The impassioned protests, which came to be known by the hashtag #NoCopAcademy, urged city officials to spend that money on restoring cuts made to Chicago Public Schools' budgets, social services or reopening mental health clinics closed by Emanuel. 
When Emanuel unveiled the proposal for the new training facility, Lightfoot was president of the Chicago Police Board and told the City Club of Chicago that while a new training facility was "desperately needed," the former mayor's plan was "ill-conceived."
"Putting this edifice to policing in this high-crime, impoverished neighborhood where relations between the police and the community are fraught, without a clear plan for community engagement, is a mistake," Lightfoot told the City Club.
But shortly after she took office, Lightfoot said the facility should be expanded to ensure it was "big enough" and be "best-in-class." The facility was redesigned to be more pedestrian-friendly after Lightfoot took office.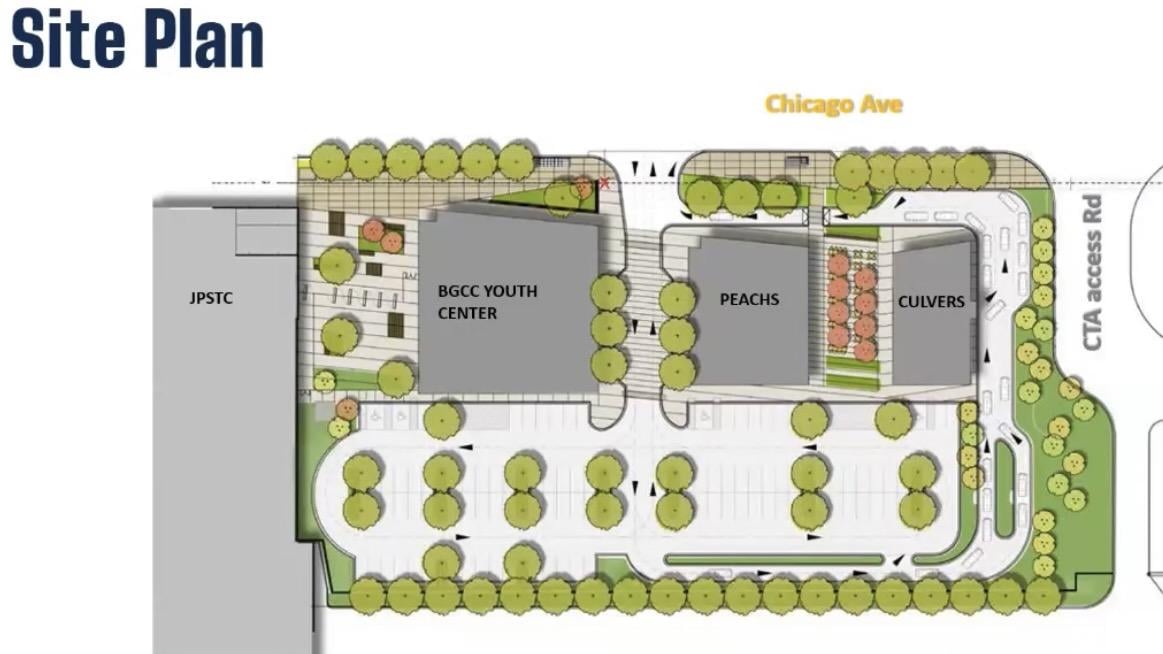 The site plan for the new police and fire training facility. (Credit: City of Chicago)
The facility is set to replace the police training academy at 1300 W. Jackson Boulevard, built in 1976; the fire prevention training facility at 1010 S. Clinton St., built in 1950; and the Fire Academy South at 1338 S. Clinton St., built in 1965, officials said.
The training facility will include classrooms, labs, simulators, conference rooms, an auditorium and offices as well as a shooting range and space for "active scenario training and a dive training pool." The campus will also include a driving course, skid pad and a place for "hands-on practice in real-world situations."
Contact Heather Cherone: @HeatherCherone | (773) 569-1863 | [email protected]
---