It's no secret that America is divided across partisan and racial lines.
But a new, nationwide survey of white and Black Americans from the University of Illinois at Chicago illustrates just how deep some of those divisions are, highlighting how differently some people think about what it means to be a good American and how people see the role of guns and violence in political life.
"We know already from existing research that a significant portion of the American electorate understands … what it means to be a true American in one of two distinct ways," said Alexandra Filindra, associate professor of political science at UIC and the study's lead author. "(Some) valorize as American being Christian, being white, being born in the U.S. (Others) valorize activity on behalf of the American public, being active in the community, voting, participating. Those are distinct kinds of people."
The study's goal was to determine whether people associated American identity with what Filindra calls more "militarized" participation, like carrying guns to a protest or a willingness to commit acts of violence in order to stand up for one's beliefs. She says the survey did find those associations, and said they're "connected with ethnoracial understandings of being a 'true American.'"
Respondents who value whiteness, Christianity and firearms are less connected to "expressions through the political process, and they do not believe that multiculturalism, that respect for minorities, that protecting the rights of minorities, are expressions of true American identity," Filindra said.
The survey also asked people for their opinions on events like the demonstrations following the murder of George Floyd and the intrusion into the U.S. Capitol on Jan. 6.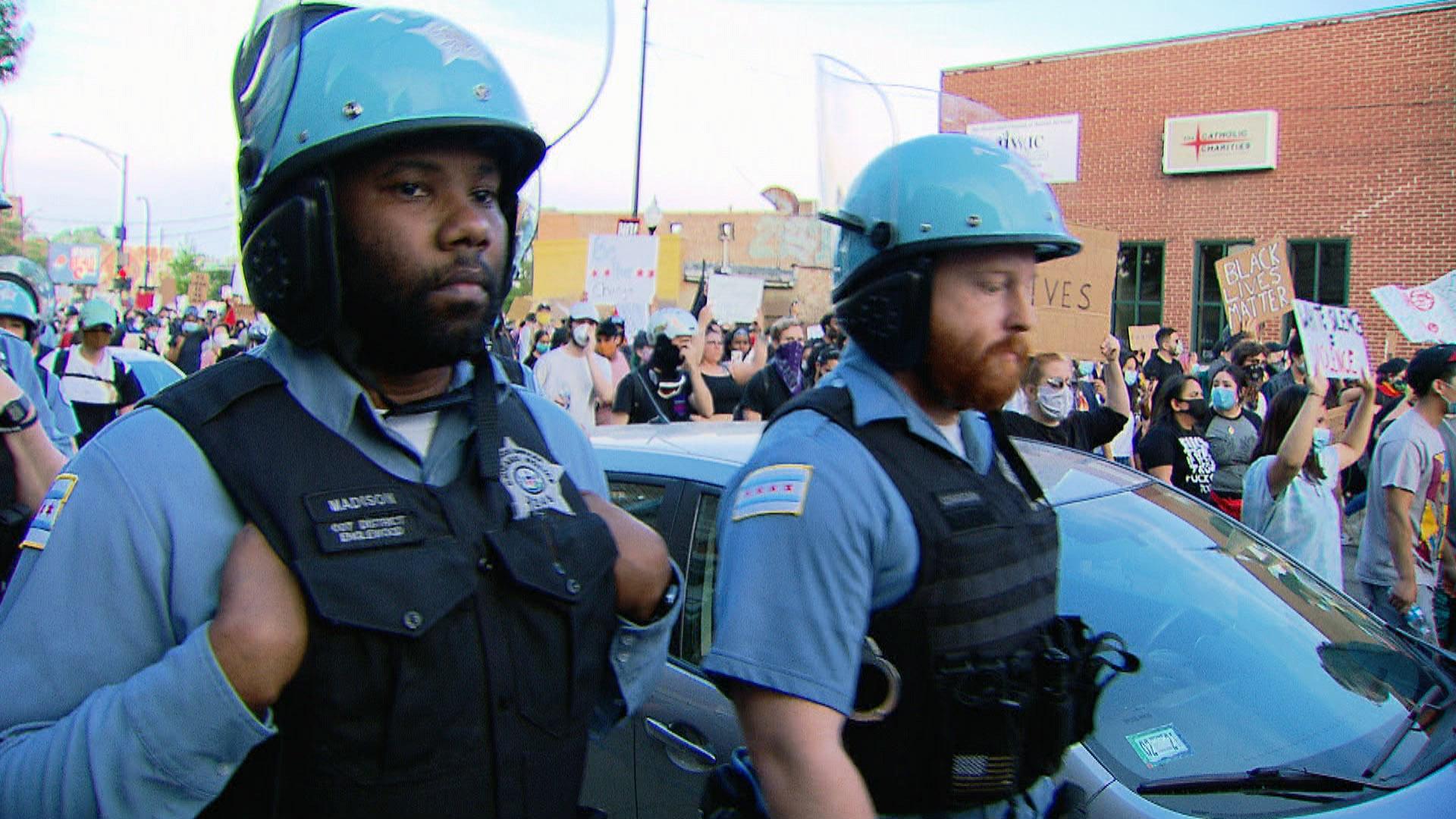 Chicago police officers and demonstrators make their way along city streets during one of many protests sparked by the 2020 police killing of George Floyd. (WTTW News)
"An event … that we all lived through not that long ago is like a Rohrshach test," said co-author Isaac Pollert, a UIC graduate student. "We've recorded that people live in two distinct realities."
Pollert says the results point to the importance of language when trying to bridge political divides in a polarized country. "Anytime you're … trying to break down partisan walls, you have to be very careful with the words you use and the way you frame things … just using the adjective 'protest' or 'riot' can immediately turn someone on or off."
For Filindra, the study's findings on polarization, willingness to commit violent acts and opinions toward guns are extremely worrisome. "This creates a conflict between our First Amendment rights to assembly and to express opinion, and the purported second amendment right to carry firearms in public settings.
"We have to decide as a country whether it is possible to have an open and honest political process when people who are angry and upset and anxious about their views not being listened to as much as other people's views bring guns to these political activities," she said. "We've already seen what happened in Kenosha. We saw what happened in Washington, D.C. We saw last summer's armed protests against COVID. … Democratic institutions cannot survive in a context like this."
---