There's something magical happening in the Chicago Park District's natural areas this summer.
The fairies are coming.
To celebrate the 20th anniversary of its natural areas, which now range from wildflower meadows to wetlands, the Park District, in partnership with The Nature Conservancy of Illinois, has installed 20 fairy houses at various natural areas across the city (see map).
Why fairy houses?
For one, they represent the enchanting power of nature, but they're also irresistibly photogenic and likely to pique people's curiosity.
"We hope that it's just a catalyst for people to go into a natural area and look around and explore in a way that maybe they haven't. And once they find one (fairy house), maybe they want to go find another, and another, and another and another," said Matt Freer, assistant director of landscape at the Chicago Park District, who manages the natural areas. "We really want to get people to explore all different natural areas in all different parts of the city."
Park District staff collaborated with community members on the houses, from youngsters participating in park programs to Girl Scout troops to local churches.
Apart from providing a smattering of supplies — some pieces of wood and a few screws — the Park District let groups run wild with their concepts.
"We made suggestions, like look at the culture of the neighborhood or the characteristics of the park. But we didn't set parameters," said Kristin Brock, the district's manager of outdoor and environmental education. 
The results run the gamut from highly naturalistic to whimsically bedazzled, including a fairy chocolatier and a magic treehouse.
"They all have a slightly different flair on them. So the idea is, if you've seen one, you have not seen them all," said Forrest Cortes, director of community engagement at The Nature Conservancy in Illinois.
The fairy houses have been positioned in visible locations, typically at a trail head, like the one situated a stone's throw from the fieldhouse in Humboldt Park.
Nellie Roman, an art instructor at the park, worked with a group of 6- to 12-year-olds on the house, which incorporated found materials to create what Roman envisioned as a fairy's artistic oasis. "If I was a fairy, this is where I would want to live," she said.
Some of the youngsters scoured magazines for tiny images that could be used as "paintings" on the fairy house walls. Others combed the park for twigs, an assignment they approached with a discerning eye.
"They kept looking for sticks with 'personality,'" Roman said.
The project sparked a new enthusiasm for nature among the children, she said. "Now they're looking at every tree and wondering, 'Does a fairy live there?'"
For adults, Brock said the hope is to tap into their long dormant childlike sense of wonder. "It's a way to get some of that imagination back."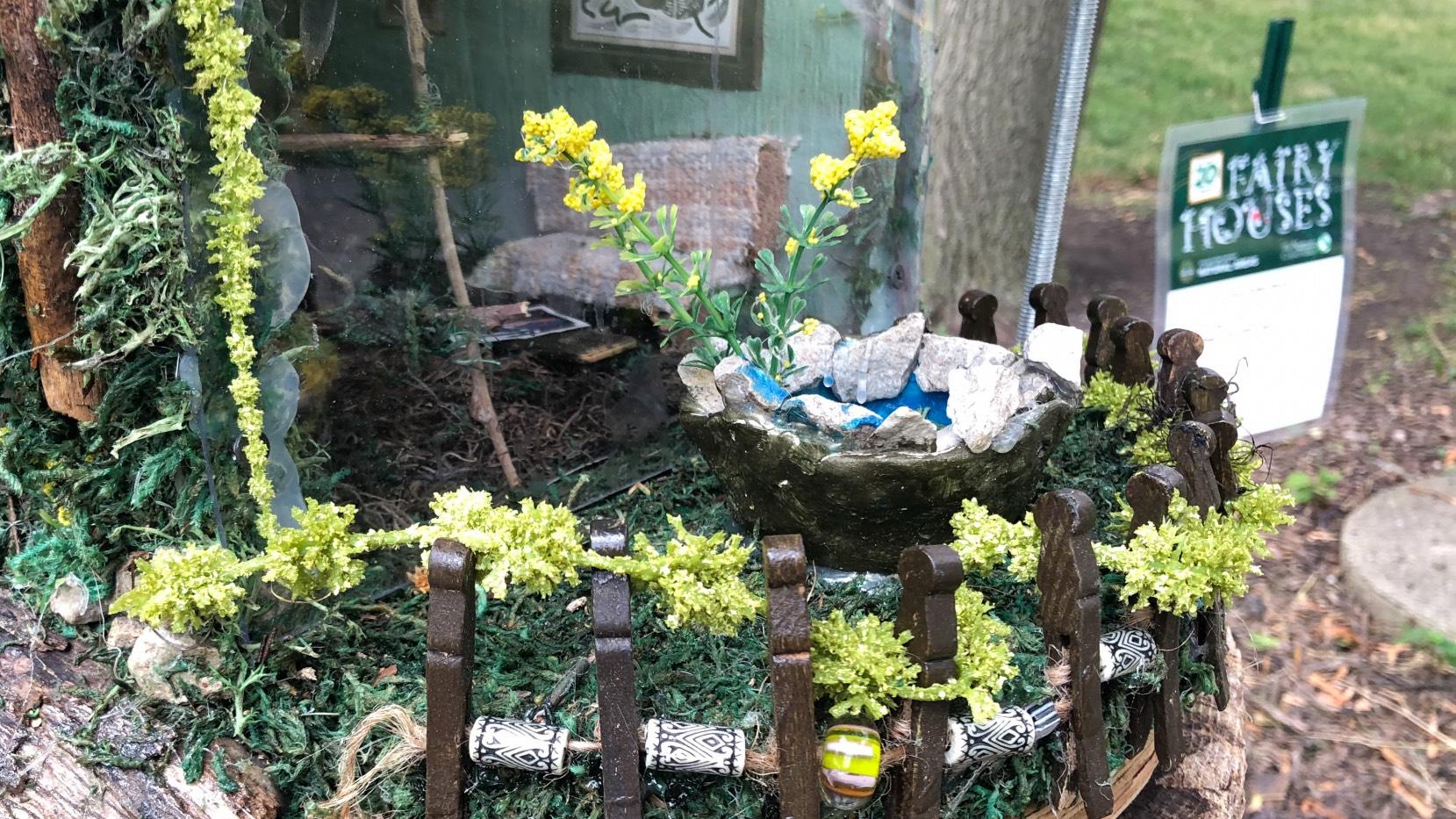 Look for the fairy houses, 20 in all, spread around the city at Chicago Park District natural areas, which are celebrating two decades of stewardship this year. (Patty Wetli / WTTW News)
That natural areas exist within Chicago's urban sprawl is something of a wonder itself.
The first of them, which Freer pegs as Montrose Dune and Jarvis Bird Sanctuary, came about organically, he said. People began tending to habitats that harbored rare plants or provided a refuge for wildlife, and asked the park district to create formalized protective boundaries for these special places.   
The program has since mushroomed to encompass more than 2,000 acres in total, spread across nearly 100 natural areas, which are typically delineated by fencing, signage and trails.
The leap for the district from managing parks and recreational facilities to tending patches of prairie, woodland, savanna and wetland has not been without its growing pains.
There is, for starters, the matter of aesthetics, and what people expect of a "park," Freer said.
Most of the district's natural areas exist as pockets of habitat found within larger, traditional parks, and their less manicured appearance can seem "messy" to the untrained eye. The district has made a concerted effort to provide what Freer called "cues of management," signals that the area's features are intentional rather than an indicator of neglect, which is where the aforementioned signage and fencing often comes into play.
Though the relationship between parks and natural areas is generally symbiotic, tensions occasionally arise. One such well-publicized conflict occurred in summer 2019, when the pair of Great Lakes piping plovers now known as Monty and Rose opted to nest at Montrose Beach, just outside the natural dune's boundary. A music festival scheduled for the beach was ultimately canceled, trumped by concerns for the birds' safety.
That's been the exception, not the norm, Freer said, largely because the Park District makes a concerted effort to situate natural areas in underutilized spaces.
"We're not putting a natural area over a frequently used softball area. We try to reduce the conflicts by respecting the very active recreational spaces," he said.
During 2020's pandemic shutdown, when outdoor public spaces were one of the few places people could go to escape their claustrophobic homes, the natural areas won over legions of new fans.  
"We saw such an influx of people getting outside, and getting into these natural areas. I know that that is not local to Chicago," Freer said. "I've talked to colleagues in New York and Miami and in Texas. People are just going outside into the natural areas in numbers and in ways that they have not previously."
The trick now is to get people to understand how best to use the spaces, like communicating why it's important to stay on trails or obey restrictions on dogs in order to protect wildlife. 
"We certainly have some restoration to do in a lot of places," Freer said. "We do the best we can given the context of where and what the space is like. Ultimately if people are out enjoying these natural spaces, that's great. If that creates advocacy, that's ultimately a win in the long run."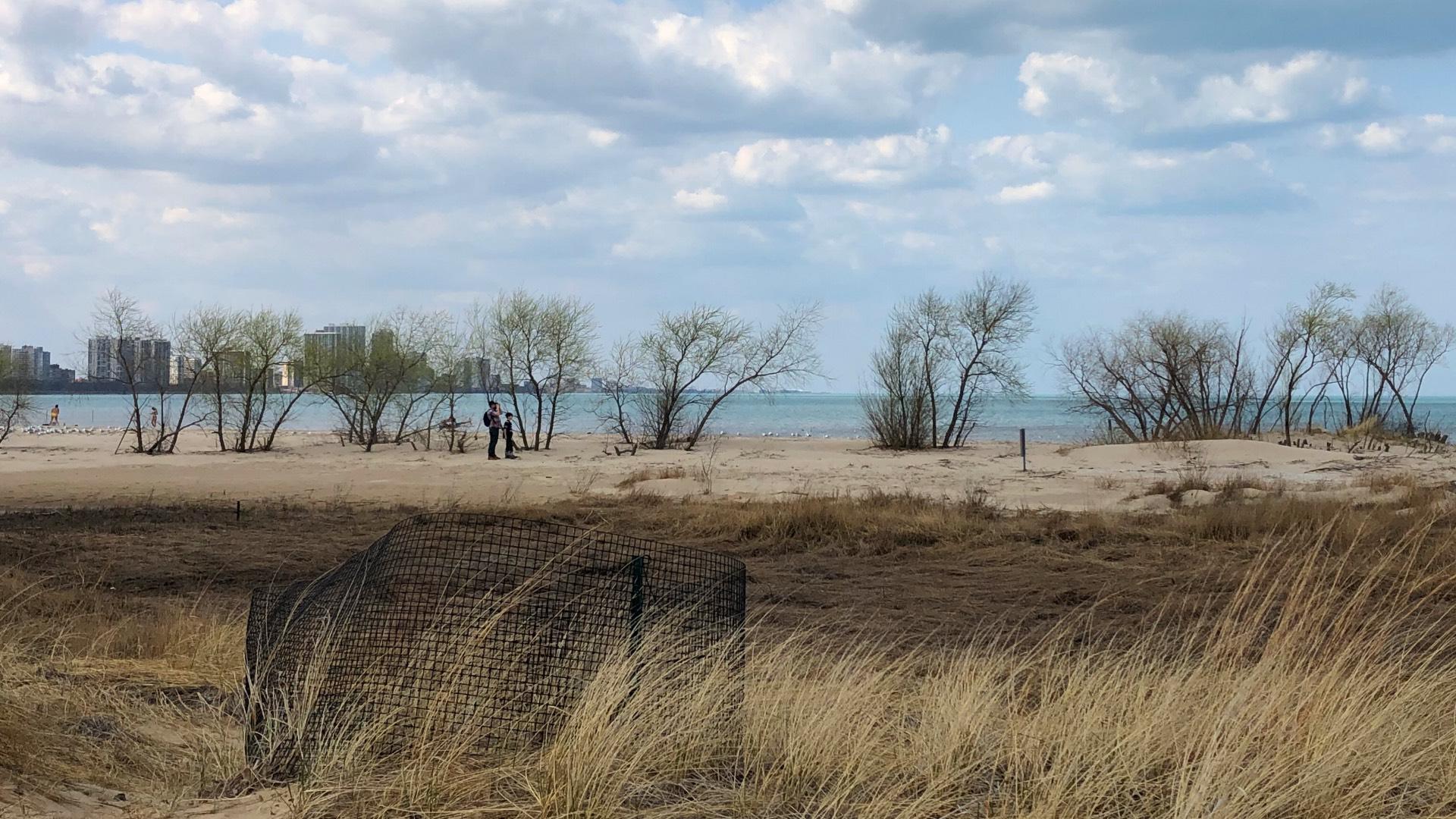 Montrose Dune, one of the Chicago Park District's first natural areas. (Patty Wetli / WTTW News)
Maintaining thousands of acres of natural habitat wouldn't be possible if it weren't for community involvement, Freer said. 
Dozens of the sites are cared for by dedicated volunteer stewards, who clean up litter, remove invasive species and tend native plants. According to the district's 2019 stewardship report, nearly 7,000 volunteers took part in more than 450 stewardship events. 
The role these folks play is so important, the Park District and Nature Conservancy created a shared position to manage community stewardship.
Traditionally, stewards have been people who have the time — many of them are retired — and resources to be able to volunteer, said Cortes. In recent years, there's been a push to diversify the stewardship base by making sure work days are accessible to families and people of all ages, as well as inviting to people who might not have had much previous exposure to nature.
"Barriers to natural areas can be just lack of awareness, but then there's barriers that can be a history of certain communities not feeling welcomed in green spaces or not feeling safe in green spaces. And that's a perception and a reality," Cortes said. "I think there's also a trepidation that you're going to do something wrong when you're at a stewardship day. We have over 50 lead volunteers across the city; those stewards know these sites like the back of their hands and they're creating events and work days and experiences that are welcoming for anyone from a grandma to a 4-year-old."
The notion that stewardship can encompass participation in events and experiences rather than just work days is also part of the evolution of what it means to care for a natural area. Simply spending time at a site is a form of stewardship, Cortes said, whether it's birdwatching, photographing flowers or attending a cultural program.
"We consider these cultural celebrations that engage people in natural areas to be a form of stewardship, because it's getting people out to see the site," he said. "Before you can ask someone to put their hands in the dirt and care for the site, they have to get to know the site a little bit."
One of Cortes' favorite such events has been the annual Mid-Autumn Festival, which the Park District holds in the Burnham Wildlife Corridor in partnership with the Chinese American Museum of Chicago.
"A lot of the culturally focused events that we put on are in partnership with organizations who work deeply in communities across Chicago. And those are intended to bring pieces of culture that people will resonate with, that will make people feel comfortable and welcomed," said Cortes. "There's been lantern making, native planting, storytelling, music, food. It's a great example of something that folks are celebrating anyway, but we're taking it to a place that is really special, and finding those intersections of nature and people."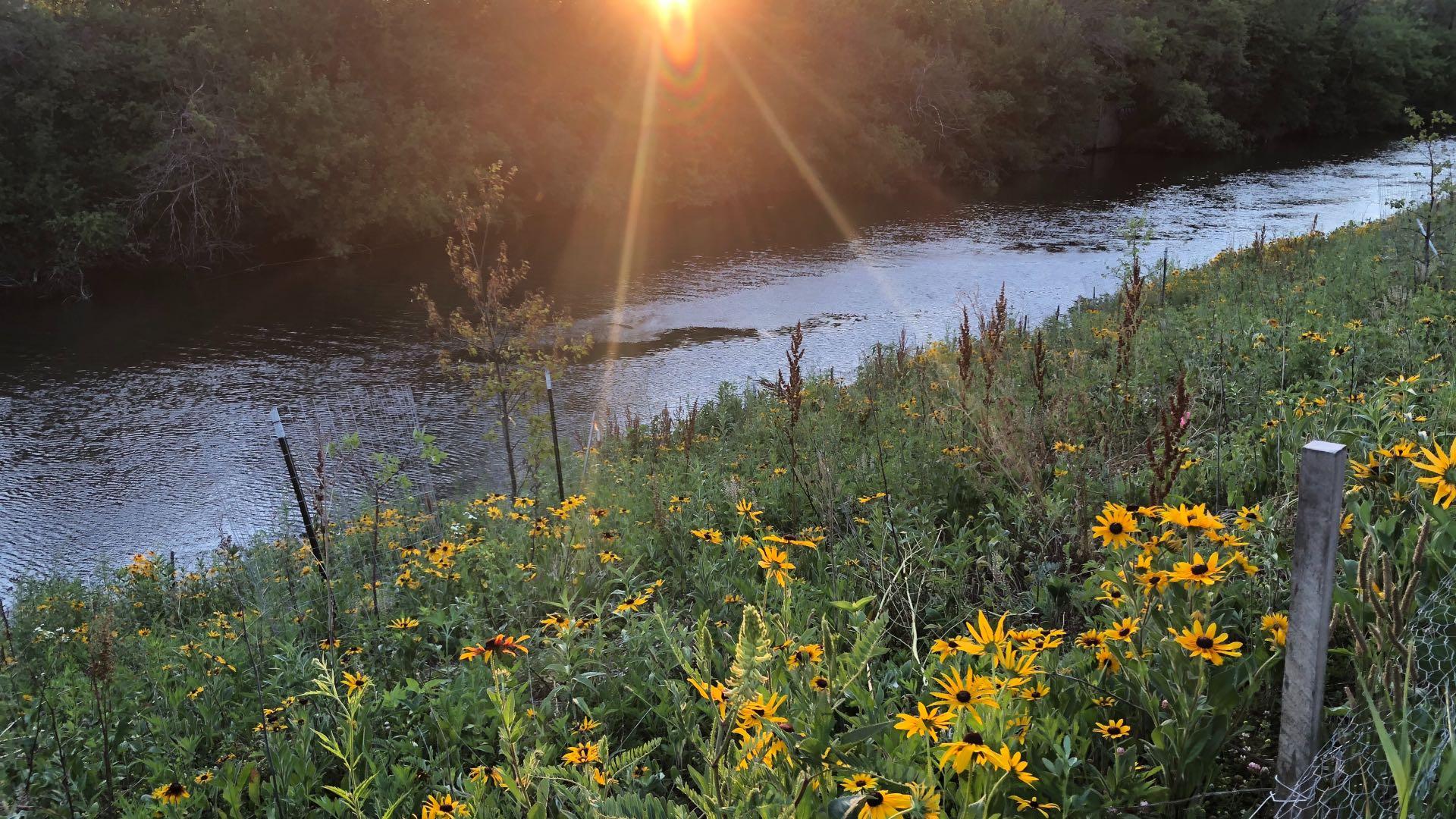 Natural area, in progress, along the North Shore Channel. (Patty Wetli / WTTW News)
Milestone anniversaries provide both an opportunity to look back on past accomplishments and to contemplate the future. In terms of the latter, with natural areas now an established entity in the Park District's portfolio, the question becomes how to fund and manage additions.
Partnerships with federal agencies like the Army Corps of Engineers, are one answer. For example, work by the Corps to stabilize the banks of the Chicago River led to the development of walking paths through native plantings in a number of parks, along stretches of the waterway previously choked with invasive species and dangerously eroded.
The district also applies for grants and collaborates with private entities to expand and improve natural areas, Freer said.  
While community advocacy and support continue to be primary drivers of the creation of natural areas, equity and environmental needs are increasingly taken into account, with the district looking at issues like flooding, air pollution and heat islands, mapping where they occur, and determining how natural areas could be a solution.
"That's a little bit of a longer-term scale," Freer said, "but we're looking to plan around those human health concerns and mitigate some of those with natural areas."
Contact Patty Wetli: @pattywetli | (773) 509-5623 |  [email protected]
Note: This story was originally published July 3, 2021. It has been updated to include our "Chicago Tonight" video.
---